We take one of Yamaha's air-cooled beginners' bikes for a spin with our office jockey and dirtbike newbie Dale Johnson.
DJ's always wanted to be part of the ADB test-ride crew. We'd often caught him just sitting and staring, like a love-sick schoolgirl, when anyone came back into the office with a camera full of epic imagery and a helmet cam loaded with the previous day's action.
Occasionally we'd catch DJ reading ADB or watching dirtbike videos in his lunch break, wishing one day he would be the person in front of the lense. It was just a pipe dream, he was chasing the wind until, one day, his dreams came true on a Yamaha TT-R230.
The dirt gods finally shone on DJ because we'd recently compared that little Yam in print to the AJP PR3 240 MX Pro (ADB #451), another air-cooled, softly suspended beginner's bike with no ADR compliance. What if we were wrong? We hadn't actually been able to test the Yamaha since our testers grew up and, with no school kids hanging around, we were in trouble.
There across the room was office "jockey" Dale Johnson, or DJ as he is affectionately known. Despite being five-foot nothing, DJ is actually a fully grown man, and he'd never ridden before so he was perfect.
You can imagine his reaction. First he looked over his shoulder to see if we were talking to anyone else, then he nervously said yes, which was accompanied by a ball-breaking testie pop. We heard DJ ran home and told his mum the awesome news. He was so excited he slept in his riding gear.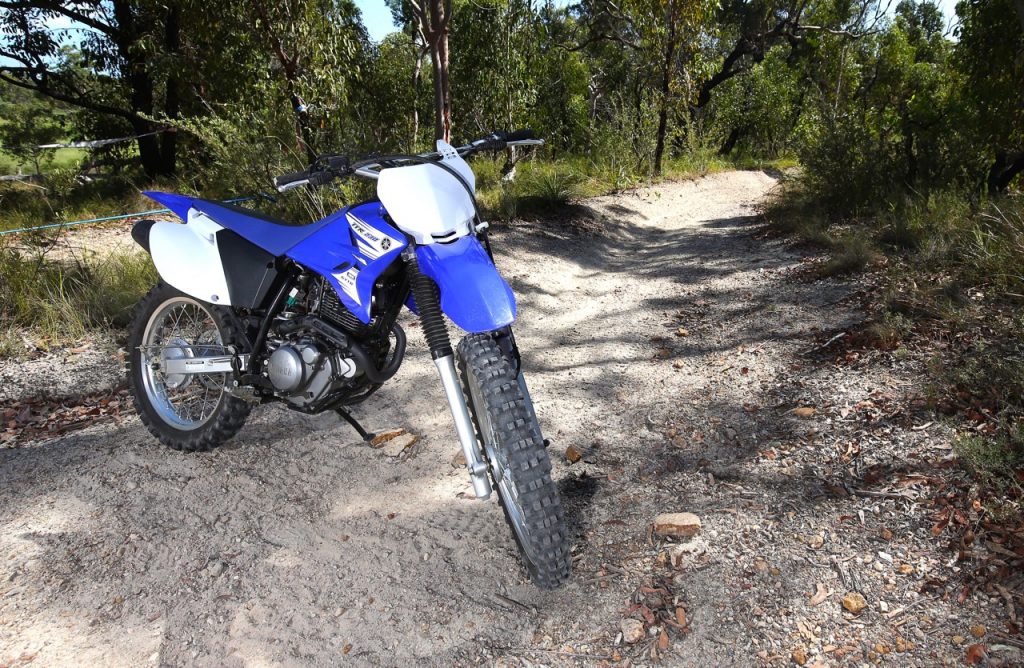 ADB: Why did you want to start riding at such a mature age?
DJ: I've always been sport driven. My life has changed significantly in the last few years since having a kid. I've always been interested in dirtbikes and I wanted to try something I knew would challenge me. Boydy [Tech Ed Mat Boyd] said earlier that when you have a child you don't have much time to train and play footy, so the best way to spend time with your mates and get that sport fix is trailriding.
What was your first thought when you hopped on the bike. You'd ridden a couple times before, yeah?
Yep I've had a quick ride in an open paddock before. As soon as I jumped on the bike I loved it. To learn on, the TT-R230 was really easy. I hopped on my mates WR450F last weekend and rode up to a gate in the paddock where we were staying and I was nervous that I'd get out of control with the throttle and end up hurting myself. So when I jumped on the TT-R230 it was really confidence-inspiring (I think that's the phrase you guys use).
What was the hardest thing to grasp?
I've only really ever driven automatic cars so getting familiar with the clutch was difficult. But the hardest thing to learn was controlling the bike at slow speeds. Getting that clutch and throttle control perfect is actually a really hard thing to do. It made me realise how much skill and finesse people like Graham Jarvis have when riding that extreme enduro stuff. I started out by not having my finger on the clutch, and therefore when I started to go slow the engine would start to stall. The ADB boys taught me today to always have one finger on the clutch. As soon as I did that I was able to ride slower through corners and not worry about stalling or the bike going to fast. I found myself grabbing the front brake to slow myself down and thinking about the clutch later. When I started using the clutch more I realised I could slow myself down with it, with more control than the front brake.
What about the Yamaha TT-R230 was best for beginners?
For me definitely the seat height. I'm built like a garden gnome so having something that I can climb on without a step ladder is comforting. The seat height helps as a beginner because I can always get my feet on the ground if I lose balance or need to stop. There were a few occasions out there today where I had to stop and turn around for the camera and being on such a lightweight, and short bike made this so much easier, especially in tight spaces. My other favourite part was the electric start. I did a lot of stalling when learning to ride and having to kick the bike over every time would be soul destroying. I'm so glad I didn't have to kick this thing today!
Did you find the power of the TT-R230 too little for a beginner?
Not at all. I never really twisted the throttle all the way round in the singletrack today so I didn't even use all the power. The power was really easy to control and when I got tired it didn't scare me at all. When I was in the open paddock (the week before this test) I enjoyed opening the throttle and I didn't feel it was too underpowered for a beginner.
But what about the suspension on the TT-R230? Did you find that too soft?
No. You guys are always writing about how the suspension is too soft and you'd like it harder and faster, but for us beginners we just want it soft. If the TT-R230 was any harder or if it rebounded faster I would find it hard to hold on and it would wear me out really quickly. Even my arse would hurt more if the shock wasn't as soft as it is. It never surprised me or kicked or bucked. It just soaked everything up and was soft and comfortable to ride. I wasn't hitting any big bumps or jumping that much so it never bottomed out either. I thought the softness was awesome!
If you could change something on the TT-R230 what would it be?
I loved the dimensions, soft engine and soft suspension, but I really think it needs handguards and softer grips. I crashed a few times and while the levers survived, the end of the grips tore.
A COOL HEAD
To keep this bike simple, Yamaha has stuck with trusty air to keep the 223cc SOHC engine cool. Fins on the engine increase the surface area for cooling. The benefits of this are a less complicated system, with less to break and less to maintain (which could save a major problem if you run out of coolant and don't realise). It also keeps the weight and price down!
Name: Dale Johnson
DOB: 15/11/1984
Weight: 82Kg
Height: 168cm
Previous riding experience: None
Manly skills: DJ is a former jockey whose favourite horse is The Salesman, talk about coincidence
WORDS & PICS // MITCH LEES