Enduro Comparo | 2017 Beta 350RR v 2018 350RR | Bike Reviews
Earlier this year we sent ADB Digital Editor, Olly 'Pat' Malone, over to Italy to test the 2018 Beta RR range (Issue #456).
This article was first published in ADB issue #460.
Olly was the first Aussie journo to touch and feel one in the metal and his initial report yielded positive vibes.
He raved about the updated four-strokes with dual injectors but I wanted to see of myself, so Beta Australia's Ben Grabham organised a 2017 and 2018 350RR to test back-to-back. And to really show off the 2018 performance gains, he brought along the 2017 up-spec. racing model!
So, is this dual-injected, weight-shaved, stiffened 2018 350RR really that much better than the 2017 Racing model?
In short, yes. The most notable upgrade for 2018 to the four-stroke engine is the addition of a second injector. Beta has positioned the second injector to kick in later in the rev range with the initial injector, located closer to the intake valve, taking care of your power just off idle. I expected a punchy top-end powerband-style hit, but what I got was doses and doses of midrange torque and response. In fact, so strong was the power from the minute I opened the throttle I raced back into the pits to question Grabbo over his sceptical bike set-up.
In the singletrail I had to get my head around the power the 2018 350RR was producing. I could no longer ride it like the trail tractor I was used to. I had to respect the throttle and be precise with power application. That was until I realised there was a map switch to tame it back. I switched it to 'rain' mode and the power mellowed out. But even in rain mode it was still more aggressive than the 2017 model.
The 2018 Beta 350RR is now more racer than traily. This engine is so much more fun and exhilarating than the 2017 model. I see no reason as to why this 2018 350RR could not be raced competitively against the other mid-capacity four-strokes already winning championships. Mitch Lees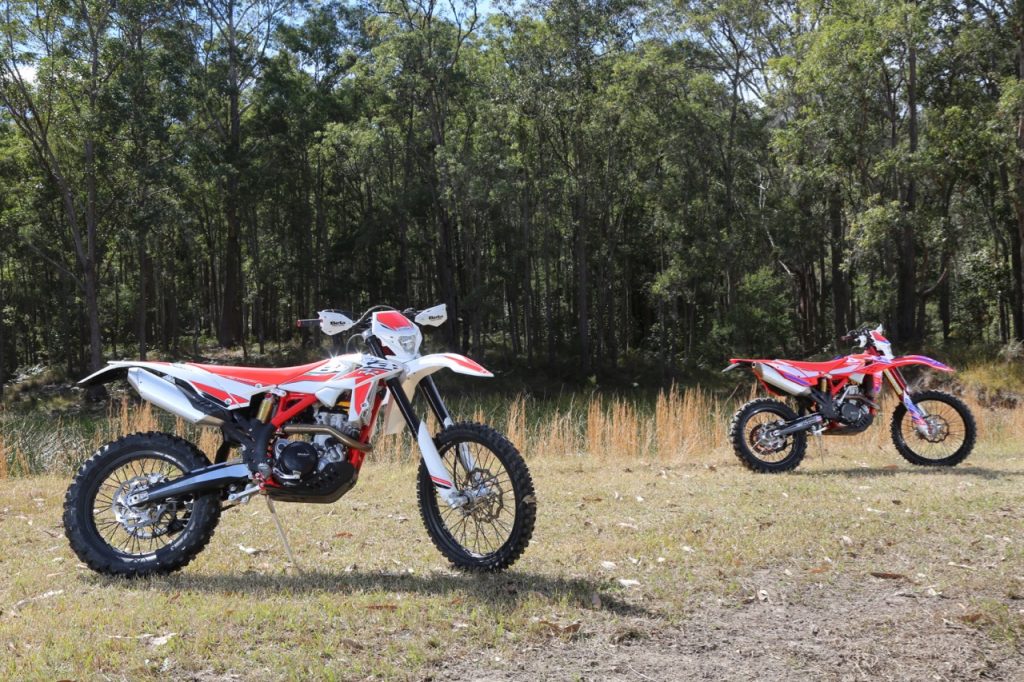 Second opinion
Name: Jeff Briggs
DOB: 02/05/1984
Years riding: 23 Current bike: 2017 KTM 300EXC
Ridden a Beta?: I rode a mate͛s 430RR but these new ones are way faster!
It actually surprised me a lot. It had the toque of a 450 off the bottom. It was quite aggressive but revved out as quick as you͛d expect a 350 to as opposed to a 450. The bottom- to mid- was really strong and as you͛d expect on the KTM 350.
The valving felt really comfortable for someone who is 100kg. It handled really well considering that. The inertia felt really good as you͛d expect a 350 would. The brakes and clutch were excellent and the same as all other top-end bikes. Of all the bikes we rode today it was my pick.
I think anyone could ride it and I think it could now be competitive in the off-road 450cc class.
Check out the full review in ADB issue #460.