What a season it was for Red Bull KTM Factory Racing. The Austrian manufacturer claimed both the MXGP and MX2 titles.
You can read the full feature including the ride impression of Pauls Jonass' KMT 250 SX-F in ADB issue #460 – on sale now!
WORDS // PAUL MALIN PHOTOS // Red Bull KTM
To help celebrate its success and to share the moment, the factory bikes were put to the test at the KTM media test day in the Dutch sand of Veldhoven, just days after the final MXGP round.
To the naked eye, Jeffrey Herlings' and Antonio Cairoli's bikes look the same, but it's the tiny details that set them apart. Both riders use Renthal handlebars with Tony running the FatBar (827) as opposed to the Twin Wall (997) preferred by Herlings. Cairoli has a smaller seat, cut away to allow him to sit more into the bike. Jeffrey has a higher seat to accommodate his taller physique.
Cairoli runs with a 9mm master cylinder piston whereas Jeffrey favours the more aggressive feel that comes with a 10mm master.
Handlebar position is also slightly different with Herlings running his 'bar slightly more forward in the clamp because of his height.
However, the biggest differences are when you get out on track and try to ride these two 450SX-F offerings, and to say they are radically different would be a massive understatement, and had it not been for the pre-season injury that Herlings picked up, this article might have been very, very different indeed. So, let's start with Tony!
<h3>222</h3>
Antonio Cairoli likes a bike to feel small, hence the lower seat for instance, but despite that, his bike still feels normal to the average person; normal as in anybody can sit on it and ride around on it and feel like it's their own bike, ergonomically at least.
Gone are the days when TC preferred the smooth power of the 350SX-F, instead he likes a much punchier engine more befitting of the moniker 450SX-F. It is powerful, but it is still relatively easy to ride and control.
The factory 450SX-F comes with four gears but, at Veldhoven, there was no need; second and third is where it's at, especially third. Even from the not-so-tight turns, you could use third and let the power just take you to where you wanted to go, and it just keeps pulling as well. It has a good overall balance and feel to it.
Cornering was a breeze and so too was the movement around the bike even with the footpegs raised by 5mm. As for suspension, TC has made changes over recent years, certainly since 2015, mostly due to a monoshock linkage change.
That year he ran his WP spring fork at 4.6 while his rear spring was set to 42kg. Now however, with a linkage providing improved progression he is running a stiffer fork at 4.7 with the shock being 50kg.
To sum up Tony's ride, it's powerful but very easy to ride. He has power as and when he needs it, a bike that turns on a dime if he chooses and a weapon that still gets him out of the start, with 15 holeshots in 2017. An all-round, fabulous motorcycle.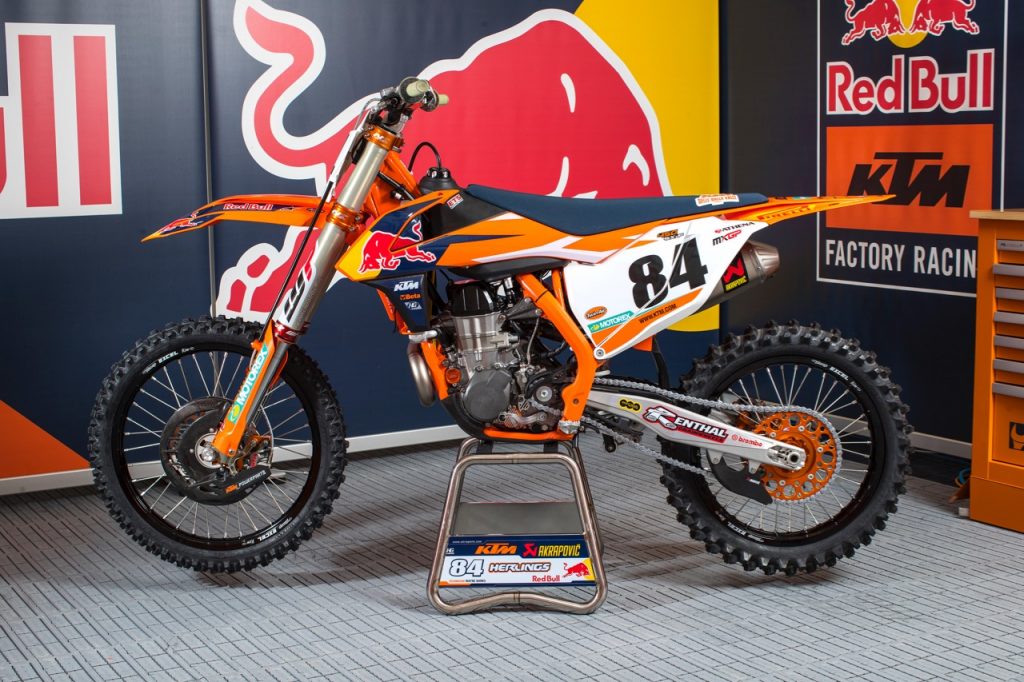 <h3>84</h3>
The Dutchman's bike was pretty much the same until February when The Bullet found himself on the injured list. When he returned to action, his pace and his confidence had been shot to pieces so the team changed his set up drastically.
Having ridden Tony's smoothy first, Jeffrey's was a shock. The biggest difference and the most notable was the engine; it was like a switch. On for go, off to stop! It was hard-hitting and it was instant, and the kind of power that wanted to rip your arms out of your sockets.
The other major change was the frame. The bike has a tendency to want to run a wider line, it doesn't want to turn tight like Cairoli's. It's all geometry-related, as Gruebel pointed out: "Jeffrey has a different type of frame, we tried different suspension settings, even the AER fork. The frame geometry is different. The front end and steering is different. The angle is different but also the way the front part is made is different.
"He has a slightly longer wheelbase as well. Jeffrey likes to attack the track and stay more on the outside and be fast there, railing berms and stuff."
In terms of suspension, the riders run totally different settings. Herlings is running a standard linkage; his spring is 48kg with much harder forks at 4.9. Two years ago on his MX2 bike, Herlings ran 4.4/45 and last year, with a different linkage ran 4.6/54 by comparison.
As a result, and in a weird way, this is exactly how you want a factory bike to be; powerful, uncontrollable and phenomenally fast.
Herlings has upped his game, he has put in the hours, he is fitter and stronger than ever and certainly much fitter than he was at the start of the season. This bike is unique to him, and how he races it week-in week-out beggar's belief. But it works for him and as a double-act and they are perfectly matched.
Read the full feature including the ride impression of Pauls Jonass' KMT 250 SX-F in ADB issue #460 – on sale now!