Honda's Barreda Forced to Backtrack and Loses Dakar Lead | News
After setting out first and opening the track, by the time the day was done Joan Barreda finished the special for Stage 3 in thirtieth place.
Joan conceded twenty-seven minutes after taken a the wrong path that led him ever further from the scheduled route. The Spaniard was forced to backtrack to an earlier checkpoint so he could find his way.
"I'm a little disappointed today because I was going at good pace, opening the track almost all the way through," said Barreda. "When I reached kilometre 280 I took the one I thought was the good track, but when I saw that it was not the right one, it was very late and I had lost a lot of time. From now on we will have to work to try to make up this difference."
On the plus side, Kevin Benavides stormed into the battle for the overall podium, after a day filled with skilful, aggressive riding. Runner-up spot on the day moves the Argentinean talent up to second in the general rankings. Benavides picked off his adversaries and ended up opening the field over the final stretches of the special stage.
"I am very happy and satisfied with today's stage, where I ended up opening the track in the final kilometres," said Benavides. "It was tough but I got a good result that leaves me in a good position. The special was very hard indeed, very difficult in the dunes, with some very soft parts, where the bike kept getting stuck in the sand. We will continue fighting this Dakar to improve on this second place in the race.
Ricky Brabec likewise rode a splendid stage to take fourth place on a day of complicated, yet virtually error-free navigation.
José Ignacio Cornejo moved up into the stage's top ten. The Chilean rider's ninth place signals just how well the youngster has taken to the Honda CRF450 RALLY and is reflected in his current thirteenth overall position. 'Nacho' was pleased with the result after a prudent performance and hopes to continue the positive spell over the forthcoming stages.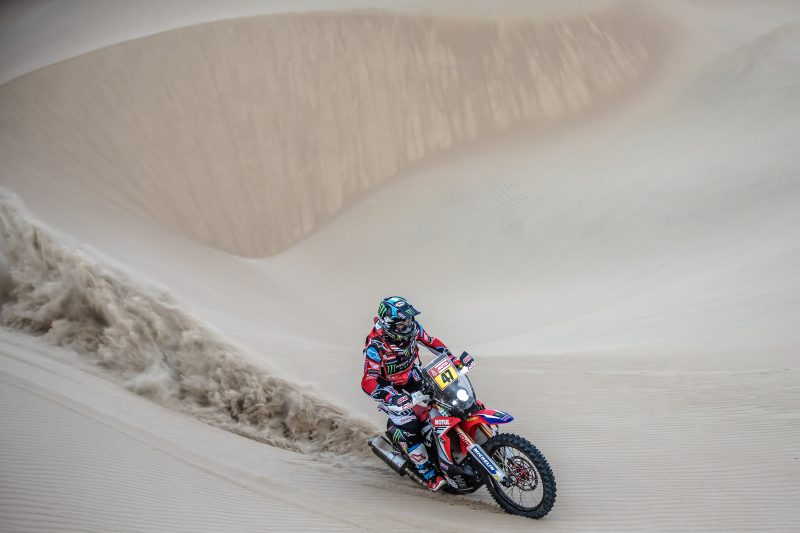 Provisional Results Stage Three – 2018 Dakar Rally
1. Sam Sunderland (GBR), KTM, 3:20:43
2. Kevin Benavides (ARG), Honda, 3:23:46 +3:03
3. Ricky Brabec (USA), Honda, 3:24:38 +3:55
4. Pablo Quintanilla (CHI), Husqvarna, 3:25:03 +4:20
5. Gerard Farres (ESP), KTM, 3:25:51 +5:08
10. Toby Price (AUS), KTM, 3:29:11 +8:28 (5min penalty)
Provisional Standings after Stage Three – 2018 Dakar Rally
1. Sam Sunderland (GBR), KTM, 6:44:23
2. Kevin Benavides (ARG), Honda, 6:49:01 +4:38
3. Pablo Quintanilla (CHI), Husqvarna, 6:49:23 +5:00
4. Ricky Brabec (USA), Honda, 6:52:23 +8:00
5. Matthias Walkner (AUT), KTM, 6:53:13 +8:50
8. Toby Price (AUS), KTM, 6:56:51 +12:28 (5min penalty)