Dakar Rally Stage 5 Results: Price Sixth Overall After Stage 5 | News
The fifth stage of the 2018 Dakar Rally was just like the ones that preceded it as competitors went through another day in hell. The Tacna region and its mountainous dunes showed no mercy.
Toby Price continued his consistent pace, placing seventh in the stage. The KTM rider retains his sixth place in the provisional overall standings, just over 10 minutes behind the leader, Yamaha's Adrien Van Beveren.
Toby Price: "It was all-good today, I got through the stage without too many difficulties. There was one waypoint that was tricky to find, but for most of the race I was riding side-by-side with Antoine and that was really good fun. All-in-all I'm happy with how things are going and I'm looking forward to tomorrow."
Rod Foggotter placed 20th in Stage 5 and moved up the rankings to 17th overall. Dakar rookie Scott Britnell jumped up the overall standings to 79th after finishing 62nd in the day's stage.
It was full steam ahead for Joan Barreda! The Honda rider, far from the overall lead this morning, rocketed nine places up the general classification with an impressive victory, with more than 10 minutes to spare over Matthias Walkner and Kevin Benavides. Adrien Van Beveren held onto the overall lead by a wafer-thin margin, while Pablo Quintanilla lost ground today.
Adrien Van Beveren: "I'm happy to be done for today because it was tough… and I'm happy I managed to leave the other guys behind. I attacked near the end of the first special because I knew I could press home the advantage in the second one, especially with the tracks left by the cars. My little Yamaha saw me through to the end, but it was tough… I'd never seen sand so loose before. There was a moment when I had to pedal with my legs to get over a dune."
Van Beveren's teammate Xavier de Soultrait is providing excellent support to team leader Van Beveren, "I started right behind Adrien and caught him on the dunes," said Soultrait.
"I overtook him for a short while, but I took it easy and let him move back to the front. I'd never seen sand so loose before, it's incredible. Quicksand is no joke. It changes shape, you gradually notice it. The atmosphere is good, we're better in sync and it really helps. There was a moment when I'd missed a waypoint and he showed me where it was. He later got stuck in the sand, so I stopped to see if he could get out. If KTM have won so many times, it's probably because they're good at this game. Now we're realising just how far we can go."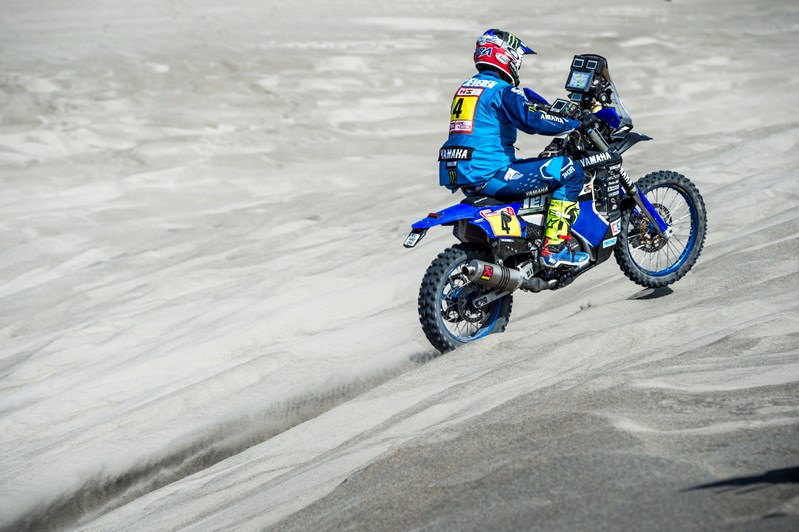 Matthias Walkner has successfully completed stage five of the 2018 Dakar Rally in second place. The Red Bull KTM Factory Racing rider made full use of his experience on the 266km timed special to claim the runner-up spot and secure his third place in the provisional overall standings. Antoine Meo also put in his best performance of the event to date to finish fourth.
Matthias Walkner: "That was such an exhausting day. They said the rally this year was going to be one of the toughest ever and it's certainly the hardest Dakar so far for me. After starting third I tried my best to chase down the guys in front – it's always a gamble between navigating yourself and choosing your own path or just following the tracks in front and taking a bit of a risk. Today I really tried to push, but kept an eye on the road book and thankfully it all worked out ok. After five days riding, I am starting to feel a little sore. I had a little crash today too and hurt myself a little so that didn't help.
Antoine Meo enjoyed his best result of the event today, finishing in a strong fourth place and less than a minute from third. Contesting only his second Dakar Rally, today's result moves Meo up to seventh in the provisional overall standings, one place behind team-mate Toby Price.
Antoine Meo: "I had a really good day today. My pace was really quick and I was able to catch Toby near the beginning of the stage. We rode together for quite a while, so that helped a lot. We did miss one waypoint near the finish and had to turn back, but we only lost a couple of minutes. It's my best finish of the rally so far and I have moved up to seventh overall so I am really happy."
Provisional Results Stage Five – 2018 Dakar Rally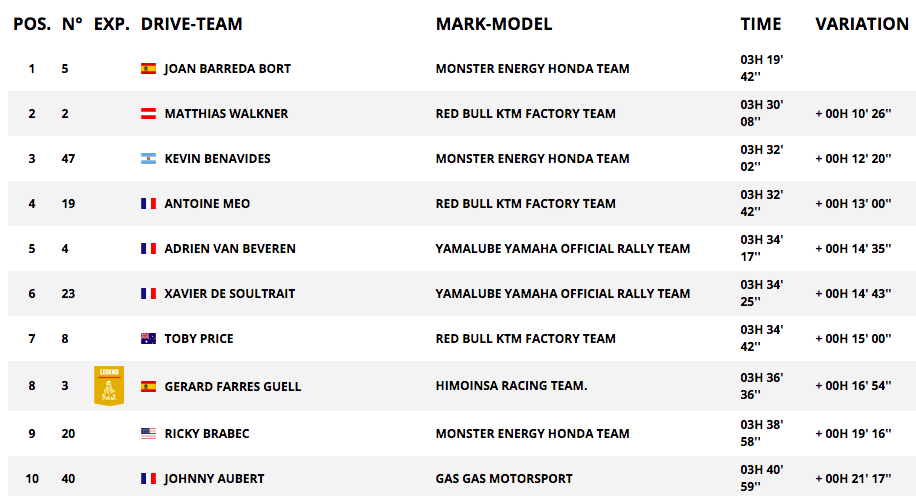 Provisional Standings after Stage Five – 2018 Dakar Rally