The Dakar Bike that Couldn't | Honda XLV750 | Bike Reviews | Features
HONDA DECIDED to get into the adventure market with the XLV750 Africa Twin and after launching it in France, it was brought to Australia.
The bike was fine for Pierre to cruise the Champs Elysee, impressing mademoiselles sipping café au lait. It was not the bike for Bluey Hogan to ride to Ayres Rock.
ADB's initial reaction was harsh. The bike did grow on staff but, then, warts grow the same way. Expectations were of a well-performing big bore thanks to the twin-carb V-twin but it was a bit of a let down in terms of power, torque, suspension and handling. It was summed up as "the bike you used when you wanted to ride someplace. No more, no less."
The steel tank looked good but only held 19.4 litres due to the airbox taking up space underneath. A DR600 Suzuki carried two litres more. The five-speed gearbox was called "more clunky than a Cadillac without shock absorbers" with fifth gear not being high enough to stop boredom setting in.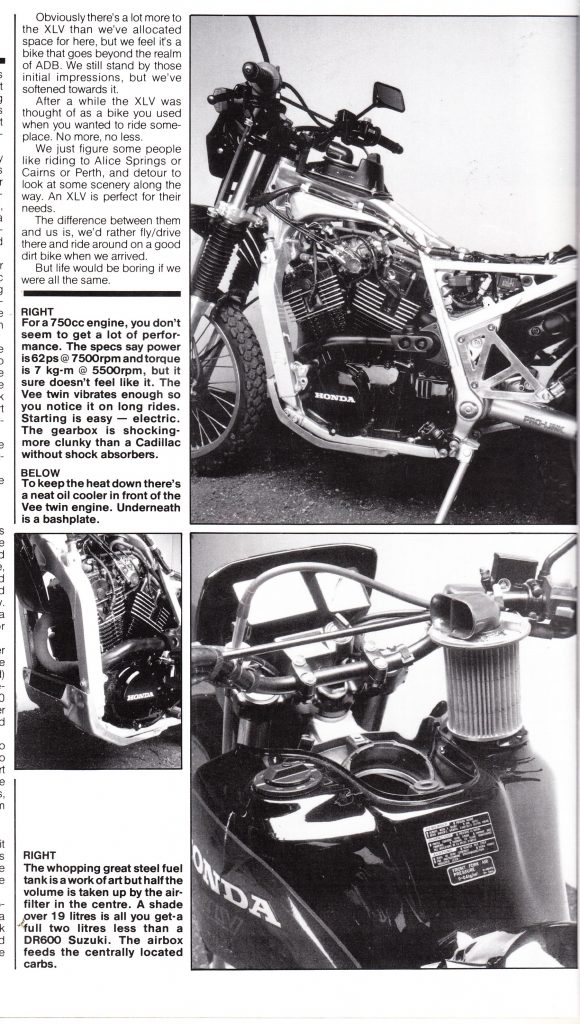 While a low-maintenance feature, the shaft drive meant gearing could not be changed. The lights were trailbike level, as were the brakes. The front disc was good off-road but weak on the tar.
The pillion pegs were a good point, as were the excellent mufflers and the rack but, overall, the bike just didn't deliver on its visual promise. It was called an average road bike and a below-average dirtbike and at 199kg it was heavy. Despite the vibration and hard seat of an XR600, our test suggested it would be a better option for long trips as long as you kept to decent dirt roads. Sand, rocks, mud, bad hills or tight stuff were well out of the XLV's comfort zone.
The standard dual purpose tyres didn't help either on anything but smooth-ish, firm surfaces. The conventional fork and Pro-Link rear were "nice" and "okay" with 200mm and 180mm of travel respectively but there wasn't a lot of ground clearance.
At the end of the day, the Honda XLV750 was a bike for the road rider who didn't want big road bike performance but did want the ability to wander off the tar a little bit. Maybe as far as the nature strip but definitely no further than coo-ee distance from civilisation.
Warren Jack