Closely related but different enough to be individual, should you choose the RR or Racing Beta?
Beta Motorcycles Italy sure knows how to produce two eye catching 350cc four stroke enduro bikes. Their fluorescent red colour scheme really makes them stand out from the crowd, but as Factory Beta rider Steve Holcombe proved in 2020 when he rode one to the overall World Enduro Championship, they are more than just a good-looking bike.
For 2022 Beta have continued to be spurred on by their World Enduro success and have introduced major new features and upgrades to their 350cc 4-stroke models. Both 350cc models receive a new electronic control unit , this is the most significant new feature.  They now offer better dry/wet map management and take advantage of the engine brake effect more efficiently, to let the rider make full use of the potential of the engine.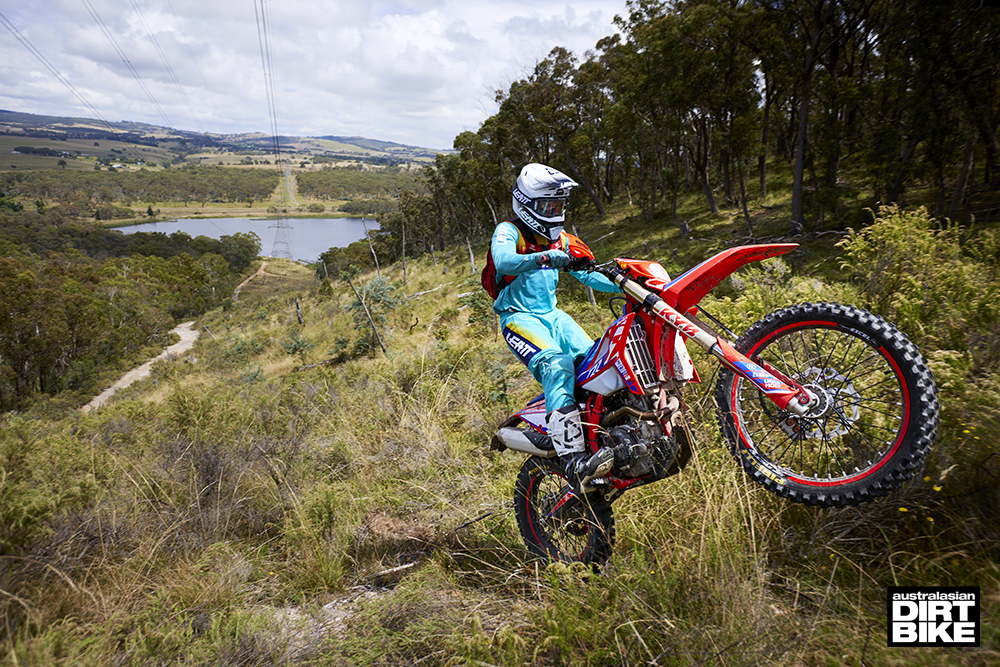 A lighter new primary transmission has been introduced as well as the new clutch with diaphragm spring with three user-settable spring preload levels. This gives a more progressive and smoother control action and increased transmissible torque.
The rear mono-shock on the RR gains new compression damping settings with independent high and low speed damping rates.  The fork settings on the RR have been revised to improve ride-ability and precision during extreme use. The fork tubes are now different in colour, thanks to the new anodising process which improves the surface hardness and corrosion resistance of the component. Both models get new graphics, which perfectly match the shape and componentry of the bike, giving the bike a very sleek, race-bred look.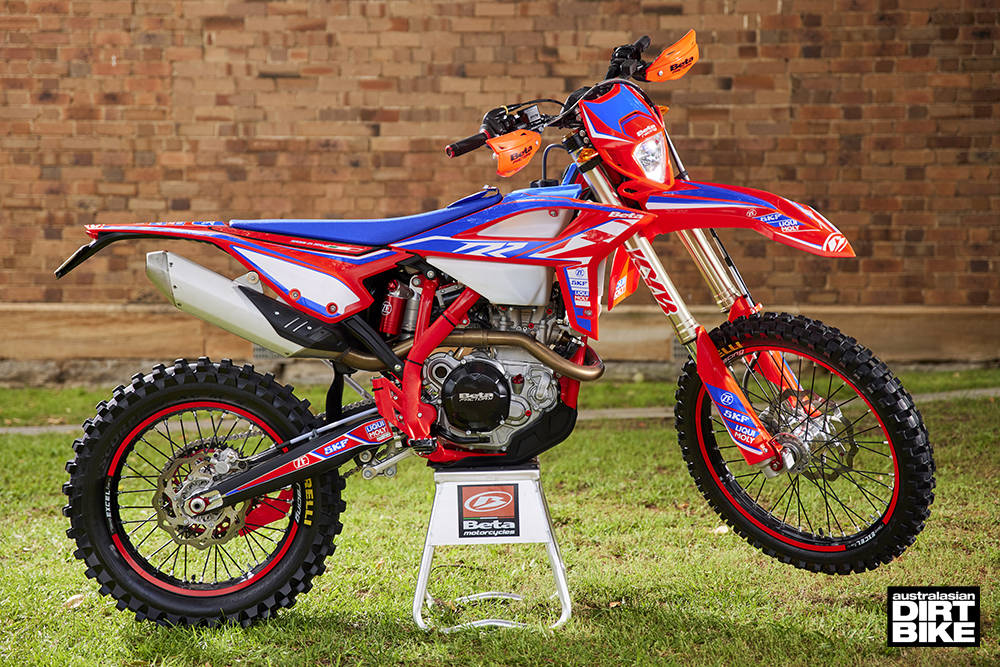 Same but different
But what separates these two 350cc models? Well straight up the Racing is $1,800 more than the RR but it also comes standard with all these extras.
A quick release front axle immediately recognisable by the red anodised alloy release lever, this component is crucial for saving precious seconds in a race when you need to change a tyre.
Red Vertigo hand guards, the sturdy structure of these combined with eye catching "in mould" graphics make them a must have accessory for off-road riding.
Metzeler tyres, the same tyres used by the offical team riders in the EnduroGP championships.
Ergal alloy foot pegs. When riding an enduro bike on a competitive level you're constantly changing the position of your body, so it's essential to have impeccable levels of grip for your feet.
Rear Sprocket with anodised aluminium core and steel toothing by ZF for lightness and strength;
Dedicated blue Racing saddle with anti-slip upholstery and document holder pocket.
Anodised black gear lever and rear brake pedal.
Red anodised aluminium gearbox oil filler cap, engine oil filler cap and oil filter cap.
Chain tensioners in red ergal alloy.
New racing graphics and red wheel decals.
48mm Kayaba AOS closed cartridge fork, this product has been continuously honed and improved through collaboration between Beta and Kayaba.
Traction control. The most significant new feature is the traction control, a first on a Racing bike. The TC function can be engaged at any time from a new button on the control panel in the usual position between the steering tube and the fuel tank. Both the TC function and the engine map selection function are controlled from this panel, it has two control buttons and two separate indicator LEDs for the two functions.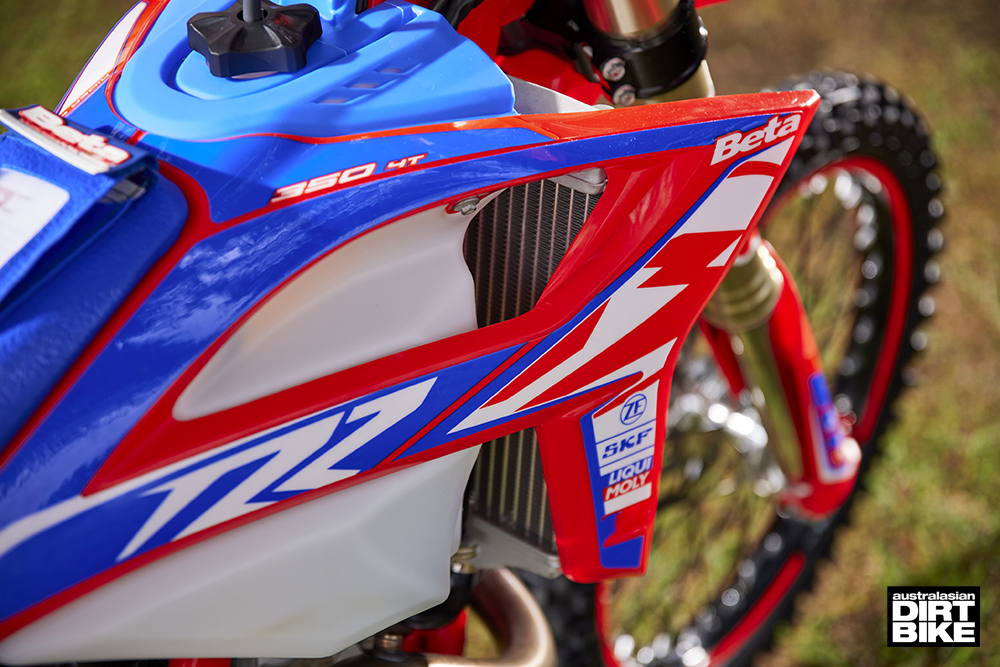 If I had to make a choice from only the appearance and spec sheets, I would undoubtably choose the up-spec Racing 350 model but this is not how I liked to do things. Instead I got to spend a day switching between both models as I ripped some trails in the Blue Mountains. Jumping between bikes, I did not find any difference with bottom end power.
They both have really smooth power delivery down low with great torque. The only time the Racing felt different to the RR down low was when I ran the Racing with TC mode activated. When the TC was activated the Racing hardly ever broke traction no matter how fast I wound open the throttle out of corners.
The mid-range on both bikes also felt very similar. It was not until the top end that the Racing model separated itself from the RR and continued to build power for slightly longer than what the RR was capable of.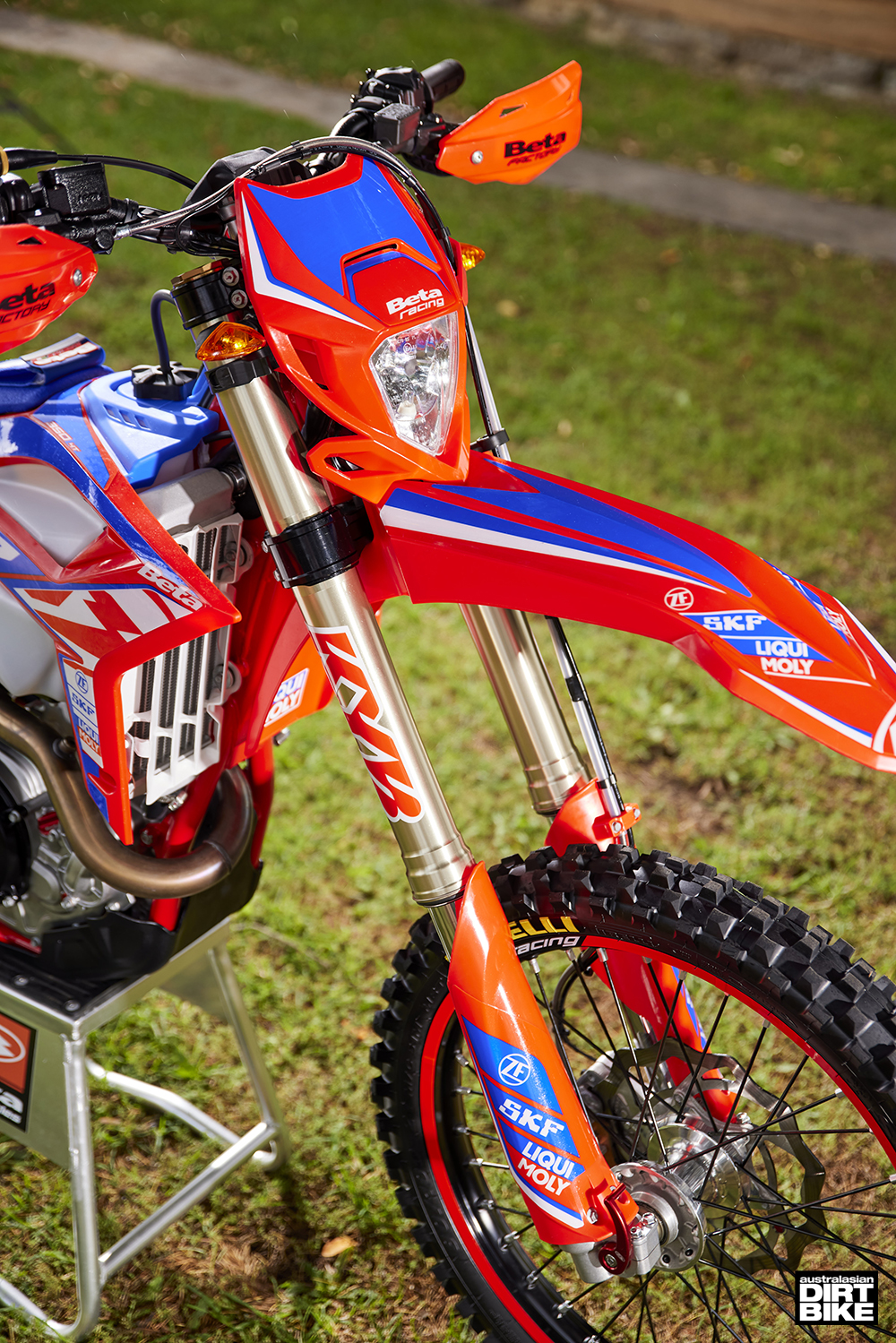 Bumps and jumps
The suspension department is where these two bikes felt significantly different to each other. The RR fork has received some major upgrades for 2022 and it sure felt like it. All the small to medium obstacles like bumps, rocks and roots are no match for this soft smooth fork. I could point the front wheel at any loose rock or messy section and confidently charge through and the fork would take care of the rest. The only limitation with this fork I found was on race track sized bumps as it would blow through all of the travel.
After I found the limits of the RR fork I jumped on the Racing to see how the KYB fork handled the same section. I'm pretty sure if the KYB fork could talk it would have said "is that all you have got" as I charged through the same section. The KYB fork is more than capable of soaking up huge hits and bump and to be honest I totally expected that from this fork.
What did impress me most about this fork was how well it soaked up smaller bumps. I wouldn't say it gave me the same butter smooth feeling of the RR fork, but it did soak up all the small obstacles really well for a fork that feels totally at home on a race track.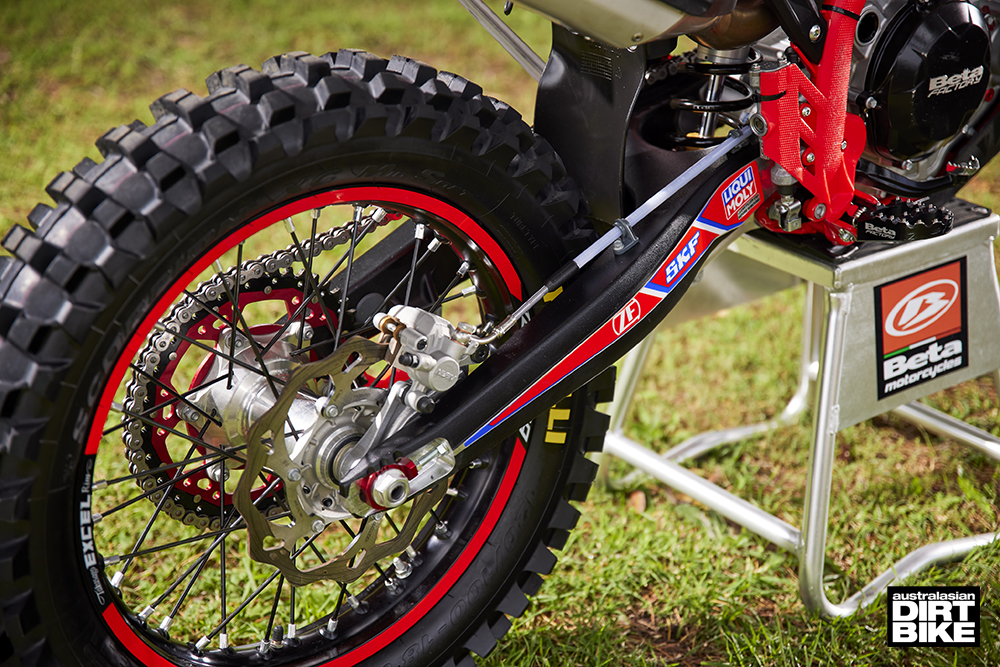 The rear shocks on both bikes are a lot closer to each other in performance and so they should be because they are both ZF units. The RR shock does have a lot softer ride and feel than the Racing's shock and that is a good thing as the softer feeling shock matches up really well with the butter smooth RR ZF fork. If I was going to pick anything that was not quite where I expected it to be performance wise it would be the ZF shock on the Racing 350. I felt it lacked the same smooth ride the KYB fork was providing up front on medium sized fast bumps as it didn't want to follow the ground and settle as much as I had hoped.
Ergonomic wise, the Racing had a slightly more open feel and I put that down to a few things. The firmer feeling seat on the Racing holding my body in a taller position, plus the Ergal alloy foot pegs providing a bigger platform and more grip for my feet as well as the KYB fork always holding the front end up in a higher position. Even though that both bikes are exactly the same dimensions on the spec sheet these few small differences translate into quite a different feeling cockpit.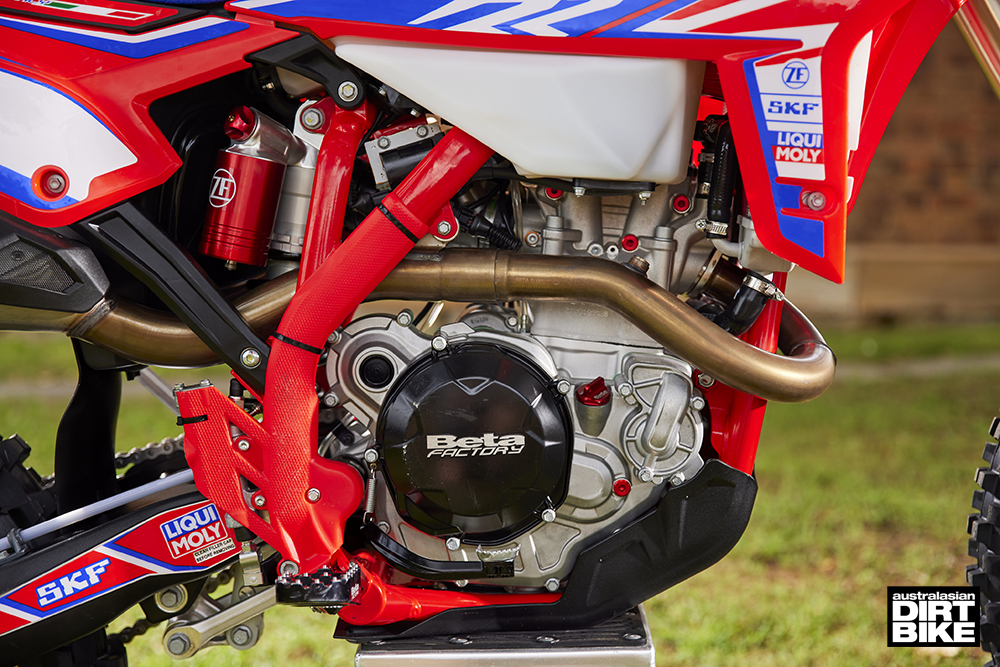 So, what is the verdict?
Both 350s are amazing to ride, they turn on a sixpence and have more than enough power to give much larger capacity bikes a huge hurry up. However the KYB Fork and TC mode on the Racing 350 do elevate it way past the RRs' limits. The thing is I don't believe ninety five percent of riders can even get close to the limits of the RR model. I would argue that unless you are planning on racing the AORC championship, like to venture onto a MX track, have money to burn or are addicted to bling and cosmetics the RR would be your best choice. So, the decision is up to you, do you want a silky smooth, soft feeling 350 or the racier hard-edged race weapon?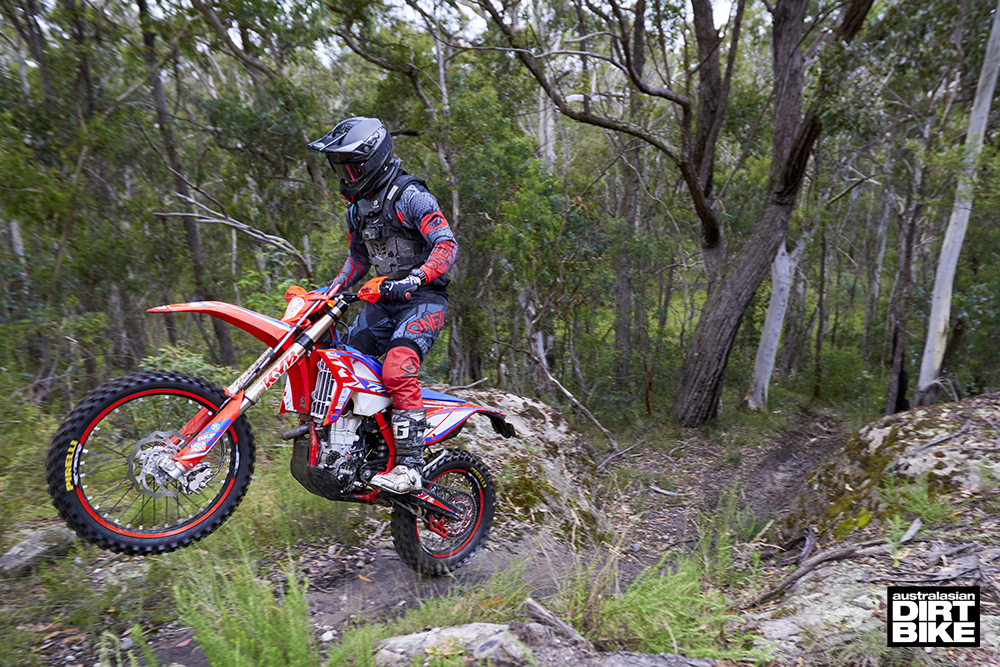 What model would I choose?
As much as I appreciate a good-looking bike, it doesn't mean much to me compared to performance. So a hefty bling list doesn't do much for me unless the bling actually has performance advantages.
The majority of my riding these days is trail riding or Hard Enduro. Considering this, the RR and its more forgiving nature would be an easy choice. Even though the suspension is quite soft at speed I still felt totally at home on the RR as I could put it exactly where I wanted and the fact it bottomed out every now and then on the big bumps didn't bother me at all.
In basic terms when I ride the RR I feel totally in control, as in I am taking it for a ride and ultimately this feeling gives me the best joy when riding.

SPECIFICATIONS
Beta RR350 & Beta RR RACING 350
ENGINE Single-cylinder
Type 4-stroke
Displacement 349.1 cc
Bore & Stroke 88mm 57.4mm
Cooling liquid-cooled
Comp ratio 13.19:1
Fuel metering Elldor dual electronic injection 42mm – Synerject
Tank capacity 9.0L
Transmission 6 gears
Clutch wet multi-disc clutch
DIMENSIONS
Wheelbase 1490mm
Seat height 940mm
Ground clearance 320mm
Claimed weight  107.5kg dry
SUSPENSION
Front Hydraulic USD fork with 48mm shaft 295mm travel
Rear Monoshock with progressive compound lever 135mm stroke
BRAKES
FRONT Wave disc 260mm and double-piston floating calliper
REAR Wave disc 240mm and single-piston floating calliper
RUNNING GEAR
Handlebar NA
Front tyre Pirelli scorpion MX32 80/100-21
Rear tyre Pirelli scorpion XC 120/100-18
PRICE & CONTACTS
RRP $13,695 RR350
RRP $15,495 RR RACING 350
Warranty 6 months and labour
betamotor.com.au
WORDS // BEN GRABHAM
PHOTOS // JOSH EVANS