2018 KTM & Husqvarna Pricing Confirmed | Features | Latest
We recently published our ride impressions for the 2018 fuel-injected KTM (#454) & Husqvarna (#456) two-stroke enduro models but at the time pricing had not yet been confirmed.
Now as 2018 models start to appear in dealerships around Australia we have a confirmed price list for both the 2018 KTM and 2018 Husqvarna enduro and motocross ranges.
As expected, the TPI technology comes at a premium of around $1000. For example, the 2018 KTM 300EXC TPI has an RRP of $14,495 while the non-TPI 2018 300EXC is $13,495. If you want the Six Days 300EXC TPI you're looking at $15,995 RRP and TPI is the only option if you want the Six Days Special.
Across the board, 2018 KTM's are pricier than 2017's by $200 with the exception of a few mini motocrossers and the carby-fed 250 and 300EXC. And we should mention the 250EXC-F is $300 cheaper than its predecessor.
All prices are RRP and exclude on roads and dealer costs.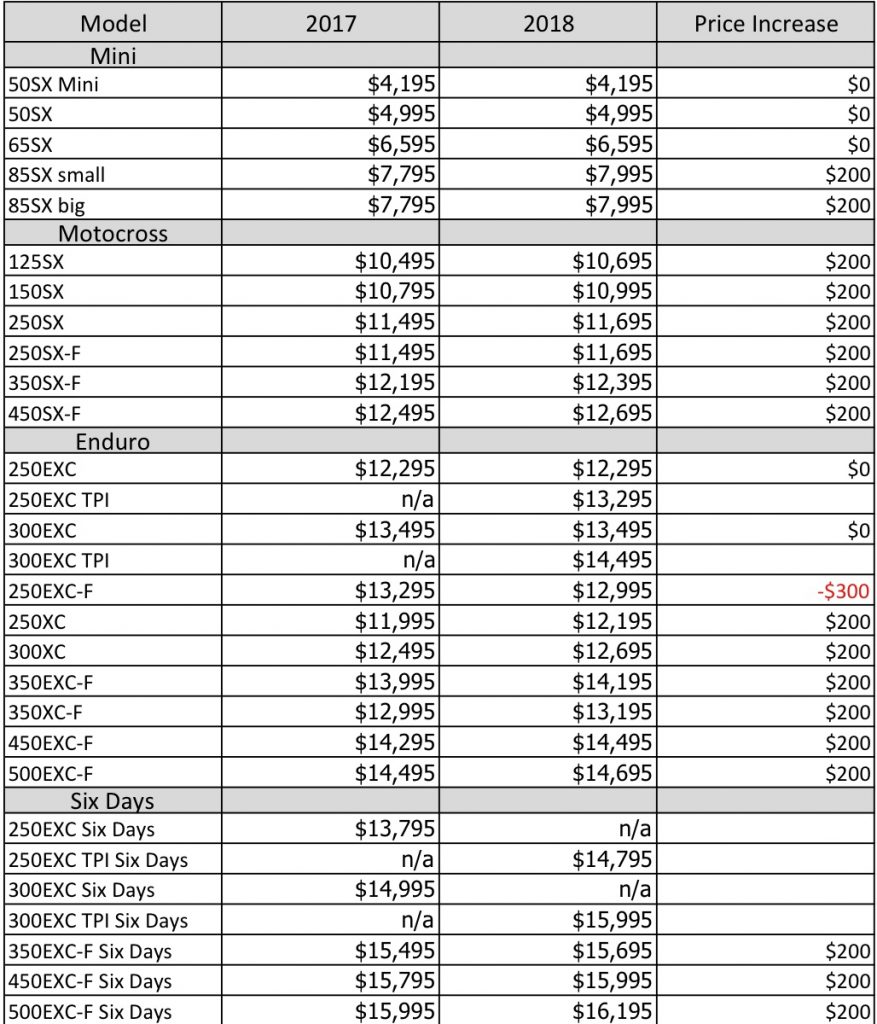 2018 Husqvarna
Comparing Husky to its sister brand, you will pay a premium for the Swedish offering but that's nothing new. Husqvarna is a premium brand. Its models come loaded with goodies like a handlebar mounted map switch, traction control, and tool-free fork preload adjusters, just to name a few, and therefore wear a larger price tag.
The fuel-injected TE250i will retail for $13,995 while the flagship TE300i will set you back $15,295, all prices are RRP and exclude on roads and dealer costs.