A plea from America, saw Parilla enter the dirt market for the first and last time
Parilla Wildcat
Italy is notable for great food, great women and a passion for motorsport that has produced cars like Ferrari and Lamborghini and world champions like Alberto Ascari. In the motorcycle world, the land of pasta is best known for its road bikes than its dirt bikes, although it has produced plenty of them and often with good results.
One such make is Parilla, which produced a bike called the Wildcat. It had its heyday in the '60s but is now mostly unknown except among vintage bike collectors. The Wildcat was built for the American market as Parilla was coming to the end of a successful period with its road bikes.
Giovanni Parrilla (one R was dropped from the name for the bikes) was born in 1912 and even as a young boy was mechanically minded. He moved from southern Italy to Milan and started in business working on diesel injection pumps and wholesaling Bosch sparkplugs. Discussing the latest bike race results with some friends over lunch one day he stated that he could build a better bike than anything the then Italian factories were putting out.
His mates bet him he couldn't and the challenge was accepted.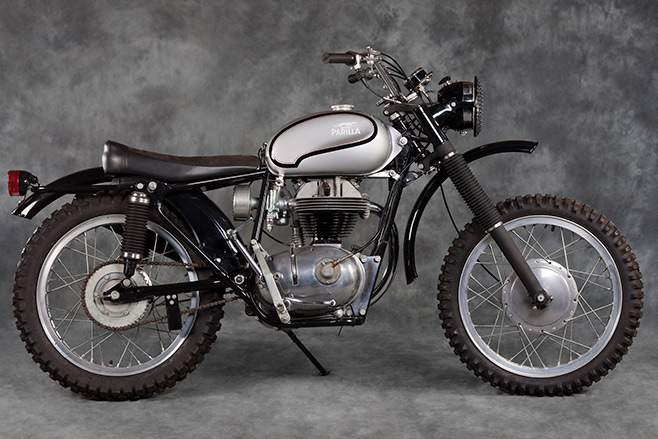 Buying a Norton, Giovanni pulled it apart, measured everything, put it back together, sold it and then started on his project, which was to become the first all-new road racer out of Italy after World War Two. Aided by his employee Guiseppe Salmaggi, who did the design work, Parrilla built two four strokes with gear-driven camshafts. The 250cc motors ran 6:1 compression due to the poor-quality fuel available. They produced about 15hp at 6200rpm. These prototypes had plunger rear suspension and girder front forks but a swingarm and telescopic fork were early changes.
By 1947, Parilla was producing both a race and street version of the bike with horsepower increased to 18 and a top speed of 148km/h, which had to be pulled up by the 260mm drum brakes fitted front and rear. A newer design released in 1948 increased horsepower to 21 and top speed to 160km/h and with the addition of aluminium alloy the weight was coming down as well. Parilla was becoming a popular brand by this time.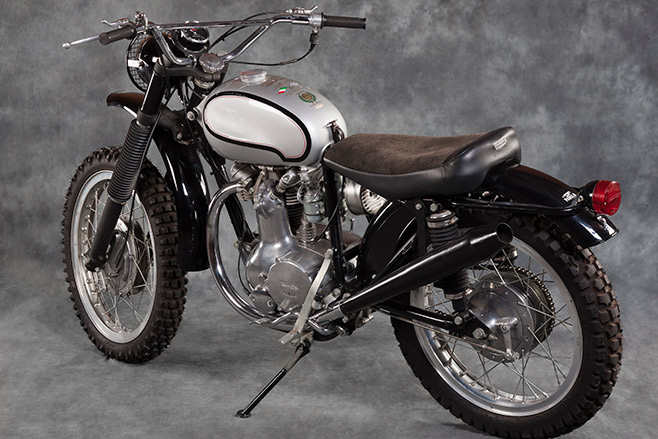 In 1950 a 350cc engine was produced and Parilla was dominating the road racing scene in Germany and, with the aid of German racer Roland Schell, a six-speed gearbox was added. Late 1952 saw another redesign, with the release of a 175cc "high cam" motor in a model called the Fox Roadster and, by early 1954, an over-the-counter race model called the 175 Competizione.
The "high cam" motor had the camshaft on the side at the height of the combustion chamber, with short pushrods operating the overhead valves.
Usually driven by chain, the camshaft on some racers had gear drive. Later models were built exclusively for the American market featuring 200 and 250cc engines.
America was a success for Parilla in the late '50s and early '60s. It was a dominant force in the USA road racing scene and generally regarded as the brand to beat. The 1958 250cc GP at Daytona was won by a 175cc Parilla. Most of these successes were with basically stock bikes running and over-the-counter parts. Parilla also produced a wide range of commuter and street bikes with both two- and four-stroke power plants.
Dirt bikes were starting to take off in the US and, around 1961, American distributor Cosmopolitan Motors asked Parilla to provide a 250cc off-road model. Parilla obliged by putting the "high-cam" road race engine in a more off-road oriented frame as a US-only model. The common bike in the class was the Triumph Tiger Cub but the Parilla Wildcat was so much better that it sold well, even though it cost twice as much. Aware of the huge price difference, Cosmopolitan adopted the sales slogan: "It takes a lot of machine to win. You can't get a winner at the bargain table."
The lights and tachometer were factory options. Some of the other features were a suede seat, a reverse-cone megaphone exhaust, side float bowl carburettor, friction steering damper, leather strap holding the rear of the tank and a quite unusual footpeg mounting system.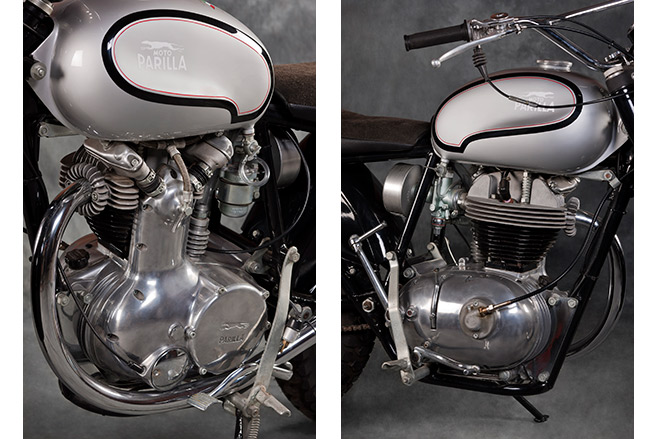 The "high-cam" system is clearly visible on the left side of the motor with the short pushrod tubes shooting upwards. No airbox was fitted and the filter sits in a housing not much bigger than the filter. The brake pedal and gear lever were reversed from today's common placement but that was the norm for European and British bikes back then.
The off-road world was changing in the mid-'60s, with the two-stroke emerging as the force to be reckoned with in competition. Bultaco, Ossa and Husqvarna were all making names for themselves and four-stroke dirt bikes were suffering. Parilla was bought out by a holding company in 1962 which, in turn, collapsed in 1967 due to a recession in Italy and the Parilla name disappeared from the motorcycle world.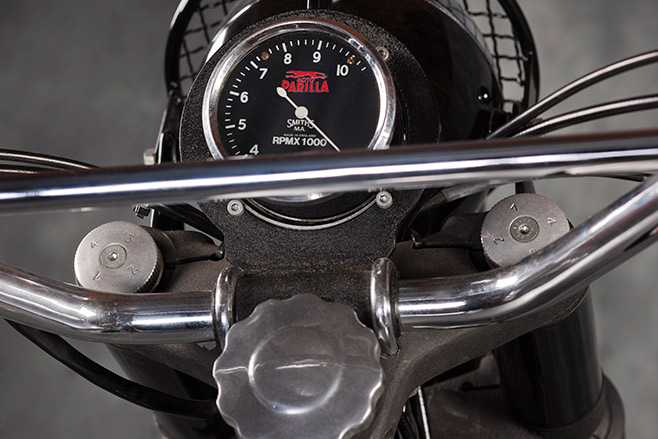 Giovanni Parrilla and his sons remained in business but by then they were making go-kart engines, and quite successfully too. Giovanni died in 1968.
SPECIFICATIONS
1963 Parilla Wildcat
ENGINE
Type: Single-cylinder, OHV
Displacement: 247cc
Bore x stroke: 68x68mm
Cooling: Air
Compression ratio: N/A
Fuel metering: 30mm Dell'Orto carburettor
Transmission: Four-speed, five optional
Output: 26hp @ 9500rpm
DIMENSIONS
Output: 26hp @ 9500rpm
Weight: 114kg dry
Maximum speed: 135km/h
SUSPENSION
Front: Adjustable telescopic fork
Rear: Twin shocks
BRAKES
Drums front and rear
RUNNING GEAR
Brakes: drum (front & rear)
Front wheel: 3.00×21 inch
Rear wheel: 4.00×18 inch
Sign up to one our free weekly newsletters:
Receive more motorcycle reviews and features here or get the latest motorcycles for sale here.
Subscribe to Motorcycle Trader magazine here