Inspired by the epic dirt bike movie, "Dust to Glory", ADB reader Jed bought a 2003 Honda XR650R not knowing it was the former Finke race bike of his mate, Jason Hill, and still had the HRC engine! Editors Note: This story was compiled before Jason Hill sadly passed away in July. ADB sends its condolences to his friends and family.
WHY'D YA BUY THE XR650R?
A few reasons, firstly The Dust to Glory movie. It also looked like the bike a mate of mine (Jason Hill) had built to race Finke. I hadn't spoken to him for over 10 years and a few things had been changed but, for $2000, I thought why not? It looked about right and, worst case, I could put the wheels on my other XR and build it to sell as a project with my son Hugh. It came as a rolling chassis with three boxes full of engine parts. I put a photo on a Facebook group and Mark Breed in Darwin messaged me and provided the full history of the bike, including some photos of its life through the years. He also put me back in contact with Jason, who confirmed it was his old bike, had a full HRC engine and, in his words, was the fastest XR650R he had ridden. It's like owning my own piece of race history.
WHAT YA DONE TO IT?
Considering it was a basket case and the previous owner had kinked the timing chain, it'd had to come apart. It's now had a full engine rebuild, new piston and barrel and one of the last remaining HRC cams from the States was located and installed. The clutch basket was showing years of abuse and the clutch worked more like a light switch.
The head was inspected and needed nothing other than a clean-up. It had already been worked over and ported. I did the spanner work myself and only a few things had been lost in the two years since the owner had stripped it and left it in the boxes. The whole bike had to be rewired, as a lot [of the loom] had been removed for racing and it had been fitted with a Tusk lighting kit.
I tracked down a copy of the old batwing for the airbox and rebuilt all the suspension.
The Precision Concepts suspension had been swapped back to standard units so I had to rebuild the stock stuff using Racetech springs and parts. The front brake had been replaced with CR parts at some stage. I'm looking forward to when it is VMX legal.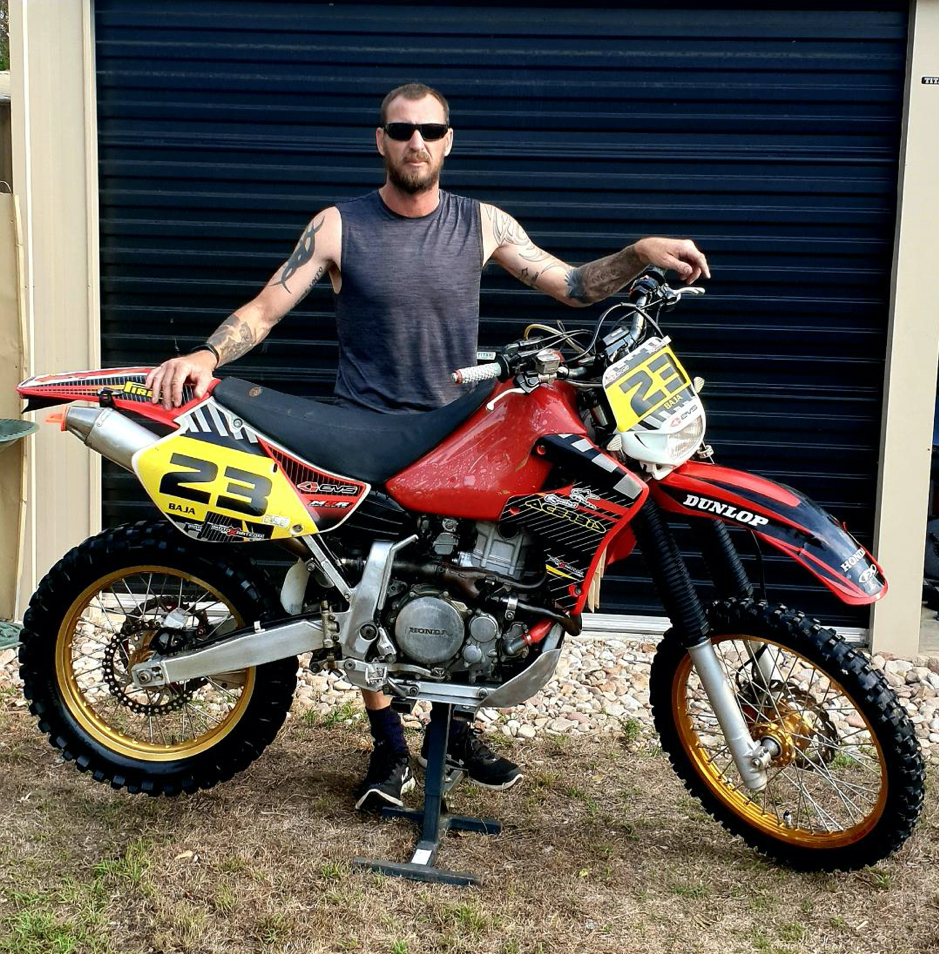 HOW'S IT GO?
For a bike that's 16 years old and has antiquated suspension it surprises a few people at the local MX tracks. The engine was built for the desert and it shows when you open it up on a straight and click through the gears. It's a torque monster and shows its potential to still be a competitive desert race bike, but would need the right pilot.
With the removal of most of the ADR gear it's a little lighter than stock but the suspension is set up well and it tackles most things a bike like this shouldn't. I've owned about four of these over the years but this one is certainly a different beast. It puts a smile on my face every time. So much I sold my other XR and often take this one out when I go to the track on my KX450.
RECOMMEND IT?
If you can find one of these in good condition, they are a fantastic bike and a shame they don't make them anymore. Throw some engine work into the mix and maybe a good rider and they will shock a few people.
This project has been a blast from the past. It was just something to build with my son and sell off.
It has turned out to be more than that, I've made contact with old friends and made new ones on the way. I can't thank Mark Breed enough for going out of his way to provide the full history of the bike and also putting me back in contact with Hilly.
5 THINGS YOU DIDN'T KNOW ABOUT JED'S XR650R
1. It was about to be sold for parts.
2. The Finke engine built for Jason is rumoured to have cost about the same as a brand new XR650R.
3. The 'batwing' to smooth flow in the airbox is more snake oil than performance.
4. He's thinking about running it in the Finke Desert Race.
5. It's never to be sold.
WHAT 2003 Honda XR650R
WHO Jed
WHERE FROM Brisbane, Qld
HOW MUCH $2000