2008 Suzuki RM250 – Bike Build | Features
Steve Powell's 2008 Suzuki RM250 restoration snowballed from a low-cost funbike project into a howling work of art - here is how he did it.
Steve Powell has been around the Australian motocross scene for probably longer than he would like to admit. The former A-Grade racer and factory mechanic began his race team tenure with Suzuki, spinning spanners for Daryl Hurley and Paul Broomfield. These days Powell is the owner of SPMX, a specialist dirtbike setup and tuning business in Koo Wee Rup, Vic. Powelly, as he is widely known, still rides more than most and is still bloody fast. He's built some fine machines over the years but his recent restoration of a 2008 Suzuki RM250 morphed into a transformation that any factory team would be proud of. This is Powelly's story of a build that escalated faster than a bout of the squirts after a night on the curry.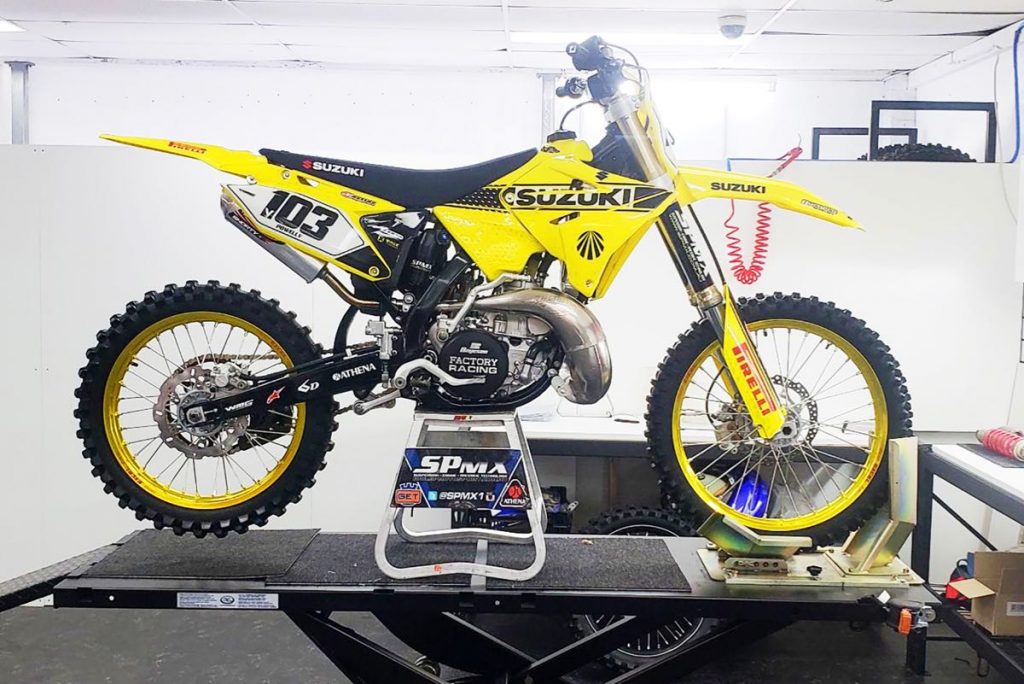 HUMBLE BEGINNINGS
"I was keen to build a nice two-stroke for myself and, having had a long-term relationship with Suzuki, I thought it'd be cool to build up a nice version of the last model RM250. Byrner's Suzuki in Seaford, Victoria traded this one in and I grabbed it for around $3000, which was pretty good value. It was pretty rough but the owner had purchased it brand new from Byrner's so I knew where it had been.
"It had been used for trailriding and was pretty neglected. To be super honest, my intention was to ride it as I purchased it. It had recreational registration and I thought it would be a cool bike to ride in the bush. I just wanted something that went well but wasn't neat so that if I dropped it on a rock it didn't matter.
"I thought I'd take a look at the cylinder to make sure it wasn't going to grenade on me and when I got inside the engine, the crank had a little bit of movement. I took the engine out to fix that and then it escalated. I ended up with a bare chassis and sent the frame off to be blasted and powdercoated, and stripped the cases to have them hydroblasted. Then I noticed the footpegs were worn and, before I knew it, I was ordering genuine bolts to replace the old dirty ones and I just didn't really stop until you see the bike you're looking at.
"Although it wasn't my initial intention, I am glad I did. Thinking about it now, the idea was in the back of my mind from when I was in the US with Daryl Hurley at the end of 2018 for the World Veterans' Motocross Championship. Hurley found his old RM250 race bike over there; the same bike he won that really muddy World Supercross Championship round in Spain in 2003. It was really cool. Hurls had the bike back in his hands and had it freighted back to his home in New Zealand. That bike started a lot of talking and plenty of stories started flowing and the seed must have been sewn.
"I started a complete engine rebuild consisting of a rod kit, bearings, seals, countershaft seal and gearshaft seals. The cylinder was in good condition so nothing else was needed except for a simple hone. Then I ported it. I fitted a new single-ring piston because once I had started building this bike, I thought I may as well build something with good components that will make the bike quite quick. Two Stroke Performance in Mornington modified the cylinder head to reduce compression and they modified the squish so the bike would happily run on 98-octane fuel.
"I installed a Boysen Rad Valve which I considered period correct. Everyone seems to be going for V-Force these days but Boysen Rad Valves were the in-thing at the time. I fitted an FMF pipe and silencer and jetted the carburettor to suit. Given my history with the two-strokes from my time at Suzuki it was all fairly easy for me to do. The porting is the same as what we did to the race bike back then. After test riding it, I realized I should have gone easy in this area because the bike was very fast.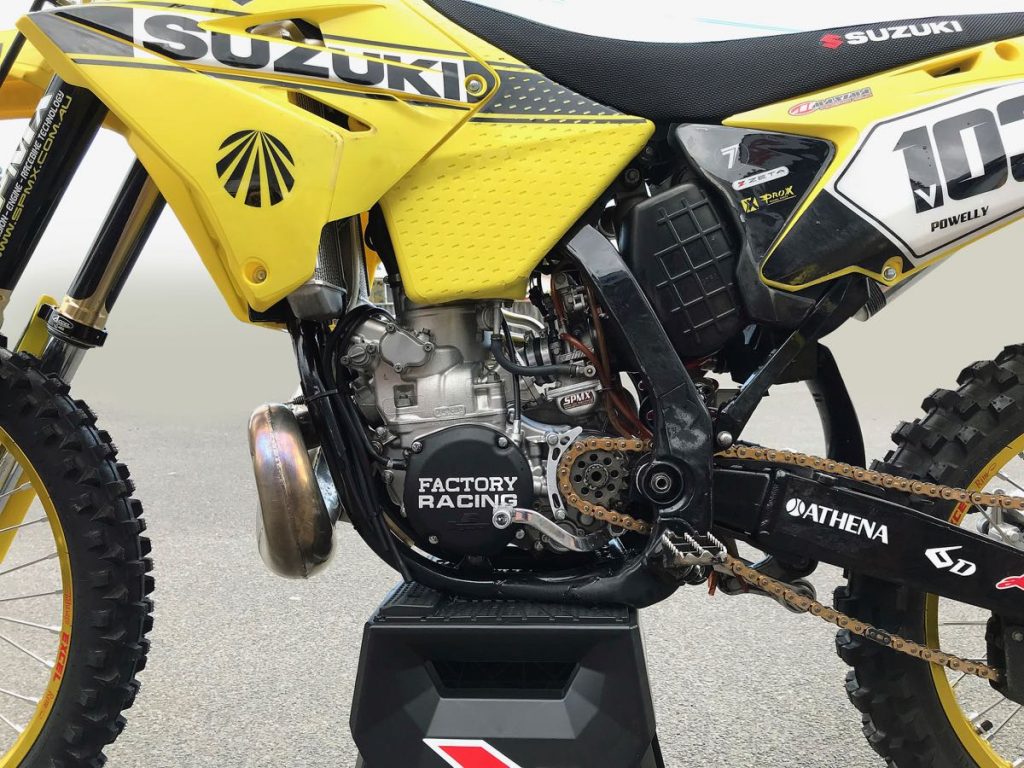 NEW BOOTS AND CLOTHES
"I cut the spokes out of the wheels and had the hubs hydroblasted. I fitted new wheel bearings and then laced the hubs to a set of bright yellow Excel rims from EZE Race Products with genuine Suzuki spokes. I always run Pirelli so I fitted a set of Scorpion MX mid-soft tyres. When it came to plastics I wanted to give it a more modern look so I went with a Polisport MX Restyling kit which gives the bike modern lines just like a 2019 RM-Z. It fitted really well and I love the way it looks.
"Wilmax produced the graphics kit with a retro style inspired by the JGR Team bikes from one of the AMA Motocross retro rounds. The seatcover was made and fitted by Mario from Topline Upholstery.
It's a mix-and-match setup but I had a Neken handlebar with a ProTaper pad and ODI Lock-On 'grips. Lock-on 'grips are just so easy to use and you get a new throttle tube every time so you can't go wrong.
"The first time I rode it, it blew my mind. It covered the ground so fast. I had forgotten how much power a 250cc two-stroke can have. It just doesn't sign off high up in the revs like a modern two-stoke. It just keeps revving and keeps making power.
I'd been testing the 2020 Husqvarna TC250 in the weeks before I took the RM out for that first ride since completing the project, which proved to be a good reference point for the RM250. The power delivery of the Husqvarna is so different, with loads of tractability making it easier to ride but, in comparison to the RM, it signed off early.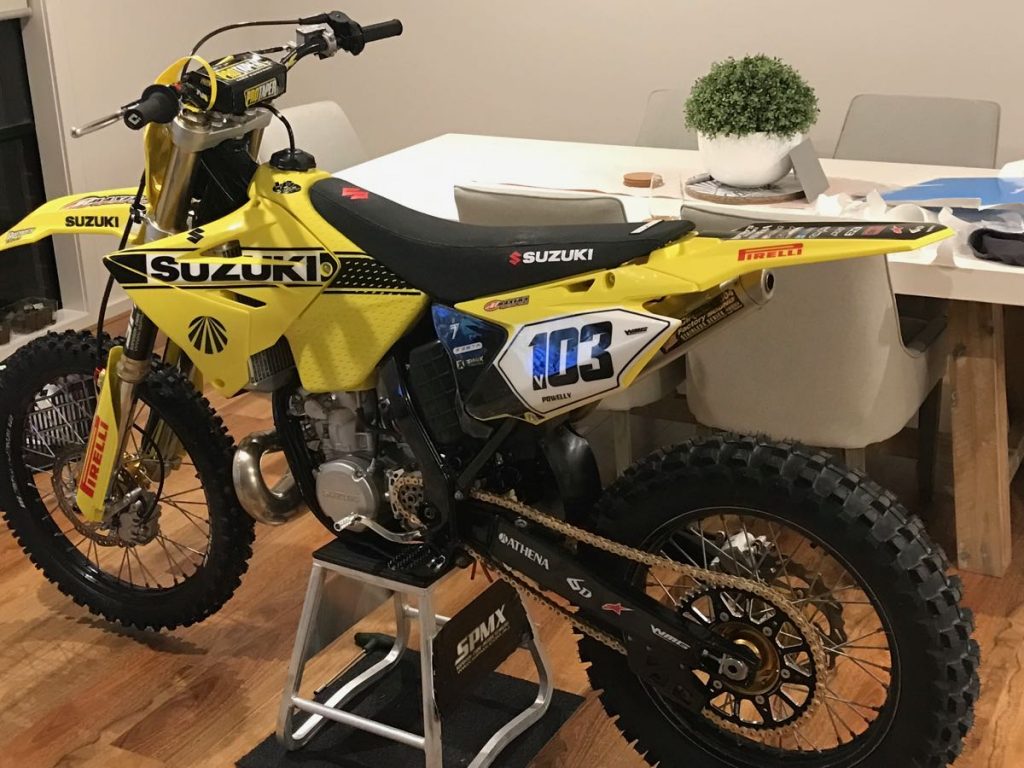 LIGHTNING FAST
While the new bike is easier to ride, it doesn't have the fun factor of the RM. Riding into and through corners on the RM is trickier because there's no weight to slow the engine down and settle the bike. And once you're in the direction you want to go and you hit the clutch, you need to be hanging on. I can comfortably ride 25-minute motos on my RM-Z450 but after 13 minutes on the RM250, I was done. I had no strength. It was trying to rip my hands off the 'bars. I thought, "holy shit, I've made this thing too quick". So I went richer on the carburettor needle and up two sizes on the main jet. It just made the power delivery meatier.
To be fast on this bike you need to be fitter and stronger, because it's demanding to ride it well. It's so exciting to ride and the big thing about this bike, from the moment you start it, the sound is awesome. If you can roll on the throttle in third gear with good traction, the sound is incomparable. There is no better sound.
The crazy thing was, after riding it a couple of times, I started to see a bit of wear on the frame. The hubs started to get a few stains and the spokes began to dull off. So, I thought 'I either keep riding it and accept the wear and tear or sell it to someone that might really want it'. I advertised it and it went to a Suzuki enthusiast in Perth who has it in a showroom."
2008 Suzuki RM250 Parts counter
• 2008 Suzuki RM250: $3000
• Neken handlebar: $149.95
• ODI Lock-On 'grips: $49.95
• Suzuki wheel spokes: N/A
• Excel rims: $600
• Hydroblasting: $700
• Two Stroke Performance cylinder head: $295
• Polisport MX Restyling kit: $319.90
• Wilmax graphics: $299
• Topline seatcover: $110
• FMF pipe and Shorty silencer: $708.95
• Boysen Rad Valve: $269
• Rod kit: $299
• Bearings and seals: $160
• SPMX cylinder porting: $350
• Single-ring piston kit: $169
• Chain and sprockets: $250
• Powder coating: $250
• SPMX suspension setup: $1000
• Workshop hours: About 50
WORDS & PHOTOS // STEPHEN TUFF