The 2009 Husqvarna TE510 of ADB reader Peter McWilliams.
WHAT 2009 Husqvarna TE510
WHO Peter McWilliams
WHERE I GOT IT New from On Two Wheels, Campbelltown, NSW
HOW MUCH $12,990
WHY I BOUGHT IT
I wanted a European bike that didn't need to be modified to be reliable, fast and handle well. I bought it brand new, and wanted to keep it for a while – which I have done!
WHAT I DID TO IT
The first thing I bought was a 12-litre IMS tank, to get some extra range. Most rides I do are at least 200km – I like long days in the bush! This way, I don't need to carry extra fuel in my backpack. Then I added Force radiator guards, a genuine Husky anodised sump guard, Ego Barkbusters and Twin Air filter. I only use, and highly recommend, Michelin S12 tyres. Over the years I have done other bits and pieces.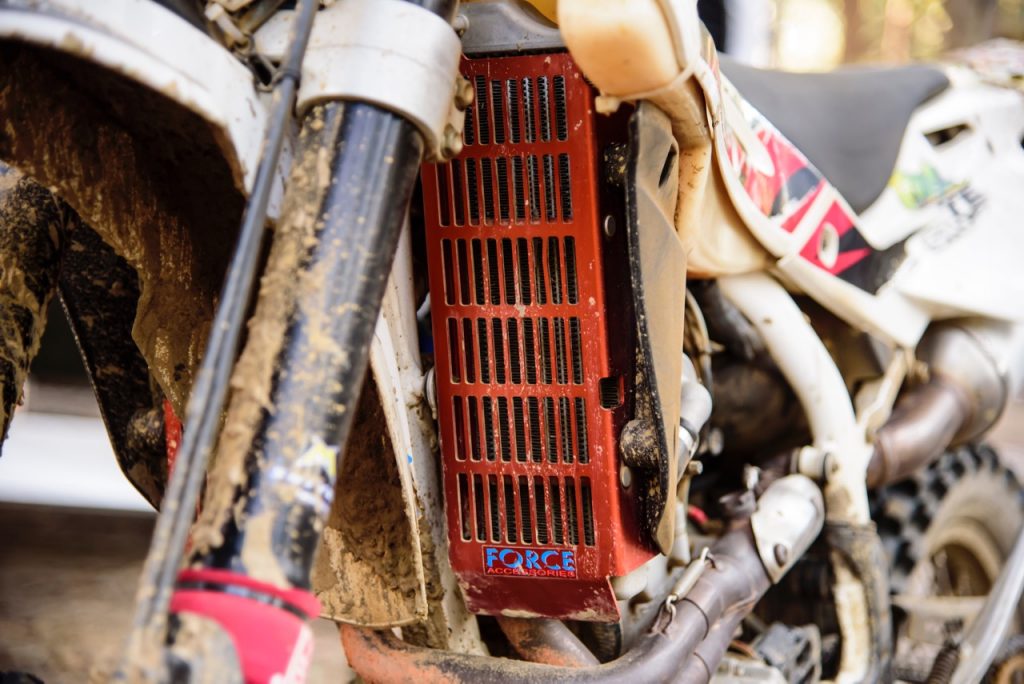 HOW DOES IT GO?
This bike is like the V8 Supercar of the dirtbike world: fast, agile, excellent brakes, great suspension and yet easy to either trailride or hit some technical enduro. The fuel injection works great and is always easy to start. Overall I am very happy with the bike six years on and it still kicks arse!
SHOULD I BUY ONE?
I would definitely recommend this bike. It came standard with all the good gear. That includes a thermo fan, hydraulic clutch, power exhaust, Brembo brakes, Michelin tyres and excellent handlebar and controls for me. It's easy to ride fast and more than agile enough for a big bore when the track turns tight and technical – but when it all opens up, the big Husky just loves to run fast and smooth!
with Sam Maclachlan
THINGS YOU DIDN'T KNOW ABOUT PETER'S TE510
Peter's bike is just part of the rig he travels the country riding with (pic included – pretty cool)
Was one of the last Italian-built Huskies
Peter bought that awesome ADB jersey on eBay
He bought the TE new – and doesn't plan on selling any time soon
After breaking the front guard, he just cut it down rather than buy a new one – works great!