ADB reader Matt takes us through his 2016 Kawasaki KX450F.
WHY I BOUGHT IT
I chose to buy a KX450F because I'd been riding CRF250Rs for years and wanted a change. I was getting sick of looking at Hondas. I found the Kawasaki had the perfect torque curve for me, especially after we re-mapped the ECU. I'd ridden all the brands and, for me, the Kawasaki had the best chassis, awesome brakes, the clutch was super smooth and it kickstarted far easier than my Honda 250. The only real let down was the Showa SFF-Air fork. After doing a re-valve and actually learning how to set it up it was something I could live with but I could never get that harshness out of it on a big hit and it was a bit average on chattery braking bumps. I ended up changing it so now the bike is perfect.
WHAT I DID TO IT
After I purchased the bike I pulled it down to a bare chassis. The frame, swingarm and subframe were anodized black and I anodized the hubs gold. The engine, inner clutch cover and various engine parts are coated to look like magnesium works parts. The brake calipers are anodised black. It's got a Pro Circuit muffler, Works Connection radiator braces and I also changed the suspension to a Showa A-Kit spring fork and Showa A-Kit shock that has an 18mm shaft.
HOW DOES IT GO?
The bike has an awesome torque curve. I had it re-mapped to be a bit rich off the bottom and leaner on top, so it pulls smooth through the turns but then gets up and boogies as you exit the turn. The brakes are super strong and the chassis is the best in its class, especially with the upgraded suspension. I feel the KX-F has been overlooked just because of the air fork, however you can easily throw an '08 KX-F spring-cartridge fork in for a few hundred dollars and the bike is a winner.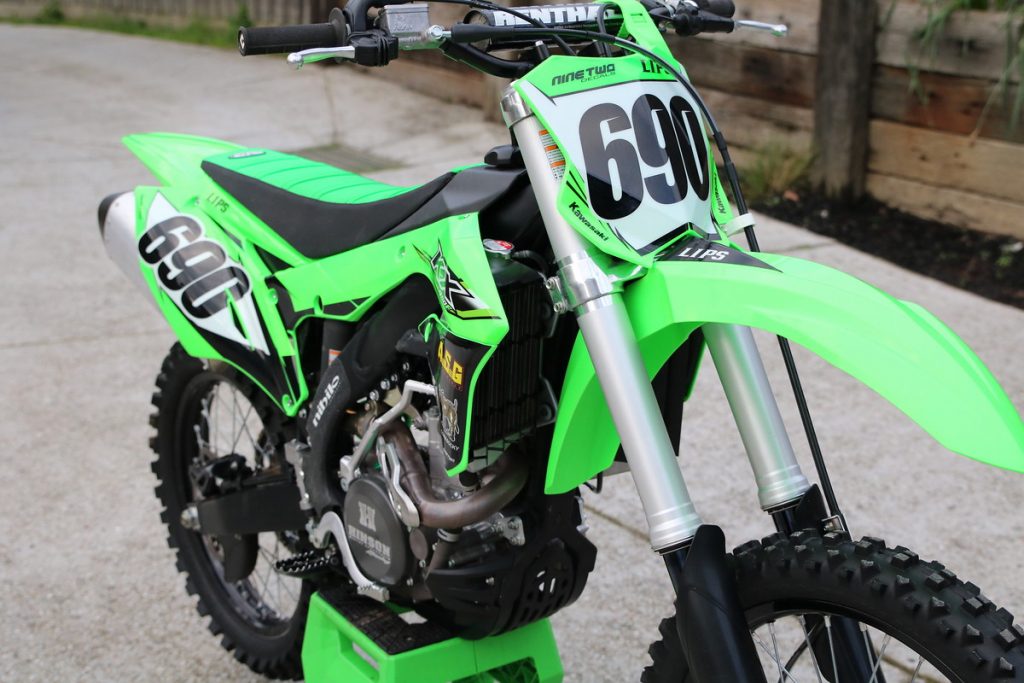 SHOULD I BUY ONE?
The KX450F motor is incredibly reliable for the performance it puts out. It is really enjoyable to work on. They don't have ugly bolts like a KTM and the air filters are easy to change, unlike some bikes. You also have lots of adjustment points for rider comfort which is a great feature.
5 THINGS YOU DIDN'T KNOW ABOUT MATT'S KX450F
1 He's cut out the airbox "backfire mesh" to get better throttle response.
2 He says the original tyres suck. If you buy one have the dealer change up the tyres for something decent. 
3 A common complaint is that the air fork is too harsh, so people take air out of the spring chamber. Nine times out of 10 they need more air. Check that the air pressure setting in the spring chamber is correct and then use the clickers.
4 Matt thinks bling kits and spoke wraps look s—, so please don't use 'em.
5. He thinks bike riding should always be fun. It doesn't matter what bike you have as long as you're out riding with your mates having a good time. That's all that matters.
WHAT 2016 KAWASAKI KX450F
WHO Matt
WHERE I GOT IT Powersports Kawasaki, Vic
HOW MUCH $9500