KTM has released full details about its 2017 Enduro Range, which are 90 per cent all-new from the ground up.
125 XC-W
The 2017 line-up has been changed to include the 125 XC-W and 150 XC-W (replacing the 125 and 200 EXC), which are specifically designed for closed course racing that don't require homologation.
The 125 XC-W is the lightest enduro bike KTM produces, with a dry weight of 91kg. Its 125cc two-stroke engine is paired with a 6-speed transmission and features all the bells and whistles KTM riders will be used to.
250 EXC
The more traditional, fully homologated powerhouses with the 250 EXC and 300 EXC in the 2-stroke range.
KTM's 250 and 300cc two-stroke engines are an all new architecture for 2015, featuring a new shaft arrangement for better mass centralization, a new cylinder with twin-valve controlled power valve, a new counter balance shaft for less engine vibrations, a new well-integrated electric starter. A MIKUNI TMX carburetor replaces the Keihin 38mm flat side carb in all two-stroke models for 2017.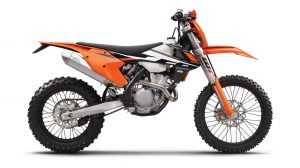 250 EXC-F
In the 4-stroke range KTM continues with its completely updated versions of the 250 EXC-F, 350 EXC-F models, as well as modifying the name of the higher capacity models to fall in line with the typical 4-stroke name to 450 EXC-F and 500 EXC-F.
The new 250 EXC-F and 350 EXC-F engines have been redesigned in order to make the new powerplant more compact and lighter. The new architecture with an optimized shaft configuration makes the engine 20mm shorter and cuts down weight by 1.5kg on the 250 and 1.9kg on the 350.
The four-stroke engines in the 450EXC-F and 500 EXC-F range now have an all-new overhead camshaft that now controls the gas flow through optimized ports, while a redesigned water jacket and combustion chamber take care of explosion and heat management.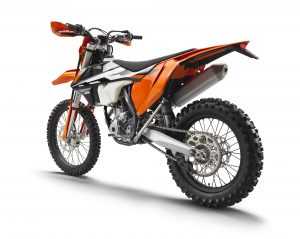 Across the range, all models benefit from a new chassis constructed from lightweight chrome-moly steel frame. The high-tech, lightweight chrome-moly steel frame is claimed to improve stability and reduce rider fatigue. The high torsional rigidity and low longitudinal stiffness results in better absorption of the energy created from the front and rear suspension sucking up jumps and bumps. In short: more comfort and less rider fatigue. Laterally attached, lightweight engine head stays (the connection between cylinder head and frame) contribute to a reduced vibration level. The bike also features an extra-light subframe made of stable aluminum profiles, which tiptoes the scales at less than 900g.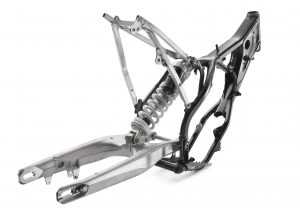 The all-new WP XPlor 48 upside-down fork is a split fork developed by WP in close collaboration with KTM. It is fitted with a spring on both sides but features separated functions for each fork leg: compression damping is fitted on the left side, while rebound is on the right. So the forks can easily be adjusted for compression and rebound with the twist of a dial on top of the fork tubes (30 clicks each).
Up the back, KTM has continued to use its tried and tested PDS system with a newly developed WP XPlor shock.
Following a tried and tested tradition, the specially finished SIX DAYS models stand side by side with the legendary, new generation EXC bikes. Available as 2- and 4-stroke bikes and equipped with several performance-enhancing and useful technical parts, the new "Six Days Spain" bikes, designed with sophisticated special graphics, top the latest KTM EXC model range.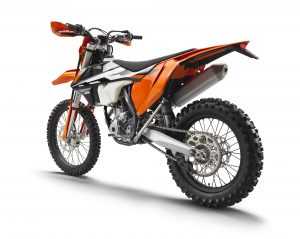 450 EXC-F Six Days
Joachim Sauer (KTM Offroad Product Manager): "As the saying goes, after the race is before the race. According to our understanding in state-of-the-art development, the brand new line-up of our offroad competition Enduros are proof of KTM's ongoing commitment to our core discipline. We believe this Enduro sport motorcycle range will push the excitement and satisfaction of any rider to a new level."
2017 KTM Enduro Technical Specs