With almost a decade's worth of back-to-back championships, KTM is no stranger to winning premier cross-country racing titles. For 2024, the KTM XC and XC-F range is set to continue that trend with a line-up of precision machines built to deliver trophies.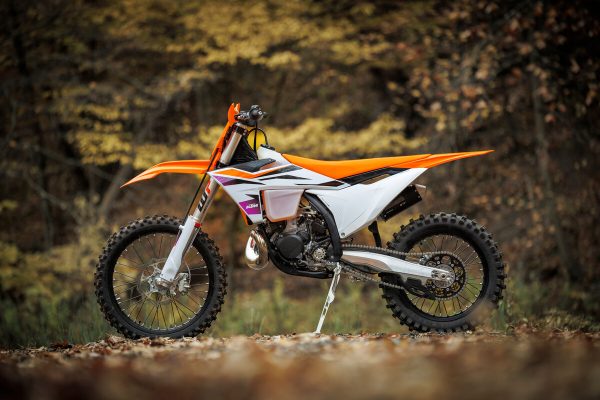 At the top of the range, the KTM 450 XC-F dominates the 4-stroke stable, with the equally impressive KTM 350 XC-F and KTM 250 XC-F rounding off the line-up. These are flanked by 2-stroke models, namely the KTM 250 XC and the new open-class contender, the KTM 300 XC, while the KTM 125 XC will be available for the New Zealand market.
All 2024 XC and XC-F models benefit from Electronic Fuel Injection, along with a map select switch as standard, while the 4-stroke XC-F range gets additional Traction Control, Launch Control, and Quickshifter features.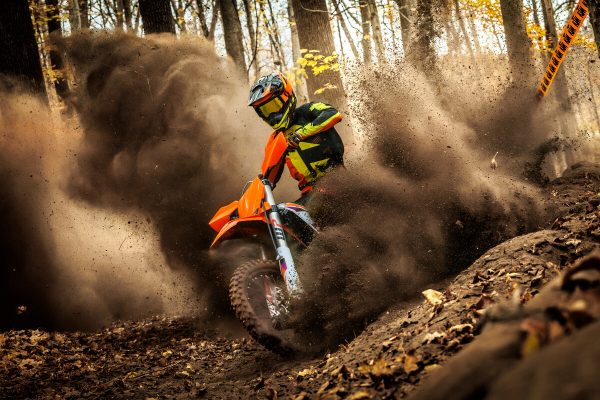 The biggest improvement to the 2024 KTM XC and XC-F range comes by way of the suspension.
Upfront, an all-new WP XACT Closed Cartridge fork provides faster and more consistent damping characteristics, thanks to a new mid-valve piston concept that optimizes the oil flow within the cartridge. This setup avoids unwanted foaming of oil which can lead to an unwanted change of damping characteristics and less consistent damping behavior.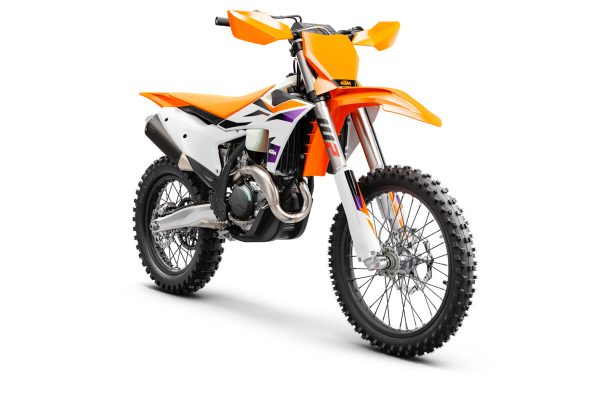 This is further improved with a new hydro stop in the last 68 mm of the stroke which aids in maintaining maximum reserves in extreme riding situations. Revised fork protection rings also provide increased protection against dirt intrusion for improved reliability. The new WP XACT Closed Cartridge fork retains its 48 mm of diameter, while the total length is now 940 mm, and the total stroke has now 300mm travel.
On the rear, the WP XACT rear shock provides advanced damping characteristics for unsurpassed traction and energy absorption. It also features less overall length and less weight compared to the previous generation while keeping the suspension travel unchanged with 300 mm.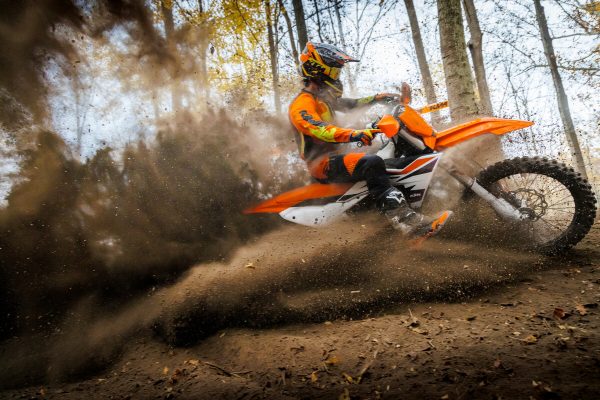 From an adjustability standpoint, both ends feature easy-to-use hand clickers that allow riders to change settings on the fly without needing any special tools.
The 2024 KTM cross-country range of motorcycles is a confidence-inspiring line-up catering to riders at any level. With dramatically improved handling characteristics, easy suspension adjustment, and the very latest in dirt bike technology, the 2024 KTM XC and XC-F range sets the standard when it comes to competitive cross-country racing.
The all-new 2024 KTM XC and XC-F range will be available at authorised KTM dealers in Australia and New Zealand from June 2023 onwards.