Alta'd Reality – FUTUER TECH I BATTERY POWER | Features
Did the Alta Redshift MXR die to save all electric dirt bikes?
WORDS: SIMON MAKKER – THIS FEATURE WAS PUBLISHED IN ADB ISSUE #479
I was in Portland, Oregon, for the Washougal round of the AMA Pro Motocross Championship 10 years ago. With time to kill the night before race day, we somehow ended up at the Wayland Invitational drag races, sucking Coors with the Portloonies and watching all manner of turbocharged and supercharged fuel-suckers race in a straight line.
The noise was all-consuming, the fumes overwhelming, and the smell of burning rubber and half-burnt fuel intoxicating. But two events that night will always stick with me. The first was watching an electric Tesla Roadster smoke a Dodge Viper over the quarter mile. The crowd's jeers and cat-calls turned to bellows of amazement.
The second was a drag race between two Teslas. The transformation from guttural engine roars and smashing gears to the unearthly silence of the Teslas tearing off into the darkness with just the chirping of their tyres was both jarring and memorable.
My perception of electric vehicles changed that night and I distinctly remember wondering if we'd ever see a day when the internal-combustion engines of our beloved dirtbikes would be replaced with batteries and electric motors. Rapid technological advances are par for the course in dirt bikes and, over the years, we've seen some incredible leaps as the manufacturers struggle to find any sort of advantage.
At the 1997 Las Vegas AMA Supercross, Doug Henry and Yamaha altered the trajectory of the sport when he charged to victory aboard the YZ426 in its first outing. Five years later, Gas Gas turned the industry on its head with the introduction of the 400 FSE with electronic fuel injection.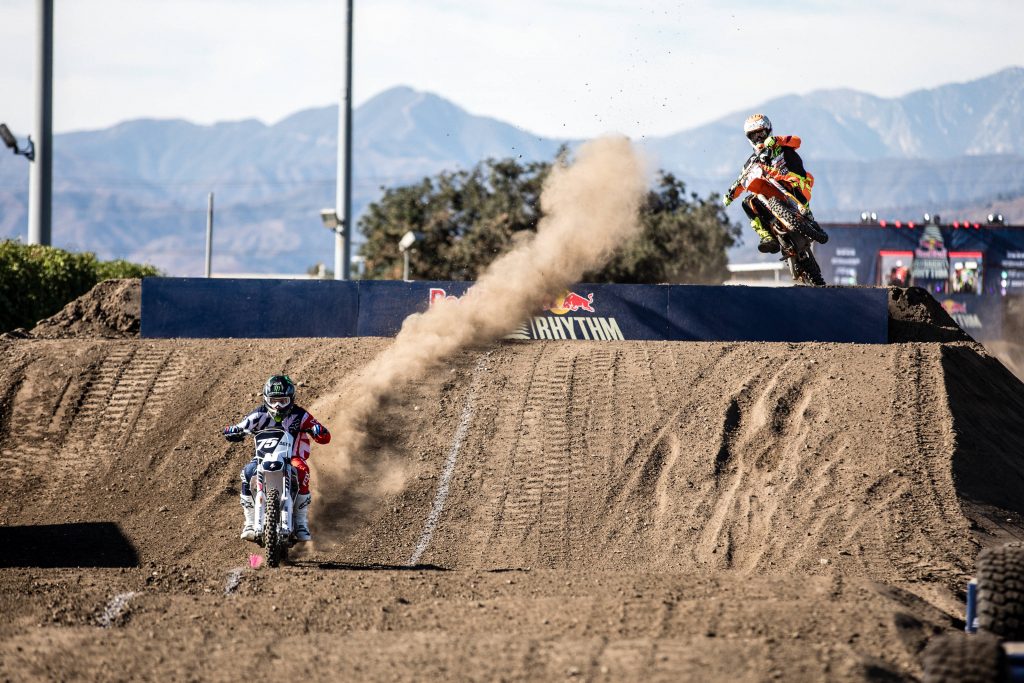 Over the course of 2015 and 2016 manufacturers again headed into uncharted waters, as electric bikes began capturing people's imaginations. At the 2016 Straight Rhythm former professional racer Josh Hill defied all the odds by finishing fourth on an Alta Redshift electric motocrosser. It was a moment that joint founder Marc Fenigstein describes as "one of the greatest days of my life".
"We'd unveiled the production bike and the name Alta at the AIMExpo in 2014, but no-one really took us seriously until the 2016 Straight Rhythm," Fenigstein says. "I don't think anyone has ever been so excited about finishing fourth as we were. With the exception of Troy Lee Designs KTM, we beat every Japanese factory, whose race teams have bigger budgets than our entire company. It was nothing short of amazing."
In 2015, KTM announced out of the blue that it was releasing the Freeride E-XC – a zero-emission trailbike that was essentially a Freeride 250R two-stroke fitted with an electric motor and swappable battery. While KTM had played around with battery-powered versions of its motocross, enduro and supermoto models, the cost, weight and range proved to be prohibitive.
Meanwhile, Yamaha had been tinkering with the merits of electric dirt bikes and announced in March last year that it had developed the TY-E – a battery-powered trials bike to contest the FIM Trial-E Cup. Incidentally, the Yamaha Factory Racing Team's chosen pilot, Kenichi Kuroyama, took the bike to the top of the podium at its first event, and finished the two-round series in second behind a Gas Gas.
Yamaha Australia's marketing manager Sean Goldhawk maintains the TY-E is currently a one-off.
"Yamaha wanted to show an electric vehicle can be super-competitive in that space," he explains. "It's not available to the public, but it shows that Yamaha is willing to explore the possibilities of electric off-road bikes."
A WING AND A PLAYER?
In March this year, the inevitable happened with one of the "big five" lifting the lid on its first battery-powered motocross bike.
Honda revealed its CR-Electric prototype at the Tokyo Motorcycle Expo, but has been remarkably coy on releasing any information such as battery size, power, range and weight, and when (or if) we could possibly see one roll off the production line.
In a written statement to ADB, Honda Australia told us that it wasn't in a position to provide any information on the CR-Electric, but development of more electric products was "already well under way".
"This is something that's been coming for a while now, so we see it as a normal progression for the industry," Honda said. "There are plans for e-models to be put in our line-up in the future as demand grows for these products."
From what we've been able to deduce, the CR Electric uses a slightly-modified CRF250R chassis. The motor is liquid-cooled and shares the same swingarm, suspension, brakes and wheels as the CRF.
We've also found out that the motor isn't actually a Honda part but developed by Mugen – a company that Honda has worked with in the past to develop high-performance parts and the Shinden electric race bikes that run at the Isle of Man.
PREPARING
The power unit is a miniature version of that used in the Shinden, meaning it more than likely uses the "twist and shoot" approach, rather than a clutch and gearbox.
A few weeks after the CR-Electric's stunning unveiling, it was demonstrated at the opening round of the All-Japan Motocross Championship. Video footage shows the revolutionary bike absolutely hauling off the line with nothing but a soft whirr, before the rider sedately rolls around the rest of the track for the fans. In short, it's done something to spark our curiosity, and the appetite of the 100,000-odd viewers who've watched the video.
Honda's explosive leap into the electric motocross market could possibly signal the start of a new era of dirtbikes. Practically every manufacturer we spoke to acknowledged the landscape could change soon, but stopped short of confirming they were working on prototype electric dirt bikes.
Goldhawk revealed they'd had the electric technology ready for years, but battery range was holding them back. "Battery development is what's holding things up at the moment. It's improving, but we can't get adequate distances between charges, and the last thing we want is to try and cross the Nullarbor and have the battery run out halfway," he said.
"But we provide electric motors for Giant [pedal-assist] bicycles and, in 2002, brought out the Passol electric scooter in Japan. I wouldn't want to put a timeframe on Yamaha releasing an electric dirt bike, but we're definitely looking at that space. Everyone's trying to find a new mobile-transport solution and electric motors are high on everyone's list."
Suzuki Australia's marketing manager Lewis Croft hints that change will come, but can't provide further information. "If you look at the global market for off-road motorcycles, it's declining," he said. "But at the moment there isn't any information about Suzuki's model development into electric motorcycles, and the factory hasn't made any announcements."
KTM Australia isn't waiting any longer, with technical service manager Rob Twyerould revealing to ADB that the electric Freeride will be available here in the next few months, as they test the waters with a handful of models.
Over in Austria, though, the factory is looking at ways to get more life out of the batteries. "At the moment, the battery technology is the limiting factor and has everyone on pause," Twyerould admitted. "KTM is looking at ways to eke out battery life by perhaps enabling a bit of charge to go back into the battery on downhills and under brakes. Any recharging would be minimal, but it's a starting point."
He said that a motocross or enduro rider could push the current Freeride for about 30 minutes before it ran out of battery, but it then took about an hour to recharge.
Twyerould wonders personally if there could be another solution. "There's nothing in the works that I know of, but I think a hybrid engine could have a lot of potential," he said. "You'd have the incredible torque that electric engines offer off the line then, as the bike reaches 60kmh or so, it could switch to a combustion engine, allowing the battery to recharge. When you slow down to enter a corner it'd then flick back to electric so you could again use that torque to pull you out of the turn. I'd be really keen to see something happen in that hybrid space." Over at Kawasaki, the roadbike division is pursuing supercharging to get more power, but seems to be taking a wait-and-see approach to electrics. Kawasaki Australia's Assistant Marketing Manager Gina Costello said: "There are no specific examples of future technologies using electric power in dirtbikes we are able to discuss." but concedes that there'd be some significant benefits.
DIDN'T ALTA FOLD?
So with the sudden surge in interest in electrics, why did Alta Motors fold earlier this year after failing to find fresh investors? As it turns out, Alta's assets were bought by Bombardier Recreational Products, makers of Can-Am three-wheelers and ATVs. Former Alta CEO Marc Fenigstein was not allowed to discuss the deal but the vague media release that BRP issued hints that Alta's electric technology was a big drawcard.
"This purchase includes certain intellectual property, patents, and some limited physical assets from the former all-electric motorcycle design and manufacturing company," the statement reads. "It's an opportunity for BRP to complement its ongoing research and development into this burgeoning area of expertise."
The media release also explicitly states that BRP has zero interest in restarting Alta Motors.
While the sale was bittersweet, Fenigstein takes heart in his belief Alta played a significant part in the uptake of e-technology development. "There's no doubt in my mind that Alta was a catalyst for electrification, and we wouldn't see the momentum behind Honda's program otherwise," he said. "We moved the curve and that's a satisfying feeling for us."
Fenigstein maintained that the battery technology they'd developed was well ahead of everyone else's, and the next generation would have broken into a whole new realm. "Our first-generation battery was already doing things Tesla wasn't able to replicate," he said. "For the technology geeks out there, our batteries were performing at 185 watt-hours per kilogram and Tesla was at 155 watts. He said other motorcycle companies are only recording 110 watts. "I really believe the closing of Alta's doors and the removal of our team … has set the industry back three to five years," he said. "The second-generation battery we were working on would've been able to perform at 225 W.h/kg; no-one's getting close to those numbers."
AVERSION OF THE UNKNOWN
It's all well and good talking to industry leaders about the future of e-technology but, at the end of the day, will the punters go for it?
Freestyle motocross legend Nate Adams tried an Alta in last year's X Games Best Whip contest and admits that he was hesitant. "A lot of people out there are like me, they have concerns but they can't quite put their finger on what they're concerned about," Adams said. "After 20-30 minutes I realised it behaved like a normal petrol-powered motorcycle. You twist the throttle and the bike responds in exactly the same way. On my first day I was already jumping similar lines around my supercross track that I do on my 450, and I was hitting the freestyle ramp, doing whips and small tricks. It honestly took very little time to get used to."