Australia crowned world champions at ISDE | News
Australia's World Trophy Team and Women's Trophy Team have claimed the 2018 world titles at the 93rd edition of the FIM International Six Days Enduro (ISDE), hosted by Chile.
World Trophy Team
In front of a packed-out circuit in Vina del Mar, the Australian World Trophy Team once again brought the fire to their international rivals, producing world class riding to remain well ahead of Team USA by just over seven minutes. Trailing behind USA was Italy, France and Spain, with Spain following behind Australia by just over 21 minutes. After five days of performing a tango with his USA counterpart, Taylor Robert, Daniel Milner maintained his first-place position overall for 2018 by nearly two minutes whilst also being awarded the title as the 2018 E3 Champion!
France took out fastest time for day six in the World Trophy Class but could not impact the domination of Team Australia in its bid for the 2018 title. Milner scored the fastest time for Australia in day six of 13:18.84, followed shortly afterward by Daniel Sanders, who clocked in a fastest time of 13:20.73. Based on Sanders' world class efforts throughout the past six days, he has successfully secured his place on the podium as third place overall, sitting eight seconds behind Team USA's Taylor Robert, and second place in the E3 category behind Milner.
Rounding out the 2018 World Trophy Champions was Joshua Strang, who finished day six with a fastest time of 13:35.47. Strang's commitment throughout the 2018 ISDE has seen him support his two teammates on the path to victory and based on his results across the past six days he has taken out 10th place overall and fourth place in the E2 category! In an unfortunate turn of events, Lyndon Snodgrass fell from the race back in day two due to a bike malfunction. In the face of adversity however, Team Australia rallied together in the remaining four days to take out the world title!
Riding an undeniable high after finishing the home-stretch and taking out the 2018 World Trophy title, Daniel Milner couldn't be happier with the final results, stating; "the past six days have been dry and dusty, but today on the beach was awesome! It felt like a little slice of home, and it was a real highlight to see and smell the gumtrees, remembering life back home in Australia!
"We won in the World Trophy title back in 2015, but this year we were the fastest team and no one could touch us, so it was fantastic to win fair and square! Our team was so strong, and in the end, it really was a team effort and we couldn't have done with without everyone's support.
"The team complimented each other really well. I have been riding with Sanders all year in AORC and we've been pushing each other along. Strang has been riding overseas, doing really well in the sprint series of the GNCC's. In conditions that may not have suited him well, Strang rode really well and helped get the team to where they are now. Although Lyndon had an unfortunate bike malfunction, he was here every day helping us out."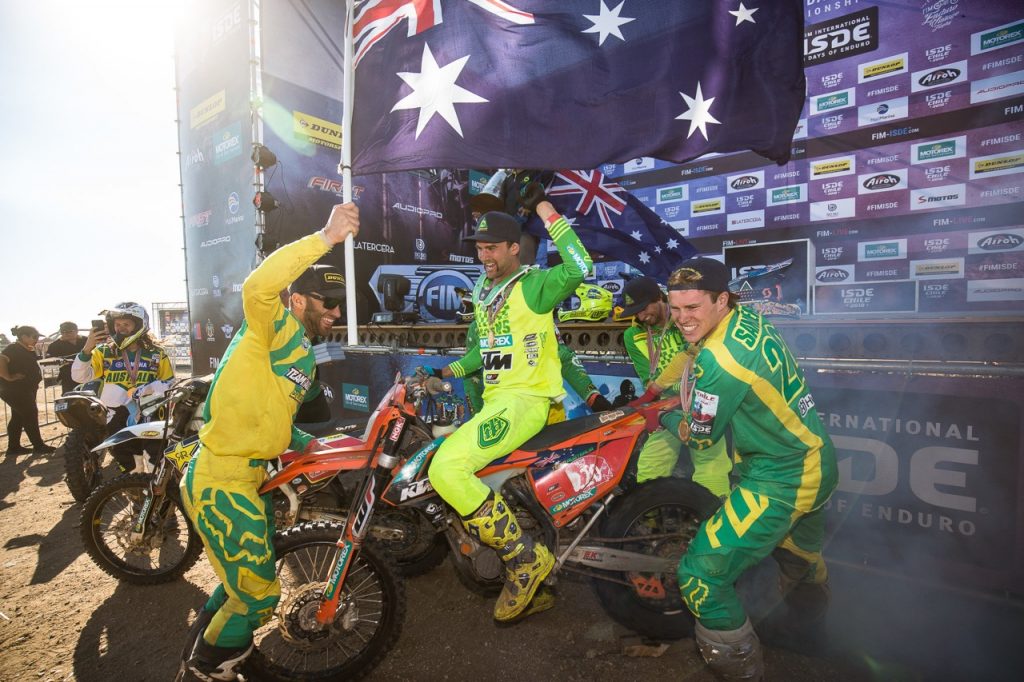 Reflecting on an enormous week and an even bigger end result, Daniel Sanders was elated with the team's efforts from day one, noting; "it's day six and we've wrapped it all up! It is unbelievably good to get my first World Trophy win with the boys, and it's simply been an awesome week. Personally and as a team, we couldn't have done it without all our supporters, volunteers, and Motorcycling Australia staff."
Third rider for the Australian World Trophy Team, Strang was humbled by the success of the team and support from volunteers, highlighting; "I think all we had to do was finish today to win the title. Sanders scared us a little in toward the end of the race but thankfully everything ended up ok. Milner and Sanders rode well all week which scored us the win in the end I think.
"You see all these people supporting us, calling it a holiday but I think they work harder here than in their normal jobs, that's what makes it all worth it. We couldn't have done it without them.
"Its been a long time coming. Australia's been breeding really strong riders in its AORC series like Milner and Sanders, plus supporting junior riders as they rise through the ranks. I think Motorcycling Australia and all Australian's should be really proud of what Australia has achieved today!"
Reflecting on a trip that didn't go the way he planned, Snodgrass noted; "it's been a bit of an up and down trip. My race didn't go the way I wanted it to with a mechanical issue in day two, but luckily the other boys were able to bring home the win which was a pretty incredible effort. After I retired I just tried to help them bring home the win any way that I could."
Women's
The Australian Women's World Trophy Team have gone above and beyond to be awarded their sixth consecutive world title! Taking out a record breaking 2018 title, Australia led the charge ahead of Team USA by just over nine minutes, followed afterward by Spain, France and Sweden in third, fourth and fifth place respectively.
Scoring another consecutive win overall for the day, Tayla Jones clocked in the fastest time for Team Australia of 10:23.76, leaving not a shadow of a doubt as to her rightful place as first overall in the class. Sitting in second overall was Brandy Richards from Team USA, whose battles with Jones over the past six days simply couldn't knock Jones off her perch, with a divide of just under three minutes separating the two riders in the final results. Jessica Gardiner clocked in the second fastest time for the team in day six of 11:21.54, which has secured her place as fourth overall, sitting behind Livia Lancelot from Team France by just over six minutes. 2018 Australian Women's World Trophy Team debutante Mackenzie Tricker proved her place in the team of three, rounding out the team to score ninth position overall. At the close of an emotional and record breaking 2018, Team Australia has taken out the world title, first place overall, and placed all three ladies in the top ten of the class!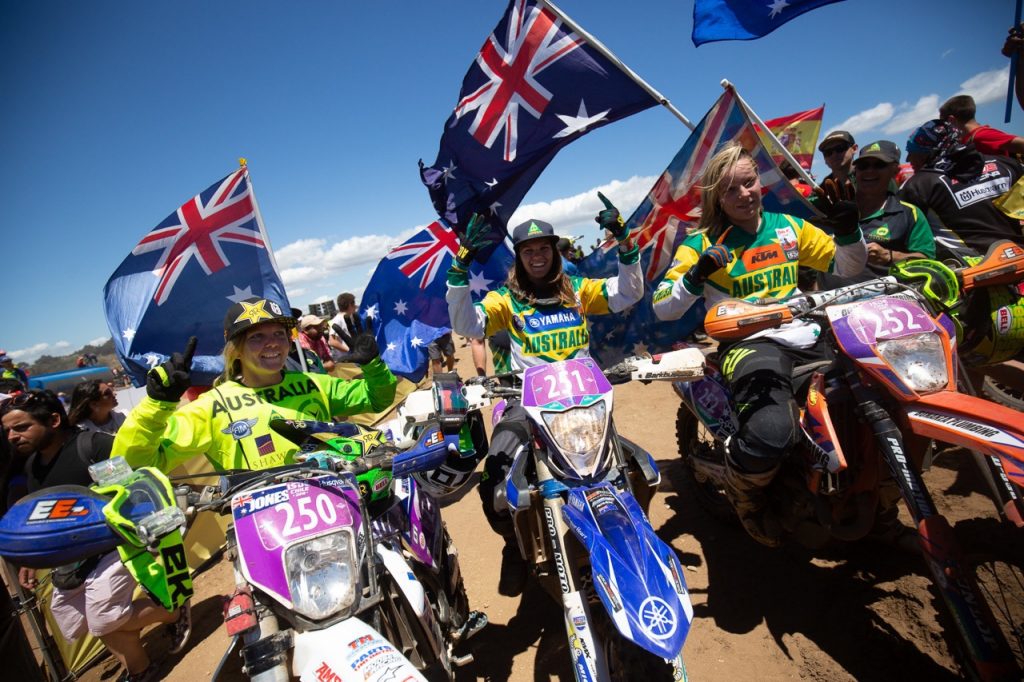 Leading the charge throughout the past six days, Tayla Jones is a world class veteran of the ISDE, and couldn't be happier with the results for 2018. Jones stated; "it was a good six days! We had a strong team, we got some good times at the start of the week which really helped overall, and towards the end we stayed consistent which helped reduce the overall stress from the event. I'm really happy to get a sixth consecutive title, which is a new record!
"I'm also really honoured to get the overall championship! I have won once it before but there is no doubt that the second time is 10 times better.
"I would like to give a big thank you to the whole Australian team, the supporters, helpers and volunteers – we couldn't have done it without them. I would also like to thank the whole Women's World Trophy Team, Mackenzie and Jess, they're great teammates.
"I would also like to thank all my supporters and sponsors back home, and everyone who made this possible!"
Teammate Jessica Gardiner was as elated with the end result as Jones, stating; "it's day six and finally we've gone through a really solid, hard week. The whole Team Australia helped us get through and we're really happy to become six-time World Champions!
"It's not every day that Aussies are six-time World Champions, it takes a lot of consistency and hard work. I couldn't be happier have ridden with Mackenzie and Tayla, they're great teammates and they've made it a lot of fun all week!"
With a first time ISDE Women's World Trophy title under her belt, Mackenzie Tricker is elated with the record-breaking result, highlighting; "it was my first ISDE, and it started off pretty good in day one and two, but as the week went on, I felt like I went downhill. As we moved closer to day six, I just tried to salvage what I could and finish, but I felt pretty rough. I am absolutely stoked to have finished the event and have learnt a lot in the process.
"I was part of a great team and in the end, we were able to get the win!"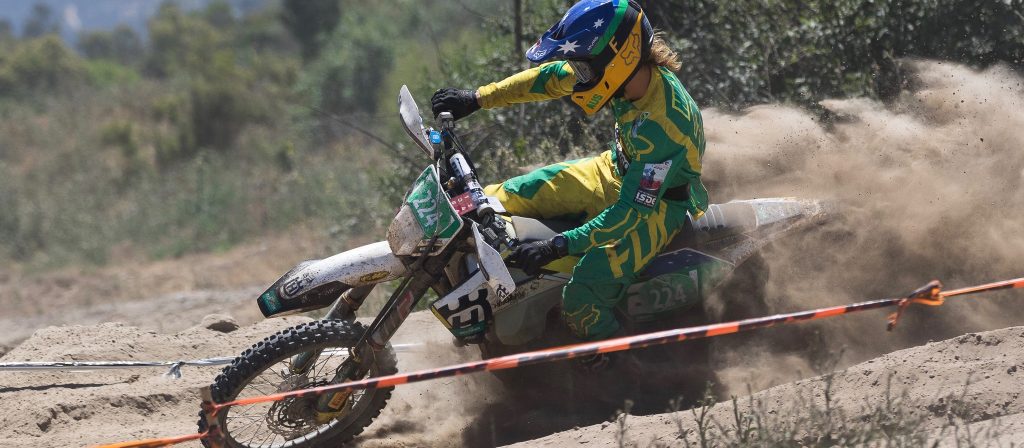 Junior World Trophy Team
Turning to the Junior World Trophy, the 2018 title has been awarded to Italy, with second and third place nabbed by USA and France respectively. The Australian Junior Trophy Team has finished the tough and challenging six days with a fantastic result of fifth place, sitting behind Chile by just over 14 minutes. As Team Australia rounds out the top five in the junior class, our three riders, Fraser Higlett, Thomas Mason and Andrew Wilksch have no doubt shown nations near and far that the emerging talent from Australia is world class. Clocking in the fastest time for day six was Mason of 14:18.01, who seemed at home on the Motocross circuit. Mason's excellent efforts in day six has seen him move up to 51st position overall and 16th position in the E3 category! Coming in hot after Mason was Wilksch, with a fastest time of 14:40.17. Due to the immense pressure from international counterparts, Wilksch has moved down to 49th position overall and has ended the six days in 15th position in the E3 category. Rounding out the Australian Junior World Trophy Team in day six was Higlett, who clocked in a fastest time of 19:54.96. In a dramatic final day, Higlett ran into an issue in the final race and had to push his bike across the line after two laps! Higlett's sheer determination over the course of the past six days has seen him take out an impressive ninth place in the E1 category, and 38th overall.
Motorcycling Australia (MA) congratulates both the Australian World Trophy Team and the Australian Junior World Trophy Team on their enormous efforts over the past six days. The performance of each rider was nothing short of spectacular, and the comradery of these two teams displayed the true Australia spirit.
MA would also like to extend their appreciation to Team Manager Don Atkins, all fans and the support staff for Team Australia, without whom the 2018 World Trophy title would never have been possible.
Words: MA
Pix: John Pearson