BIKE BUILDER: SUZUKI RM250 | Features
Isn't it funny how things come full circle? Two-stroke motorcycles became very popular in the '70s and '80s due to their power, lightness and simplicity.
While road-going two-bangers began to disappear for environmental reasons, manufacturers embraced the off-road smokers well into the '90s.
They were the kings of motocross and enduro, but eventually they, also, were phased out. High-revving four-strokes became the preferred engine and Jap two-strokes all but disappeared from the moto landscape.
But recently, the smokers have been making a comeback. It's most likely a nostalgia thing (much like how vinyl records have resurfaced), but improvements in technology have made them much more reliable and environmentally friendly.
The two-stroke has been popular in enduro for a few years, and it seems the motocross world is starting to catch on. While some brands are producing two-strokes, the Japanese seem reluctant to go back there.
As a result, many people are choosing to build their own two-strokes using restored engines in modern frames. There are also plenty of restorations and vintage-inspired builds that have caught the attention of fans around the world.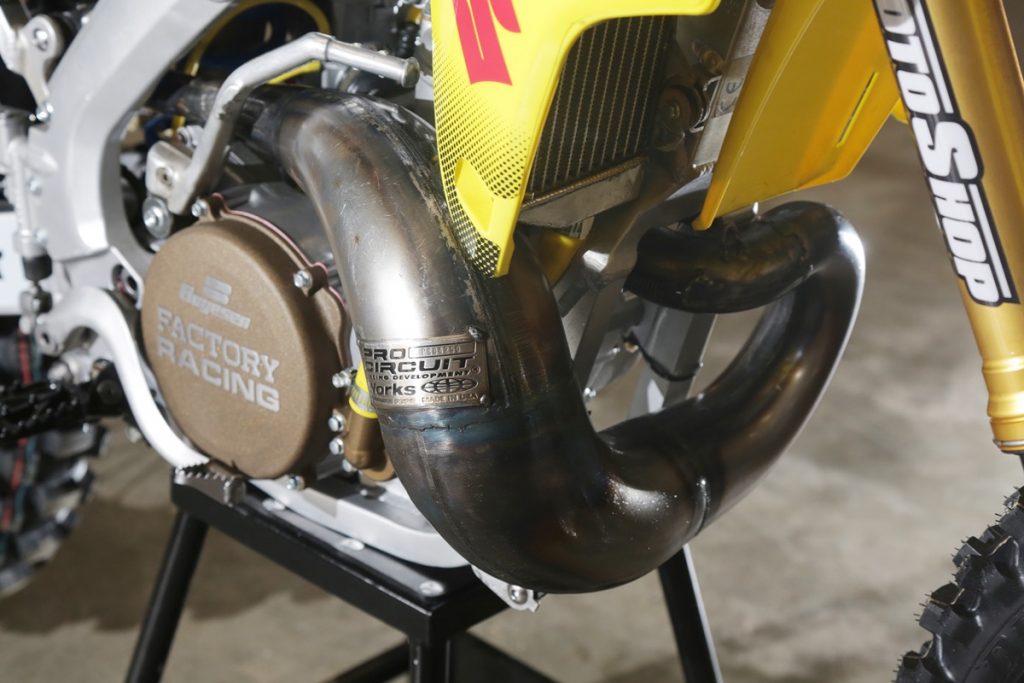 BIKE BUILDS
You might remember our story on Matt's Splitfire KX250, or the one on his Yamaha of Troy YZ125. More recently, you might have read our story about Michael and Ashton and their Honda CR250.
Sadly, despite the increasing popularity of two-strokes and vintage racing, not everyone has the skill, time or money to build their own, or restore an old one. This is where Pete Weide from Reborn MX in Sydney comes in.
Pete was a plumber by trade who hails from Bristol, about 200km west of London, which has a huge motocross scene. "It is massive compared to here," he says. "I actually thought it would be the other way round."
As a youngster, Pete was a troublesome kid. "When I was 16, I needed something to keep me focused, so my dad bought me my first dirtbike," he explains. The game was simple. If he behaved as school, Pete was allowed to ride. And if he didn't behave? Well, you get the picture.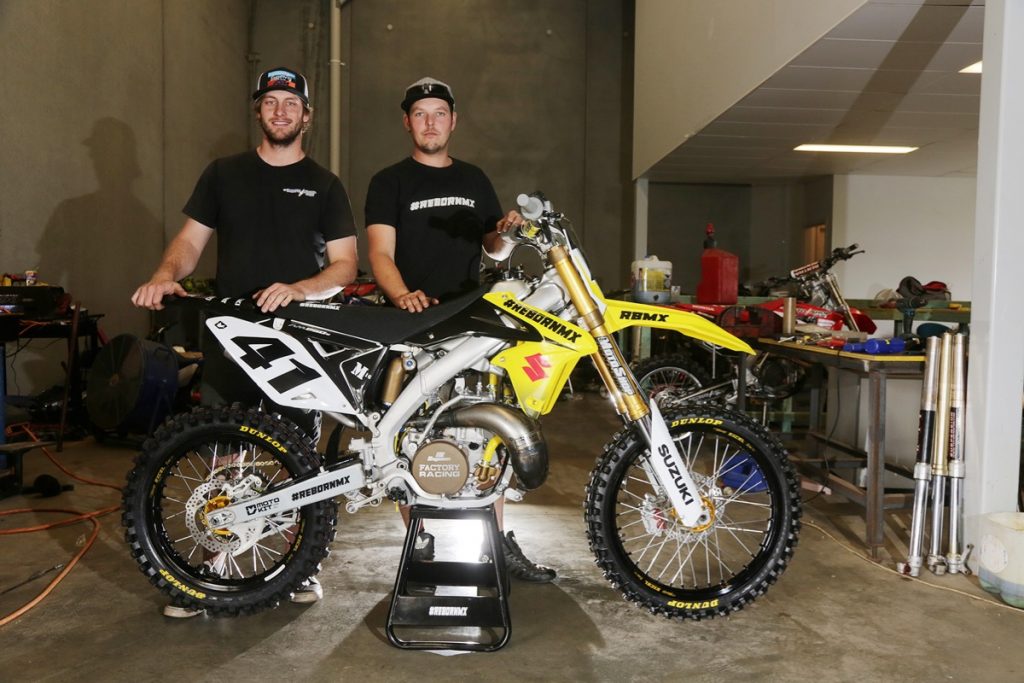 "I started racing a year later and by the time I was about 19 or 20, I was sponsored and racing in the British nationals." Pete achieved a respectable level of success, but being such a late starter, it became apparent that racing wasn't going to pay the bills. With qualifications as a diesel engineer and a plumber, he went to Greece for work before moving to Australia in 2014.
Pete bought a bike and had plans to get back into racing, but a big accident on the bike, which nearly cost him an arm, left him on the sidelines. "I have two young kids, so I had to kind of grow up at that stage," he says. "Motocross is the best sport in the world, but you need some sort of security. I couldn't work for a year and the government actually sent me back to England. After that, my whole mindset changed."
After getting his visa sorted, Pete was allowed to return to Australia, but riding was now out of the question. Still, he wanted to stay involved in the sport. "That's what got me into building bikes."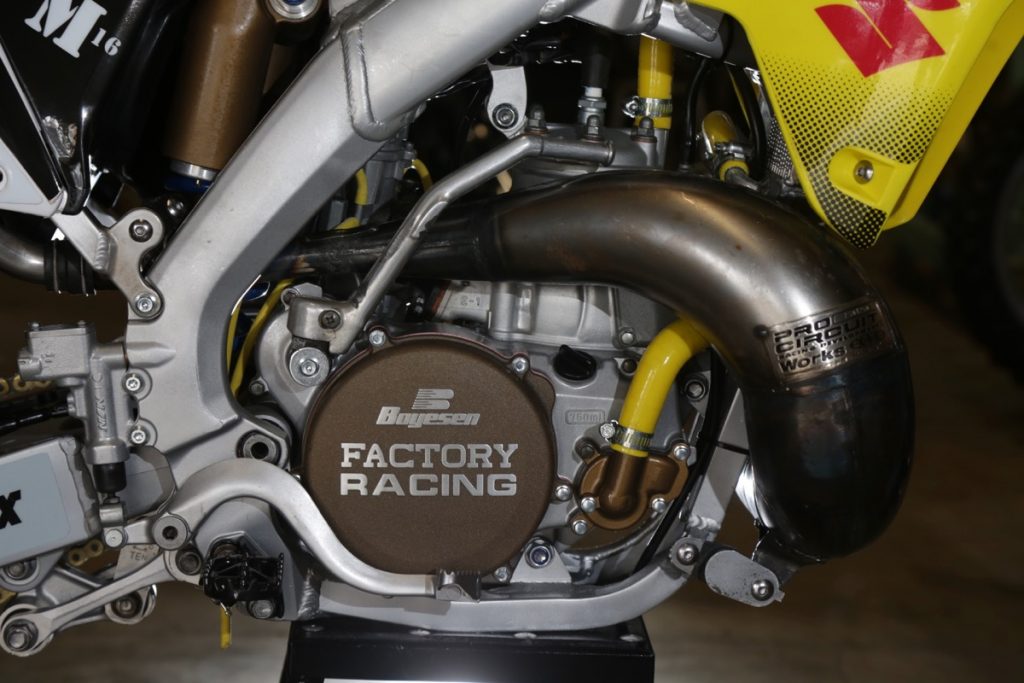 Knowing the ins and outs of a motorcycle isn't something that Pete has just picked up in recent years. His father is an engineer and is into bikes and cars, so he was always mucking around with the tools. "When I got my bike, he told me that the only way you'll win races is if you win in the shed. You need to understand your bike."
Pete always wanted to get into custom bike building, but he never had the time or motivation to commit to it. His busted arm finally provided the opportunity to realise his dream.
Reborn MX was more of an accident. Pete initially planned to start building bikes one at a time, but once word got around, orders started flying in. He discovered that he could actually turn it into a legitimate business. "I thought if you're going to do it, you've got to do it properly." And that's how Reborn MX was born.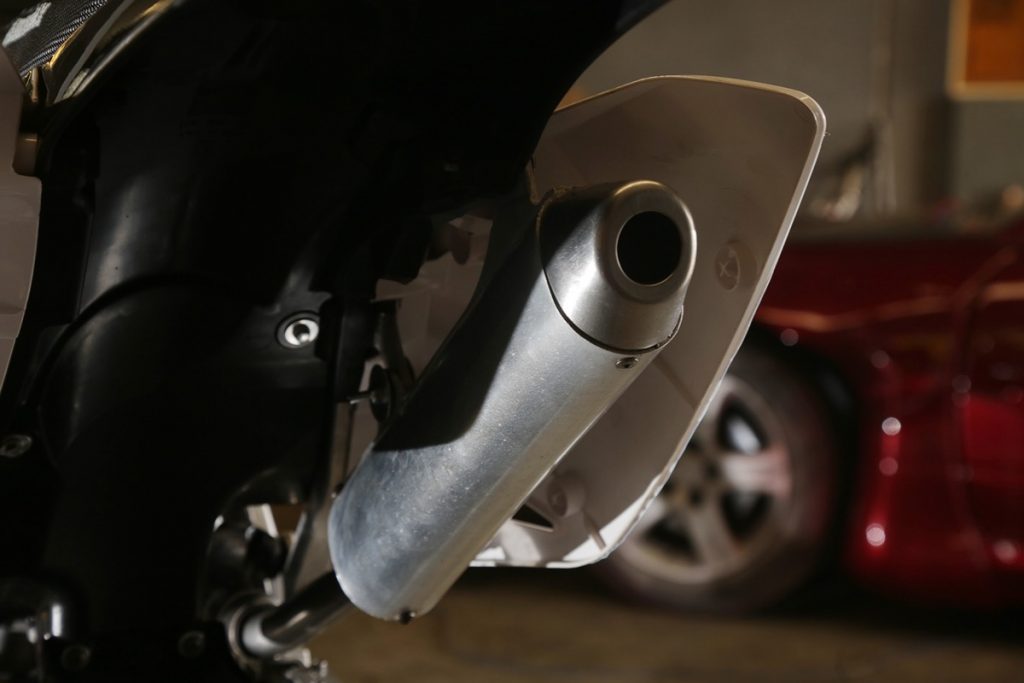 The concept is pretty simple. Pete buys old bikes that people would normally part out and restores them to their former glory. Or better. Often he will build a bike to suit a customer's preferences on a lay-by arrangement.
"I'll go buy blown or wrecked bikes and if someone wants a particular bike, they can message me," says Pete. "They pay an upfront deposit and then the build starts." The customer tells Pete exactly what they want on the bike in terms of parts, colours and graphics. They pay the amount over 10 weeks and in that time, Pete builds them the bike of their dreams.
One of his recent projects is a Suzuki RM250AF. "It started as an RM-Z250 rolling chassis and a 2005 RM250 two-stroke engine," explains Pete. "I stripped the bike down, made a pile of stuff I wanted and a pile of stuff I didn't want. Then I had to customise the frame." Pete does all the design work and preliminary fabrication, while getting help for some of the specialist work to ensure that no corners are cut.
He sends the frame to a qualified welder and then has it vapour blasted, polished and vapour blasted again. He also sends the motor to a qualified engine builder to have it revamped from top to bottom. The final stage is putting all the pieces together, resulting in a working two-stroke motorcycle.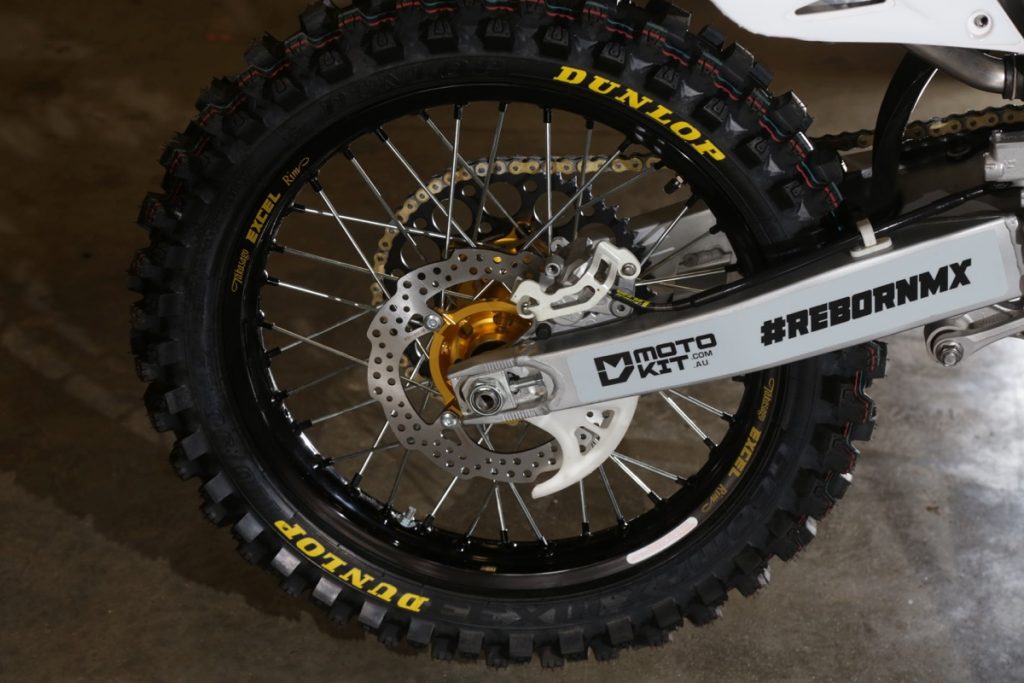 Pete plans to build more bikes like this and he has learnt a lot in the early stages. "A project like this involves a lot of research and development," he says. "Now I know what I need to build more."
Some of Pete's past builds have had all the fruit on them. "They are pretty much works bikes," he says. "They've got aftermarket parts galore." A KX250AF that he recently built had $3000 wheels on it. "A lot of feedback from the customers is that they don't want to get the bikes dirty."
But Pete also wants to build more standard bikes that are affordable. "We are offering standard aluminium frame builds for the KX and RM in 125cc and 250cc models," he says. The rolling frames range from 2010 models up to new bikes, depending on what the customer wants. Everything on these bikes will be standard. "It will basically be as if you went to a Yamaha dealer and bought a YZ125 or 250 stock."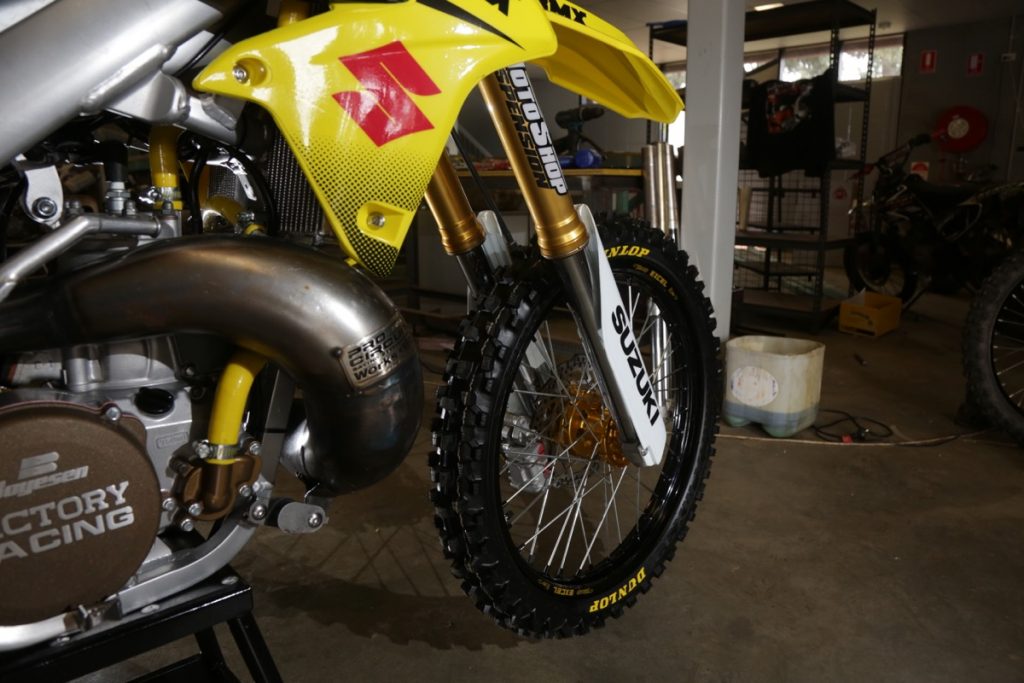 No interest
People can then pay for any extra aftermarket parts they want. Pete's motivation comes from helping people buy bikes that they otherwise wouldn't be able to afford. The layby system means that customers can spread the payments without paying interest. And at the end, they get a custom bike at an affordable price.
The demise of two-strokes also inspires Pete. While some manufacturers build modern two-strokes, many don't and Pete figures that if they won't do it, then he will. Riders who want to buy a two-stroke bike with an aluminium frame and modern suspension now have somewhere to go.
Pete is hoping that Reborn MX will take off and he can ditch the plumbing and build bikes full time. While there are plenty of guys in Australia building custom two-strokes, there are not many who are doing it on a commercial basis like Pete is planning. With a little luck, he could be a pioneer in a two-stroke resurgence in Australia.
Some might tell you that the two-stroke engine is a thing of the past, but we're not writing it off yet. Long live the two-smokers!
Check out more from RebornMX HERE.
Words: Dylan Ruddy
Pix: Mitch Lees