Billy Bolt wins SuperEnduro Poland | News
Rockstar Energy Husqvarna rider Billy Bolt has won the opening round of the 2020 FIM SuperEnduro World Championship in Poland.
Red Bull KTM Factory Racing's Taddy Blazusiak And Bolt's Factory Husqvarna teammate Alfredo Gomez finished third.
Making a triumphant return to SuperEnduro racing having missed the entire 2019 season due to injury, Bolt made his presence felt inside the Tauron Arena. Mastering the unpredictable and technically demanding course, the Husqvarna TE 350 mounted rider delivered the strongest performance of the night. Securing two race wins from three starts, he also took a commanding victory in the SuperPole qualification lap.
Billy Bolt: "I'm over the moon to come away from round one with such a good performance and the championship lead. With two race wins and the SuperPole it's been a fantastic night. I knew coming here I wouldn't be the favourite in Taddy's home stadium but I just focused on what I could do. The track itself was so tricky, the dirt was unpredictable and a lot of the obstacles slippery, especially the rocks. Fastest in SuperPole was a great confidence boost. It was a big battle with Taddy in race one – we changed the lead a lot but it worked out in my favour. For the final race things just clicked right. I found the groove I wanted and the laps times came to me. Twelve months ago I was sitting in a hospital bed watching this race happen without me, now I've won it and go to Germany with the points lead – I can't ask for better than that!"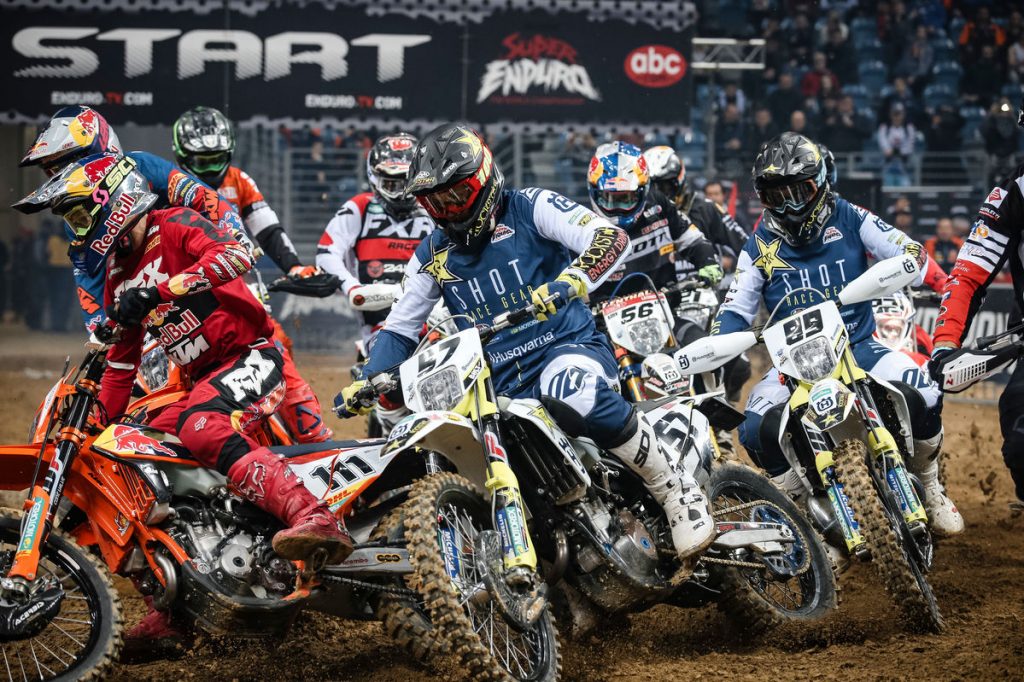 Third quickest in SuperPole, Blazusiak shot into the lead on lap one of the opening race – beginning what would be a titanic battle with closest rival Billy Bolt. Swapping position numerous times during the first half of the race, Taddy again challenged for the lead on lap four, but was unable to make it stick. Although narrowing the gap to four seconds, he had to settle for second.
A strong start in race two saw him work through traffic to take control of the lead on lap four. Executing his line choices, he continued to hold his own out front despite attacks from Bolt. Breaking clear with three laps to go, Blazusiak rode on for a memorable win.
With the outcome of the night coming down to the third and final race, Taddy grabbed the holeshot, but an aggressive pass from Bolt dropped him to second. Traffic on lap five saw Blazusiak lose touch with the leader and ultimately forced him to settle for second and the overall runner-up result.
Taddy Blazusiak: "Of course I'd love to have won but finishing second overall with a race win is a very strong start to the championship. The track tonight was really demanding and very tough to get right. Putting a clean run of laps together was nearly impossible. All night my pace was fast and I was able to fight for the race lead. In race one I led a bunch of times, but just wasn't able to make it stick. In race two I got out front early and that helped massively. I could pick the lines I wanted to use and was able to pull away enough to be comfortable. The final race was good but I crossed that fine line too many times and lost touch with Billy. I'll take second tonight and aim to get more wins on the board next time in Germany."