Bunbury's worker bees ensure a pristine riding environment
Bunbury Motorcycle Club, WA
The Bunbury Motorcycle Club has a long and unbroken history dating back to the late 1950s. The Coates Hire-sponsored club's grounds feature a single 1800m sand-based motocross track which is constantly being refined and improved.
The club prides itself on being a family-orientated organisation and the regular busy-bee days are always well supported, ensuring the track and facilities are in pristine condition.
The club welcomes all levels of junior and senior riders. Quads also are catered for. Members can start riding from as young as four.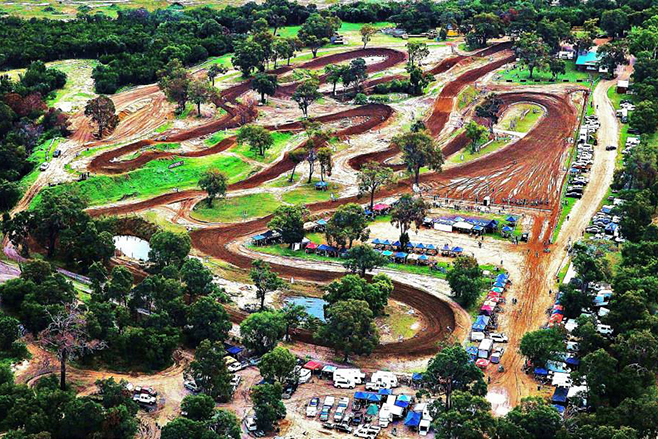 The club holds regular race days and encourages everyone to become involved. For those just wanting to ride socially the track is open from dusk to dawn most days.
Regular couching clinics are conducted by the Moss Institute, Ontrack Coaching and ADB's own Lee Hogan from BCP.
In addition to hosting the Southwest Interclub Series and Big 4 Southwest, the BMCC will run this year's KTM Australian Junior Nationals from 26 September.
Beginners like the track for its sand base, which helps wash off speed. For an intermediate there are plenty of jumps to practice on, and for the advanced rider there's the challenge of keeping up the pace on a constantly changing track which roughens up as the day progresses. The whoop
section can test the best riders, and so can the ruts in the Soup Bowl.
Yearly membership fees allow members access to the circuit all year for social riding.
When not racing, there's the famous canteen, which is reported to make the best ham and cheese toasted sandwiches, bacon and egg sandwiches and hamburgers in WA!
HIGHLIGHTS
• Fully reticulated track
• Always ready-to-race
• Just 10 minutes from city centre
LOCATION
Shrubland Park, situated between Bunbury Airport and the speedway on the South Western Highway – About 3km from the Bunbury bypass (Robertson Drive) traffic lights.
COST
• Membership
• $180 junior
• $220 seniors or family, which includes a busy-bee levy and some practice fees
CONTACT
P: 0400 254 343
W: www.bunburymcc.com.au
– Find more dirtbike clubs and tracks in WA with ADB's Where to Ride guide
To receive the latest news, reviews and video highlights from the world of dirt bikes, sign up to our weekly newsletter here.