Only a saint would lend their exotic enduro bike to a known wrecker for a Christmas ride on a track called Death Valley.
Christmas is a time for giving, but that doesn't often include rides on people's most precious motorcycles. Cain loves his Husaberg TE570. Even after he bought a KTM 300 EXC Six Days he couldn't bear to part with it.
The unique engine design, sleek lines and abundant power still move him deeply but nowadays he spends more time polishing the big girl than riding it. After a few years of adventure riding on Suzuki DR650s, the chance to ride the jumbo 'Berger on some very technical singletrack was a dream come true.
I don't consider myself a bad person, just a touch cheeky, overflowing with enthusiasm and easily excitable. Somehow this wild enthusiasm has given me a talent for destruction. It's not so much that I crash at every opportunity but that minor stuff seems to break, like rims, frames, shocks and motors and, unfortunately, not just on my bikes.
Borrowing bikes has become increasing difficult, as bushfire yarns get exaggerated out of all proportion. Before you know it people are watching you suspiciously and pulling the keys out of their bikes, so I kept Cain's kind offer under wraps in case some concerned citizens decided to talk him out of it.
The day finally arrived and I woke early, tingling with excitement, but way too early. It was still dark, so I forced myself to go back to sleep, only to wake late. In a panic, I was geared up and gone in 15 minutes.
With time of the essence the throttle was held on, over the winding rough back road to the farm. The surface was surprisingly loose and slippery despite recent rain as I fishtailed my way west on the long-suffering DR.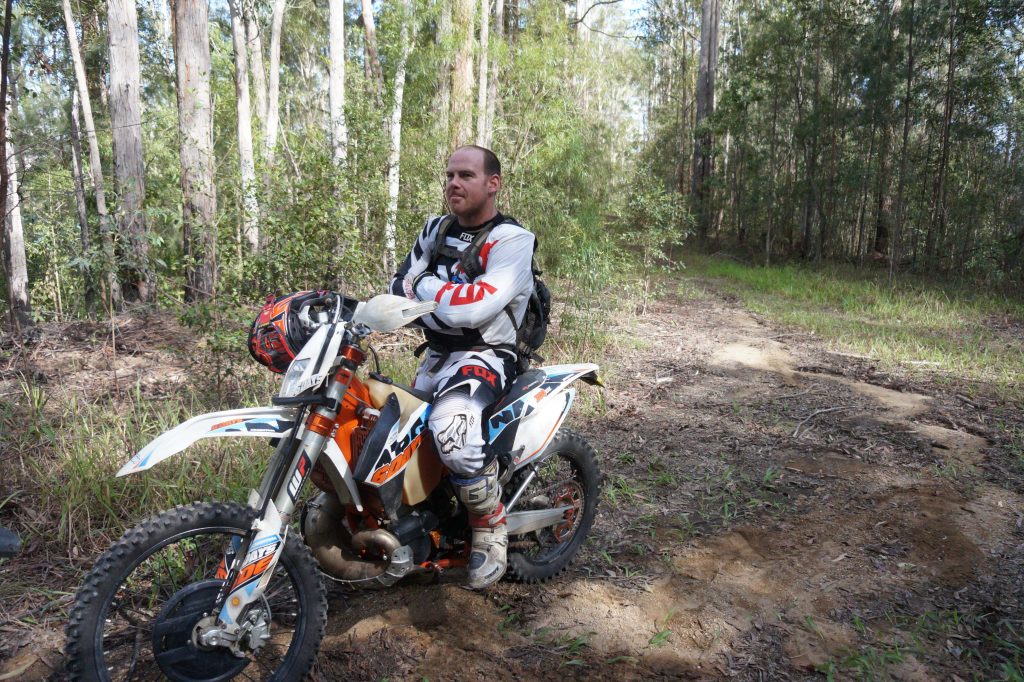 The 50km of dirt went quickly and I was only three minutes late. Unfortunately, the adrenalin coarsing through my body had me twitching and babbling with excitement. Behind me, the DR was ticking loudly and not smelling too good. Cain took one look at us and the colour drained from his face.
Cain spoke firmly, while maintaining maximum eye contact, telling me that the 570 was called Helga, she was a member of the family, collectable and not to be damaged under any circumstances. He also commented that his wife had asked why he was taking two bikes and, when he explained "one's for Marty", she replied: "Are you nuts?"
Geez, she'd only met me once. I had to put on my most serious face before Cain changed his mind. Helga was tall, skinny and light even by Swedish standards. Her motor was very responsive and she seemed as keen to go as I was.
As the loop was on private property in the foothills of a mountain, I got a run up a grassy hill to get the feel of Helga before the tough stuff started. I was assigned sweep rider duties.
DEATH VALLEY
The group pulled up at a cow skull tied to a tree and an ominous sign that read 'Death Valley' in blood red paint. The leafy singletrack beyond disappeared down a steep hill.
Still struggling with the lightness of being with a 'Berg, I gulped as I dropped off. The hill became steeper as we descended, finishing off with a vertical drop into a tight rainforest gully.
Helga was now keener than me. She surged ahead at every touch of the throttle while I struggled to keep her on the twisty and narrow trail. We climbed and dropped repeatedly through and across the tight gully. My forearms pumped up hard, as if they'd overdosed on Viagra.
The descents became steeper as we worked our way up the gully and bottlenecks formed on slippery roots and steep uphills. Eventually we climbed up on top of a narrow ridge for a respite before plunging into a more difficult, steeper gully.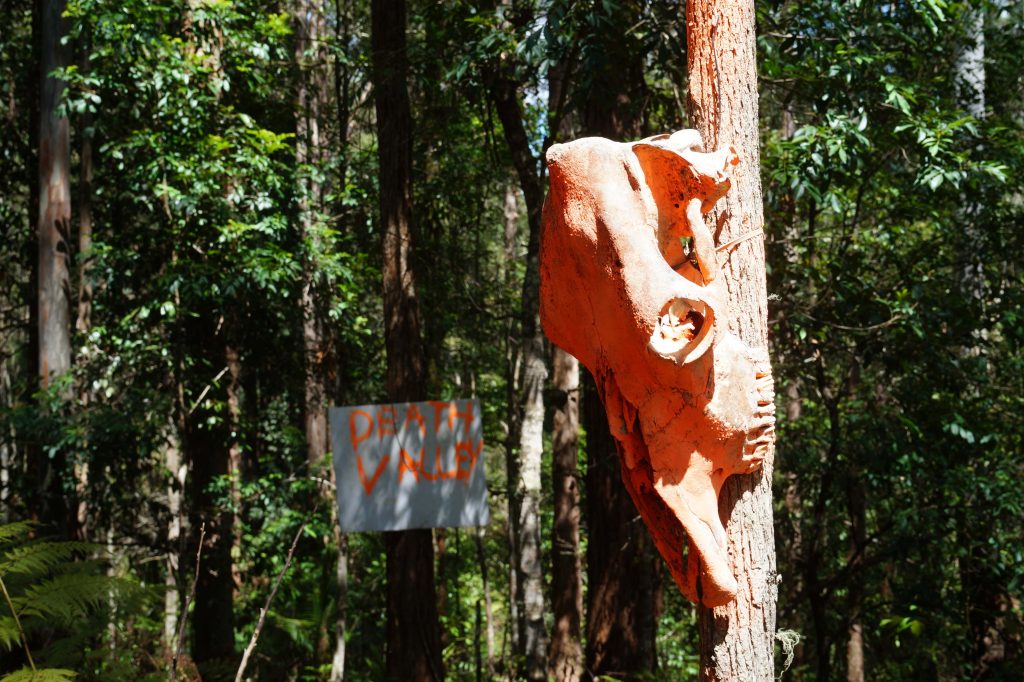 Thirty minutes later we clawed our way up the last steep climb, churning up the abundant leaf mulch onto a overgrown, snigging track and out of Death Valley feeling very much alive. The more open going of the track was over in a flash and we were back into impossibly tight trails that seemed to have us running in circles.
We ventured out along long, narrow ridges and back again in an undulating bliss. All gears beside first and second became redundant as we dropped and scrambled up loose, root-infested uphills and downhills, swapping from ridge to ridge.
Halfway through the loop, a Yamaha YZ two-stroke put the kettle on and whistled and steamed up, spurting coolant out the overflow, resulting in a short break so we could refill the radiator from our Camelbaks.
The hills became longer, the logs bigger and the drop-offs steeper and higher. The tight stuff just never let up. Twenty kilometres into the loop, track owner/builder Billy ran into mechanical problems and had to retreat home 2km for a quick repair.
As I had helped make some of the singey, I knew the layout but as the loop was painted in I continued to sweep. As we snaked through the remaining 10km, I started to become one with the bike and was enjoying myself immensely.
Imagine my surprise when, somehow, I was the only one to return to the farm having lost the rest of the guys (another talent of mine), much to Billy's annoyance.
After rounding up the crew on the next ridge, we returned to the farmhouse for cold drinks and refilled our Camelbaks with cool mountain water before heading out for another loop. The YZ pilot had 'boiled the billy' enough for the day so he declined a second serve.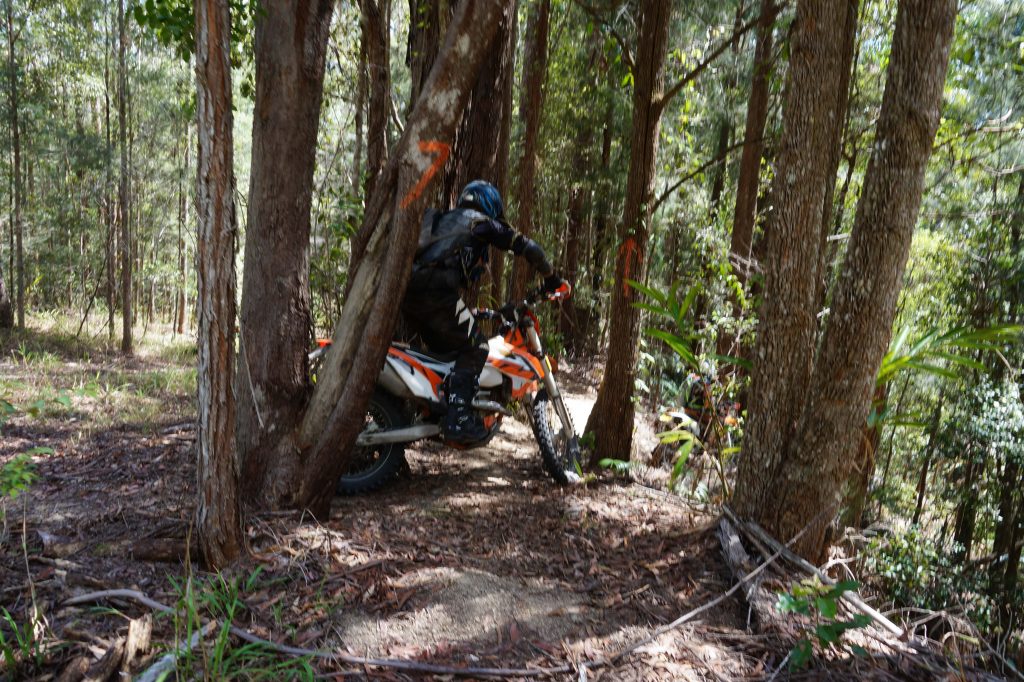 With Helga feeling more familiar, the loop went much better. I was able to attack the trail, slam logs and give her the berries when Cain wasn't looking. The good pace lasted about three-quarters of the lap before exhaustion started to set in. I reverted to a more reasonable pace to limit the mistakes that fatigue seems to encourage, trying to be smooth; eventually we popped back out onto the grassy paddocks.
A series of drag races over a long smooth paddock was fun, even if there were a few close calls at the gate. With Cain's encouragement, starting in a higher gear and holding Helga wide open until everything went blurry, I put the bombastic 'Berg in her rightful place at the front of the pack.
A few grassy hills later, we finished at a lookout shelter perched high above the river, jutting out over a cliff. The view was almost as good as the cold beers and bourbons that followed on the farmhouse veranda.
Goodwill and peace to all mankind. Thankfully I was able to return Helga in one piece, and only slightly abused when Cain wasn't looking. A Christmas ride to treasure and remember, thanks Cain.
Marty Blake