Cairoli and Vialle sweep the podium at the MXGP of Emilia Romagna | News
KTM Factory Racing's Antonio Cairoli rode two consistent races to take his 91st Grand Prix victory in front of a cheering crowd of Italian fans and claiming the MXGP Red Plate.
MXGP of Emilia Romagna MXGP class recap
While in MX2 fellow KTM factory rider, Tom Vialle secured his second consecutive GP win in MX2 at the MXGP of Emilia Romagna.
In MXGP race one, it was KTM Factory Racing's Jorge Prado with another holeshot and he then led his team-mate Antonio Cairoli and Yamaha Factory Racing's Jeremy Seewer. Gebben Van Venrooy Yamaha Racing's riders Calvin Vlaanderen and Alessandro Lupino both got off to a great start in the opening race and were fourth and fifth on the opening lap.
Team HRC' Tim Gajser then moved into the top four, as he looked for a quick way to pass Cairoli, though that didn't work as the two touched and Gajser was left on the floor. Prado then continued to lead the way with Seewer, Cairoli and Lupino right there as well.
Despite crashing a lap earlier, Gajser was already making a strong recovery as he broke into the top 10 on lap two.
Back with the leaders the gap between Prado and Seewer was two seconds, though as the race progressed Seewer was looking to take another win in the class as he set his fastest lap of the race and closed in on the lead.
Lupino though was coming under pressure from Team HRC's Mitch Evans for fourth, with the Queenslander taking the position not long after.
Gajser then continued to make progress as he moved into sixth place, while Husqvarna Factory Racing's Arminas Jasikonis searched for a way past Clement Desalle of Kawasaki Racing Team to move into ninth.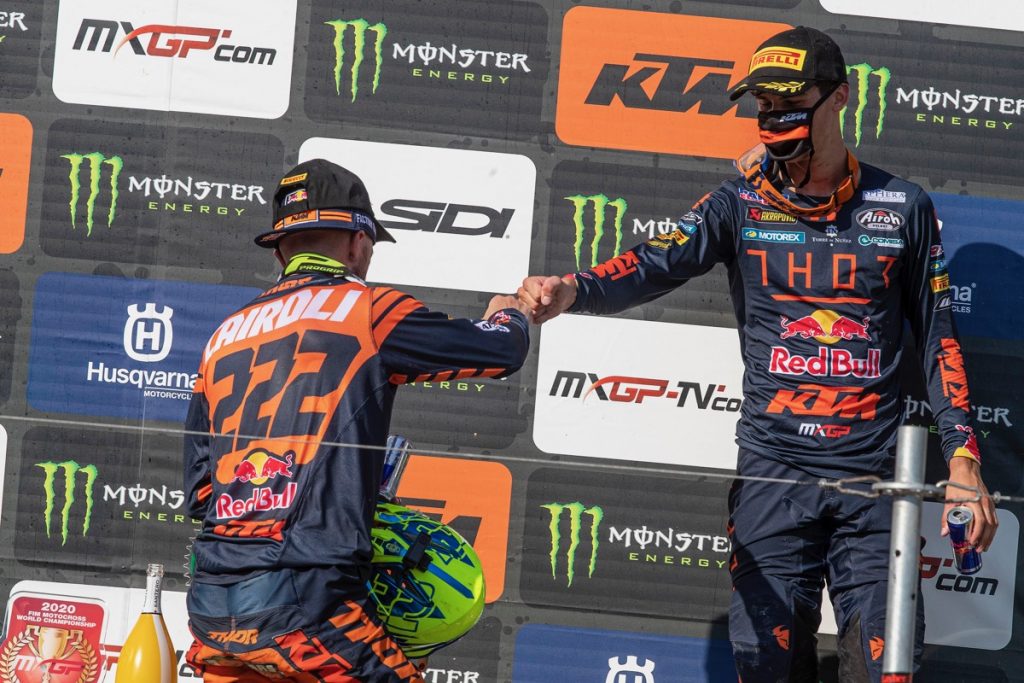 With 10 minutes plus two laps on the clock, the gap between Prado and Seewer was just 0.5 seconds, as the factory Yamaha rider put the hammer down for the win. The gap between first and second remained below half a second for the remainder of the race, until Seewer made a mistake and had a huge crash while trying to pass for first place. Though he was able to quickly re-join the race, only losing one position to Cairoli.
In the end, Prado went on to take his very first MXGP race win of his career, with Cairoli second and Seewer third.
In race two, Prado once again proved himself as the master of starts as he added yet another FOX Holeshot to his ever-growing tally. Evans was right there in second, with Monster Energy Yamaha Factory Racing's Gautier Paulin and Gajser in the top four too. Seewer was down in sixth.
Gajser once again was wasting no time as he moved into second and was then followed by his team-mate, with Cairoli and Seewer right there too. Paulin then came under pressure from Standing Construct GasGas MXGP's Glenn Coldenhoff and Romain Febvre of Monster Energy Kawasaki Racing Team.
Febvre was then the fastest guy on track as he continued to chase Coldenhoff, meanwhile, Seewer was all over the back of Evans for fourth, as Coldenhoff and Febvre were closing in fast as well.
Rockstar Energy Husqvarna Factory Racing's Arminas Jasikonis then crashed out of 10th, to eventually finish the race in 13th position.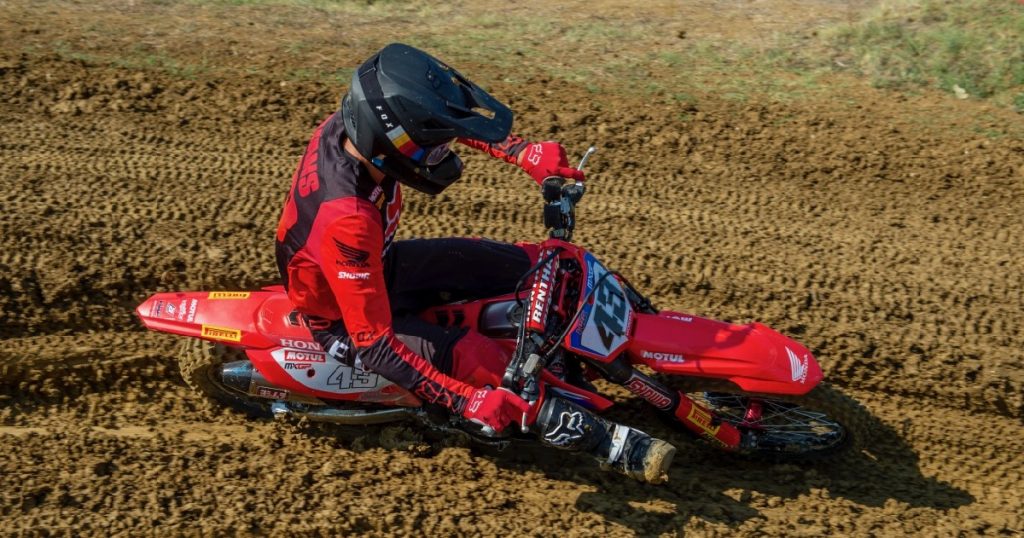 As Seewer moved into fourth, Gajser was all over Prado for the lead. The two looked like they almost came together, as Gajser made a risky move, which paid off, of course, and he was then the new race leader.
Prado then started to come under pressure from Cairoli and a lap later the #222 passed the young Spaniard in the exact same spot as Gajser. Seewer then looked to catch Prado for third, though Febvre sneaked up on him and went for the inside to steal fourth from Seewer.
Febvre then went after the race 1 winner, Prado, as he passed him on the same section as did Cairoli and Gajser. Though Prado immediately fought back and was able to move back into third. This didn't last long as Febvre responded and clinched third once more.
And things didn't get better for Prado who was passed by Coldenhoff, and it was again on that same part of the track that the #61 lost positions to Gajser, Cairoli and Febvre a few laps earlier. This dropped Prado to sixth in the race.
As Evans and Paulin battled for eighth, the gap between Gajser and Cairoli was coming down, as it looked like the Italian was going to push for that win. And Febvre was also showing great pace in the race as he pushed for second with three laps to go.
Towards the end of the race there was no change with the leaders as Gajser secured the second race win. Cairoli finished second, Febvre was third, Seewer fourth and Coldenhoff fifth.
With two consistent rides, Antonio Cairoli took to the top step of the podium and also became the new championship leader.
"Of course today I am really happy. Every race I'm feeling a little better with the conditions," said Cairoli. "This morning in time practice I struggled a lot; I was three and a half seconds away from the pace so for sure it was not a good boost in motivation for the race. But still at the beginning of the race I made some mistake, keep twisting my knee, it was difficult but with the experience I have I know how to handle these situations. I wish Jeffrey a quick recovery, it is a pity that he's not there. I didn't start so good but now I wanna go for the championship and this is my goal."
"I'm really happy about the championship, eight years is a lot of time but for sure I'm super happy to be there still fighting with those guys for the title. Now I'm 35 years old and this is a thing that I've never expected to be there at this age, anyway every time I ride, I enjoy riding at the track a lot. For sure I enjoy riding with young guys, every time I try to improve, it is more and more difficult every time but at the end, I'm really really happy and satisfied" he added.
Meanwhile Tim Gajser finished second overall; "Actually I didn't have good starts in both races, in the beginning I tried to make quick passes, first lap of the first race I came together with Tony and I fell and then I came back to fifth," said Gajser. "I was a bit disappointed but anyway it was what it was. In the second one I got a little bit better start and was able to take the lead and gap like three seconds and control the race, so I was happy"
"Like Tony said, Jeffrey was really fast this year and we wish him a quick recovery. But now we are really close with Tony and even Seewer and the other guys are not so far from the points lead, so I think it will be an interesting season and I will just give my best and try to enjoy every GP," he finished.
Cairoli's young KTM teammate Jorge Prado finished third; "I'm feeling quite good with the bike at the moment. I think speed wise it's quite good for sure the first twenty-five minutes. But I'm happy that I could get my first race win even if it was a tough day, I'm very happy".
I used a lot of energy in the first race, but I really wanted that win. I give my maximum in every single race and that second race I already started with an empty tank. Yesterday was tough for me; I was feeling really bad and stayed in bed pretty much all day so I'm very happy that I can be on the podium. It's normal that I feel powerless today, so I think I did a very good results in these circumstances," Prado finished.
Cairoli now has a seven-point advantage over Gajser in the MXGP championship standings, with Jeffrey Herlings of Red Bull KTM Factory Racing still there in third.
MXGP of Emilia RomagnaMXGP – GP Top 10 Classification
1. Antonio Cairoli (ITA, KTM), 44 points
2. Tim Gajser (SLO, HON), 41 p.
3. Jorge Prado (ESP, KTM), 40 p.
4. Jeremy Seewer (SUI, YAM), 38 p.
5. Romain Febvre (FRA, KAW), 31 p.
6. Mitchell Evans (AUS, HON), 31 p.
7. Glenn Coldenhoff (NED, GAS), 29 p.
8. Clement Desalle (BEL, KAW), 26 p.
9. Alessandro Lupino (ITA, YAM), 25 p.
10. Arminas Jasikonis (LTU, HUS), 23 p.
MXGP – World Championship Top 10 Classification
1. Antonio Cairoli (ITA, KTM), 285 points
2. Tim Gajser (SLO, HON), 278 p.
3. Jeffrey Herlings (NED, KTM), 263 p.
4. Jeremy Seewer (SUI, YAM), 255 p.
5. Jorge Prado (ESP, KTM), 237 p.
6. Arminas Jasikonis (LTU, HUS), 233 p.
7. Glenn Coldenhoff (NED, GAS), 233 p.
8. Romain Febvre (FRA, KAW), 203 p.
9. Gautier Paulin (FRA, YAM), 201 p.
10. Clement Desalle (BEL, KAW), 194 p.
MXGP of Emilia Romagna MX2 class recap
In the opening MX2 race, it was Tom Vialle of the KTM Factory Racing squad who grabbed the holeshot, while Jago Geerts of Yamaha Factory Racing was also right there in second.
Husqvarna Factory Racing's Thomas Kjer Olsen got off to a flying start too and was sitting in third. Geerts then made his move into the lead, while Vialle and Olsen stayed behind, though Vialle quickly responded.
Meanwhile, Hitachi KTM fuelled by Milwaukee rider Conrad Mewse didn't get off to best start in the race and was down in 16th, after qualifying in 4th place in the Time Practice earlier this morning.
Jed Beaton of Husqvarna Factory Racing was making moves early in the race, as he passed Bailey Malkiewicz of the Honda 114 Motorsports team for seventh. Not long after and Ruben Fernandez of SDMCORSE-Yamaha was the next rider in Beaton's sights.
Mewse then started to make a good recovery, setting his fastest lap of the race with a 1:56.396 and moving up to seventh on lap five. At the same time, we saw a change for the lead as Geerts was able to pass Vialle and become the new race leader.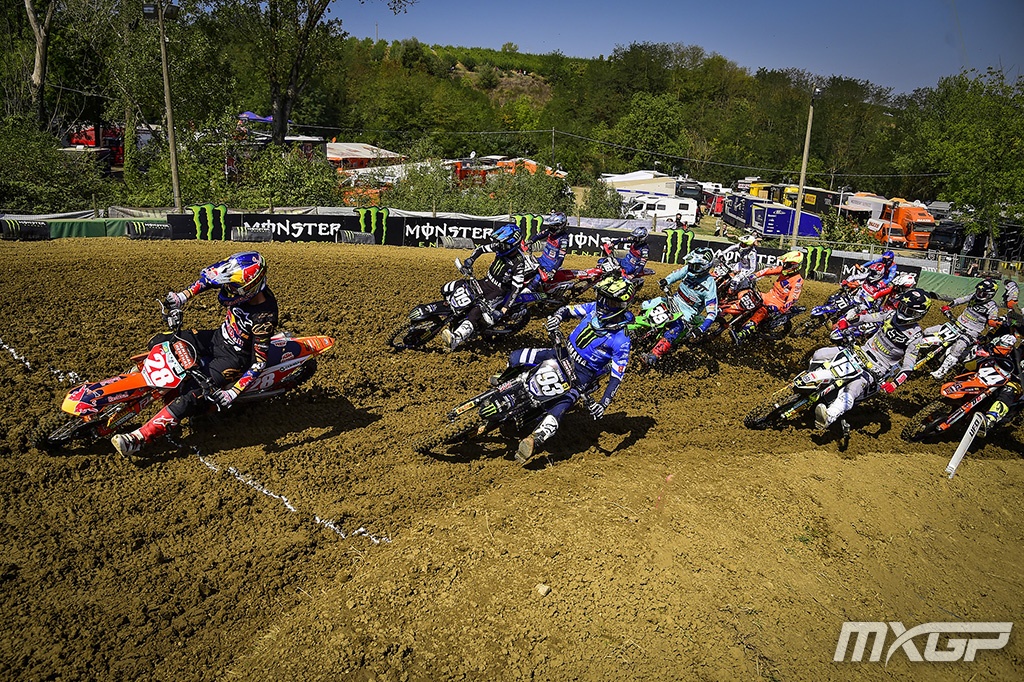 As the top three were nicely bunched up together, Maxime Renaux of Yamaha SM Action MC Migliori J1 Racing then started to go after Olsen who was third. The Yamaha rider was pushing hard, using every inch of the circuit as he searched for a way through. Eventually, he was able to make a solid move and take third.
While Renaux was making moves, it was Beaton who had taken 5th, though Geerts continued to lead the way and was 2.811 seconds ahead of Vialle. Moments later, Renaux crashed out of P3, handing the spot back to Olsen, as others made their way through as well.
Vialle then went two seconds faster than Geerts as he cut the gap down to just 1.3 seconds, trying to put on a late charge for the win, though backmarkers started to play their part, slowing Vialle down, which gave Geerts more breathing room.
Three laps to go and the top five was led by Geerts, who was followed by Vialle, Olsen, Beaton and Mewse. Though as Geerts edged closer towards a race win in the opening race, the backmarkers were really working in his favour as Vialle was getting caught by Olsen and Beaton. And with 1 lap remaining second, third and fourth were extremely close, with Olsen giving it his all just before the finish line, though Vialle was able to retain that second spot, as Geerts took the win.
In race two of the MX2 category, it was once again Tom Vialle out in front, as he led Monster Energy Yamaha Factory Racing's Ben Watson and Jago Geerts. Jed Beaton got a good start too and was going after Watson for second, as Geerts dropped to fourth, followed by F&H Kawasaki Racing's Roan van de Moosdijk and Maxime Renaux.
Once again, Mewse didn't have the best start to the race and was down in 20th on the opening lap of the race. A couple of laps later and the Brit continued to struggle as he only made up one position. And it didn't get much better for the British riders as Watson crashed out of 2nd place on lap 3. Though he was able to re-join quickly and was down in 5th.
Back with the leaders though, Vialle was leading the race by 3.888 seconds, with Beaton in second and Geerts third. Though Beaton was fighting hard to keep up with Vialle as he set the fastest lap of the race on lap five.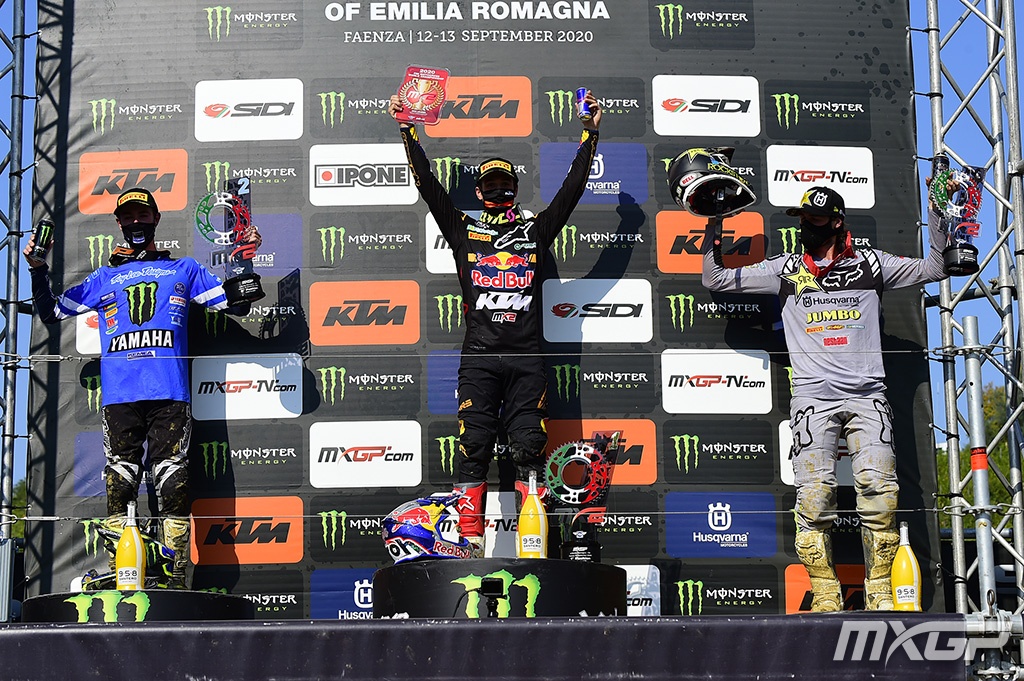 Then it looked like Renaux was having an issue, as he rode past pit lane pointing at the bike and shaking his head, he was 8th at the time.
With 13 minutes plus two laps to go, Vialle started to check out of the race as he doubled his lead, while Beaton began to come under pressure from Geerts. And it didn't take long for the #193 to find a way through and move into P2.
Vialle continued to ride his own race, as he set the fastest lap of the race towards the later stages of the race and held a steady 6.8 second lead. Meanwhile Renaux lost 8th to Stephen Rubini of Honda Racing Assomotor.
Vialle then took the two-lap board as he led Geerts, Beaton, van de Moosdijk, Olsen, Fernandez, Rubini, Renaux and Kevin Horgmo from Marchetti Racing Team KTM. And there was no change for the lead, so Vialle took the chequered flag in race 2, with Geerts finishing second and Beaton in third.
In terms of the podium, Tom Vialle took his second consecutive win here in Faenza, with Jago Geerts taking to the second step of the podium, and Jed Beaton making his first podium of the year to finish third overall. Vialle also continues to lead the championship with 354 points, with Geerts a further 21 points down and Renaux 3rd.
Tom Vialle: "That second race I was feeling really good after a few laps. I took a good start and after laps I felt I was faster on the waves than in the first race as I was not so good on the wave section. I just stayed focused when Ben Watson crashed and I had a seven second lead, just to keep that flow was really important until the end, so it was a really good weekend and to win again is very nice".
"In the first race I was feeling good in the first few laps and after I wasn't feeling so good and they could pass me, I tried to stay with him [Geerts] until the end and that was not so bad in the first race. But, I was really happy to win the second race and I'm looking forward to Mantova".
Jago Geerts: "Today it was a good day for me. I got a good start and won the race, I was riding really good, so that was nice. And then in the second race in the beginning I was struggling a little bit. After 15 minutes I got the rhythm and came back to second, so I was pretty happy with that. I didn't lose any points and I didn't win any points but there's still a lot of races to go and I'm feeling good. I'm looking forward to the next one".
Jed Beaton: "It's obviously nice to be back on the podium, it's been since Portugal and there's been a lot of tough times since then but it feels really good to be back. To be honest it's just a monkey off my back a little bit as it's been such a long time and I've just wanted it for so long. I felt like I've been riding well to be back up here and it's just not been happening so today was just good and I'm looking forward to the next one"
MXGP of Emilia Romagna MX2 – GP Top 10 Classification
1. Tom Vialle (FRA, KTM), 47 points
2. Jago Geerts (BEL, YAM), 47 p.
3. Jed Beaton (AUS, HUS), 38 p.
4. Thomas Kjer Olsen (DEN, HUS), 35 p.
5. Roan Van De Moosdijk (NED, KAW), 33 p.
6. Ben Watson (GBR, YAM), 30 p.
7. Ruben Fernandez (ESP, YAM), 26 p.
8. Stephen Rubini (FRA, HON), 26 p.
9. Maxime Renaux (FRA, YAM), 23 p.
10. Conrad Mewse (GBR, KTM), 21 p.
MX2 – World Championship Top 10 Classification
1. Tom Vialle (FRA, KTM), 354 points
2. Jago Geerts (BEL, YAM), 333 p.
3. Maxime Renaux (FRA, YAM), 259 p.
4. Jed Beaton (AUS, HUS), 247 p.
5. Roan Van De Moosdijk (NED, KAW), 210 p.
6. Ben Watson (GBR, YAM), 191 p.
7. Thomas Kjer Olsen (DEN, HUS), 188 p.
8. Mathys Boisrame (FRA, KAW), 182 p.
9. Conrad Mewse (GBR, KTM), 162 p.
10. Ruben Fernandez (ESP, YAM), 156 p.