Chad Reed places fifth at AUS-X Open Melbourne | News
Chad Reed finishes fifth overall at AUS-X Open Melbourne in what was his final supercross race in Australia as a full-time factory-backed racer.
Reed placed second in the opening triple crown SX1 race and backed that up with a seventh and fifth to place fifth overall for the night.
"I'm excited for today's @sxopensupercross race in the amazing @marvelstadium.au in Melbourne," said Reed. "I've long dreamed of Australian SX to be in this setting. Tonight will be my final SX race in Australia as a full time professional racer 2020 will complete my Motorcycle racing career. So here's to a great night," Reed finished.
The AUS-X Open event also marked the end of an era for the Penrite Pirelli CRF Honda Racing team, which has announced it will not be continuing into 2020.
"The AUS-X Open was such a memorable night filled with so many mixed emotions," said Penrite Pirelli CRF Honda Racing team principal MARK LUKSICH.
"On one hand it was so exciting to be part of an event that took Australian supercross racing to an all-new high, but on the other hand it was sad to know the race was our team's final outing for the foreseeable future.
"We've had a fabulous run for the past five years and I am extremely proud of all the riders, sponsors, supporters and crew members who have helped to make Penrite Pirelli CRF Honda Racing a force to be reckoned with.
"While the team won't be on the startline next year, I will certainly continue to be involved with the sport; and as for the future, never say never, because racing is in my blood and as one chapter closes, work always starts on the next one."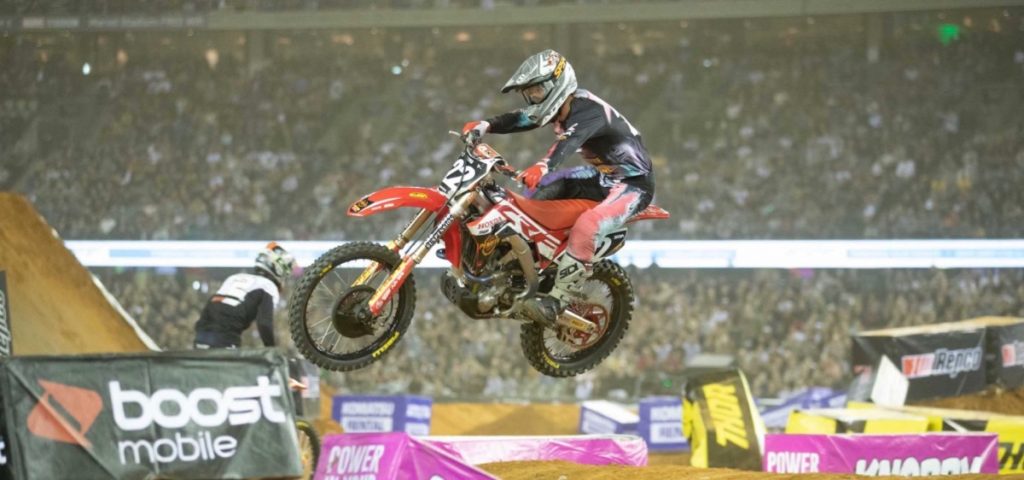 For Penrite Pirelli CRF Honda Racing team riders KYLE WEBSTER and RHYS BUDD, the AUS-X Open event delivered a night of contrasting fortunes.
Budd, in his first season in the SX2 ranks, wrapped up 2019 with his best result of the series, taking eighth overall at Marvel Stadium, the racing conducted on a hard packed and slick track surface that tested every rider on the night.
"The track started out great in practice but as the night went on, the track got slicker and slicker," Budd explained.
"By the time we got to the three SX2 Finals, the track was super-tricky, but overall I had a great night and posted my best result for the season."
Budd carded 10-10-5 placings in the three Finals, and used a boomer start in race three to crack a top-five result.
"I was super-pumped to get a top five in the third and final race," Budd enthused. "The back-to-back race format meant the pressure was on the whole time and I really have to say thanks to everyone on the Penrite Pirelli CRF Honda Racing team for making the result possible. It's been a fun season with the team and I am really going to miss all the crew next year."
For Webster, the Melbourne event didn't deliver the sign-off he was hoping for, after enjoying a highly successful four consecutive seasons with the Penrite Pirelli CRF Honda Racing team.
"It wasn't a great night for me," admitted Webster, who finished 15th overall for the night. "I just didn't get it together and I had a few small tip-overs and that was pretty much that.
"It wasn't the way I wanted our last race to be, but I've had such limited time on the bike this supercross season that I feel like it has got the better of me during the races.
"After four awesome years with Mark and the Penrite Pirelli CRF Honda Racing team, it was definitely sad to know it was an end of an era, but maybe some day in the future we can do it again."
Penrite Honda Racing riders Justin Brayton and Chris Blose capture the SX1 and SX2 championships respectively.
PHOTO: MATT BERNARD