KTM Factory Racing's Daniel Sanders has won the fourth and final stage of the 2020 Andalucia Rally.
Pushing hard on the dusty, Spanish tracks, the rally rookie beat his Australian teammate Toby Price to the day's win by just seven seconds. Closing out the Andalucia Rally, stage four covered a total of 233 kilometers, 210 of which were timed special held on the now familiar dirt tracks of the region. With much of the stage sharing the same route as used on previous days, navigation was less of an issue and riders were able to push harder on the fast, open terrain.
In what was only his first competitive rally event for the KTM Factory Racing team, Daniel Sanders has shown he is more than capable of delivering accurate navigation and the speed required to mix it with the top rally racers. Just weeks after commencing his road book training, the likeable Aussie has claimed an international rally stage win – an impressive achievement for any rider. In successfully completing the Andalucia Rally – securing 11th place overall – Sanders qualifies for the Dakar Rally in January. His training will now continue over the months leading up to the iconic event.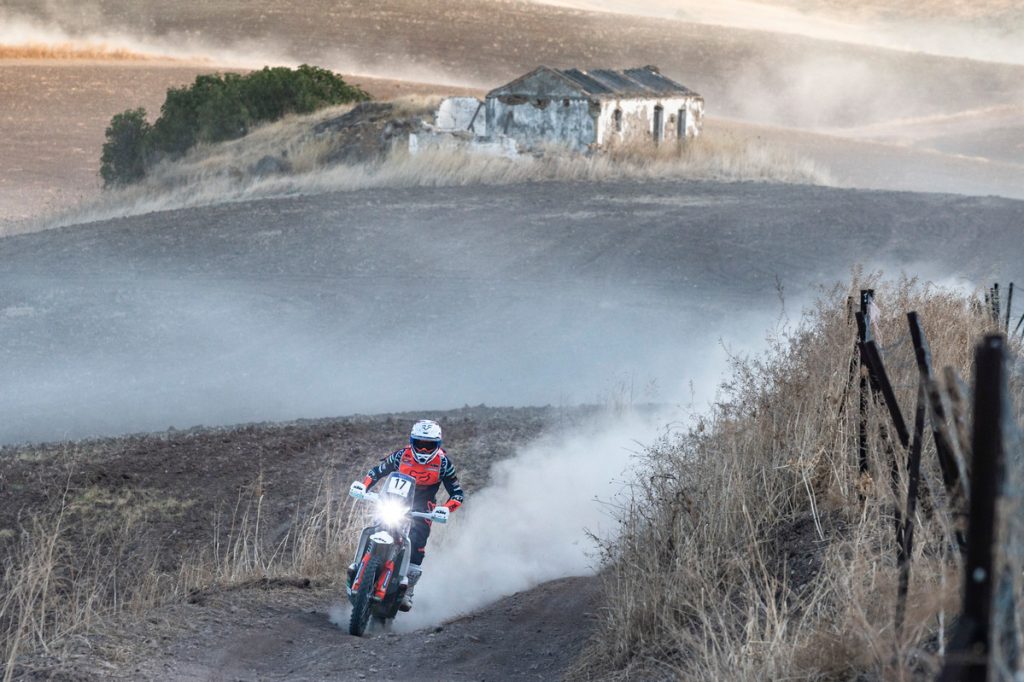 Daniel Sanders: "I really enjoyed today, being more familiar with the navigation, I was able to focus more and start to push. I made a few little mistakes, but all through the day there was nothing in it, so I kept my head down and found a nice flow. Honestly, I thought I would place around the top-five mark, so to come away with the stage win feels great. I wasn't aiming for the win, and definitely didn't want to try anything stupid, but to go fastest with most of the top guys here is really encouraging. The whole team has worked really hard to fast-track my rally skills, but it looks like it's paying off and I can't thank them enough."
Claiming a provisional fourth overall at the close of racing is perhaps not the result that Toby Price wanted going into the Spanish event. Nevertheless, always one to ride intelligently, the two-time Dakar Champion was pleased with his race pace and navigation. Now, having used the Andalucia Rally to regain his focus and test various new components on his KTM 450 RALLY, Toby looks ahead to Dakar and is confident of a strong result.
Toby Price: "Today wasn't too tricky, we followed a lot of the tracks we'd been over earlier in the rally and so navigation wasn't too much of an issue. I feel good in myself and on the bike and so I was able to push a little harder today. Finishing fourth and missing out on the podium is always a little disappointing, but we're fit and healthy with no issues and that is always the main goal. We've learned a lot and have been able to test a few things so I'm really looking forward to Dakar now."
Provisional Results Stage Four – Andalucia Rally
1. Daniel Sanders (AUS), KTM, 2:12:13
2. Toby Price (AUS), KTM, 2:12:20 +0:07
3. Jamie McCanney (GBR), Yamaha, 2:13:36 +1:23
4. Matthias Walkner (AUT), KTM, 2:13:54 +1:41
5. Ross Branch (BWA), Yamaha, 2:14:13 +2.00
Final Standings
1. Kevin Benavides (ARG), Honda, 10:30:51
2. Adrien Van Beveren (FRA), Yamaha, 10:38:33 +7:42
3. Lorenzo Santolino (ESP), Sherco, 10:38:45 +7:54
4. Toby Price (AUS), KTM, 10:43:13 +12:22
5. Joan Barreda (ESP), Honda, 10:51:30 +20:39
11. Daniel Sanders (AUS), KTM, 10:57:18 +26:27