Dean Wilson added to Supercross line-up at Mt Smart Stadium | News
Dean Wilson has been confirmed for the November 24 Monster Energy S-X Open Auckland inside Mt Smart Stadium.
Wilson raced to a career-best seventh overall during this year's Monster Energy FIM World Supercross Championship despite missing rounds due to injury and included his first ever 450cc SX1 Supercross podium result.
Wilson won the Saturday Main-Event SX1 Final at the 2017 AUS-X Open and believes his experience in the southern hemisphere provides a perfect platform to bounce back into the international spotlight, as he looks to secure a ride for the 2019 World Supercross Championship.
"I'm super excited to be coming to New Zealand and competing in the first ever S-X Open Auckland," Wilson exclaimed.
"It's perfect timing for me to come down and really put in a good performance; with the high caliber names that are competing this year, if I can beat them, then I'm back on the international radar, which is what I'm aiming for," Wilson added.
During last year's event, the 26-year-old took top honours during the Saturday night AUS-X Open final in Australia last year, backing that up with a strong second place on Sunday.
"I'm sure the Kiwi fans are going to be excited you know, their first real big supercross with some fast guys and world champions, it's just going to be a really exciting event so hopefully, they're loud and ready for some good racing."
No stranger to adversity during his career, Wilson has rebounded from two horror seasons in both 2015 & 2016, with two consecutive knee reconstructions keeping him out of the sport for the best part of two years and subsequently losing his ride with the Factory Red Bull KTM team at the time.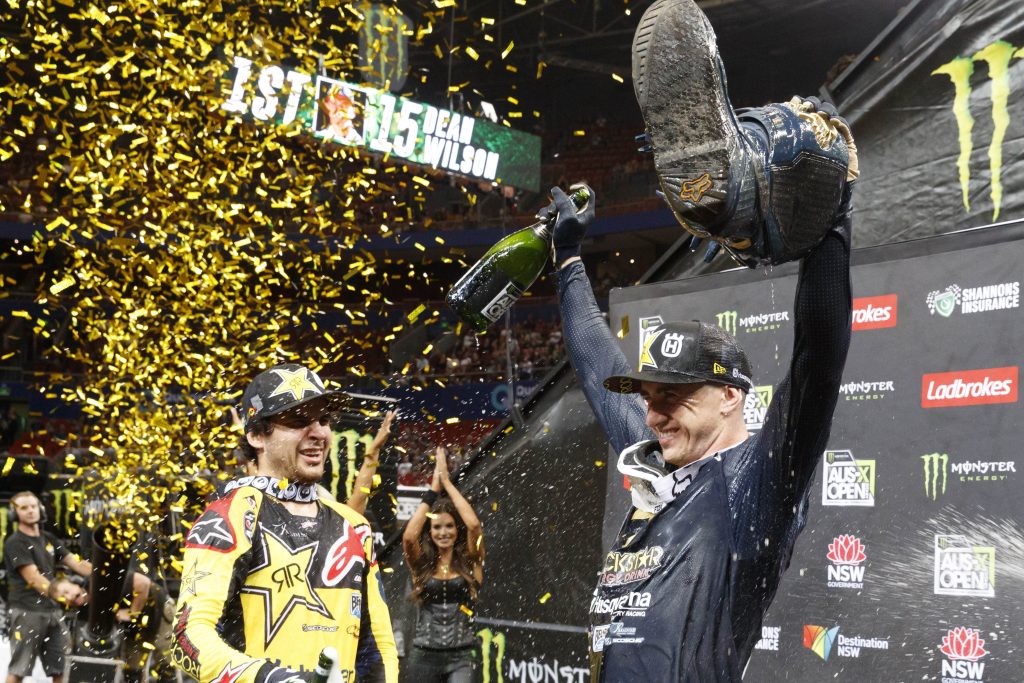 Despite the struggle, Wilson created his own team at the beginning of 2017, travelling to the races with his dad in their box van until a ride opened up at Rockstar Energy Husqvarna factory team where he would stay for two years.
As a first time visitor to New Zealand, Wilson is excited to take in as much of the country as he can in his short stay.
"I've never been to New Zealand before but it does look like a beautiful country, it's very green, nice rolling hills, it is a bit like Scotland. I really am looking forward to it.
"I'm going to see as much as my can, but obviously, I need to get back to the States and get training. I'm just lucky enough to get to go check it out. It's going to be super cool and I'm looking forward to it." Wilson added.
Wilson also spoke to his admiration of Taupo native and former motocross world champion Ben Townley.
"I grew up watching Ben Townley when I was younger and you know he was always a guy that battled Villopoto and looked like he was trying half as hard, it was really funny to watch. A very talented guy and yeah, he's a legend."
Wilson will ride a DPH Motorsport team prepared, Husqvarna FC450 at this year's Monster Energy S-X Open Auckland.
Auckland Tourism, Events and Economic Development (ATEED) will be supporting the event as part of Auckland's Major Events Portfolio, which generates social and economic benefits for the region.
The event also forms part of the Monster Energy S-X Open International Supercross FIM Oceania Championship, which consists of two rounds; the Monster Energy AUS-X Open Sydney (November 9-10) and Monster Energy S-X Open Auckland (November 24), and is sanctioned by FIM Oceania (FIMO).