2015 SXD Champion Mitch Evans, and former Yamaha Junior Racing's Jordan Hill, will spearhead Yamaha Australia's motocross development team under the new Yamalube Yamaha Racing banner for the 2016.
Formerly known as GYTR Yamaha, the name change comes as Yamaha continue to promote their brands via racing and with Yamalube Lubricants gaining significant traction in the marketplace, the race team have been enlisted to continue to raise the profile of Yamalube products through their racing endeavours.
"The team have done a great job of promoting the GYTR range of products over the past few seasons and have no doubt assisted in boosting the profile and sales of our GYTR parts and other genuine Yamaha performance products," states Yamaha's Parts Marketing Manager, Greg Haring.
"We are now in a position with Yamalube to increase support to the team and we offer a full range of oils, lubricants and cleaners designed by Yamaha for your Yamaha's performance and durability. Yamalube products are available throughout the Yamaha dealership network Australia wide.
"We will continue to support the team with GYTR products as well as Yamaha Genuine spares and accessories and work closely with the team in bringing new or updated products to the market in Australia as they continue to provide us with invaluable feedback through testing and racing," Haring ends.
North Queensland's Mitch Evans is back for 2016. After an injury interrupted start to 2015 season that saw him missing the opening five rounds of the MX Nationals, Evans bounced back strongly in the second half of the year to post some impressive results and put his limitless potential on display.
Evans podiumed in three of the final five rounds of the MX Nationals, highlighted by a moto win at the final round of the championship. He then took to supercross like a veteran and despite a DNF at round three, he was still able to win the SXD championship in a confidence boosting performance as he embarks on his professional career.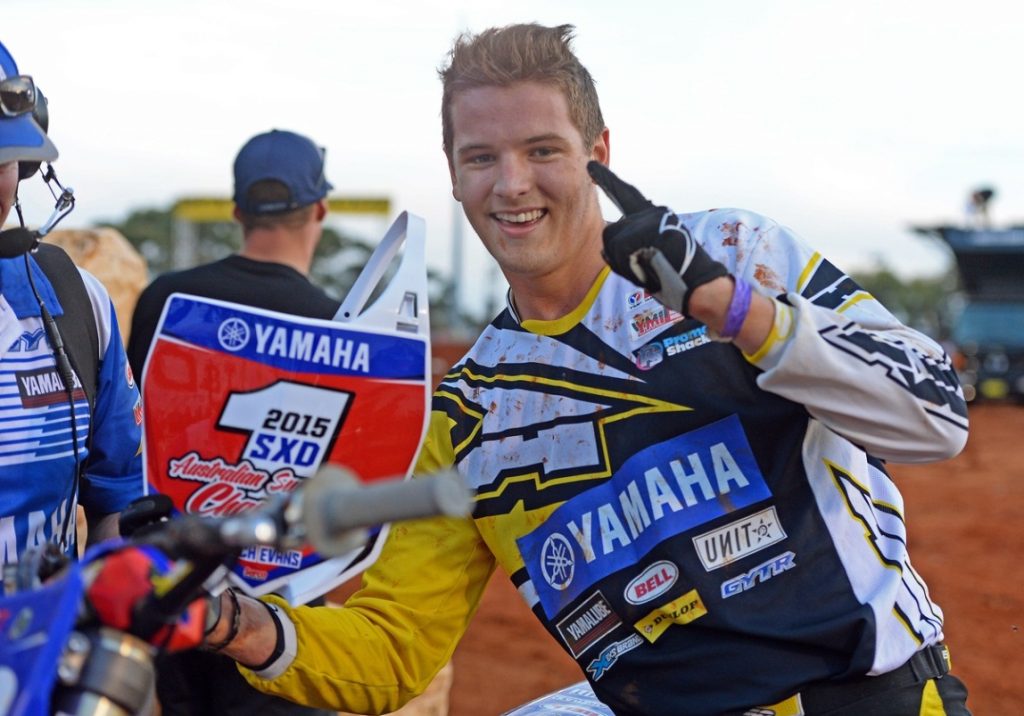 "2015 was a real learning curve for me in many ways but it was made so much easier by having the right team behind me. Everyone here works hard and strives for success so it was easy to re-sign with them again this year and hopefully continue to improve my racing," Evans offers.
"The bikes we have are amazing, the knowledge around the team is first class and the support from Yamaha and our team sponsors makes for a great environment. There are no excuses at this team and that's exactly how I want it.
"I look forward to working closely with the team again and aiming to bring them more success in 2016," Evans ends.
Jordan Hill joined the team for the 2015 Australian Supercross Championship after Wilson Todd elected to get much needed surgery on his knee. Hill stepped up his game and took his riding to a new level throughout the supercross series. Hill finished with 2-1-2 results in the three rounds he contested, with his worst moto finish being a third. Had it not been for an injury that forced him out of the Adelaide round, Hill would have been right in contention for the championship.
Hill now comes onto the team full time in 2016 and looking to make the most of his opportunity.
"It's the goal of every junior rider to ride for this team and I'm stoked that I got the opportunity at the end of last season to race supercross with them. During the MX Nationals last season, my Dad and I we were so busy just trying to get to the races that things were overlooked and our results weren't what they should have been.
"Now with the support of the Yamalube Yamaha Racing Team, my focus is now on racing, fitness and how I can improve as a rider. It's a huge relief not to have the week to week stress of racing as a privateer and I know that I'm in good hands with the team we have here.
"Working with them during supercross was awesome and it showed in my results so I'm excited about the 2016 MX Nationals and will do all I can to succeed, both for myself and the team," Hill said.
The first official outing for the Yamalube Yamaha Racing Team will be at the opening round of the MX Nationals in Horsham on April 3. The MXD (Under 19) class will compete at nine of the ten rounds of the championship before swapping focus to the Australian Supercross Championship later in the season.