We talk with Luke Clout about injuries, the US supercross scene and the fast-approaching Lucas Oil Pro Motocross series.
Earlier this year, Luke Clout was given a golden ticket to race in the AMA Supercross Championship, fulfilling the dream of most Aussie motocross riders. The 2014 MX2 champ got a tap on the shoulder from the guys at MAD RACING/DIRT CANDY/SUZUKI and signed a two-year deal to race in the US. But his season was cut short after a crash at the Oakland round left him with a broken femur.
Now that crash is a distant memory and Luke is preparing for the fast-approaching Lucas Oil Pro Motocross series, so we caught up with him to see how things were going.
ADB: You broke your femur at Oakland. Obviously that's a huge injury but how did the recovery process go?
Luke: Yeah, unfortunately, I broke my femur at Oakland. It was definitely a bummer for that to happen, but the recovery was really good. I have broken my left femur before so I knew the recovery process and what was involved. I kind of knew what to expect and that definitely helped with my recovery and how hard too push it.
ADB: Having broken your femur before, did you know straight away that that was the injury?
Luke: Honestly I was in such shock I don't even recall the crash and the pain, which is really lucky. I just remember coming to in the back of the ambulance and being told I'd broken my femur. It was a bummer but it's the risk we take in the sport we do.
ADB: You've been back on the bike for about a week now, is that correct? After being off the bike for so long how is your fitness levels. Is there anything you're struggling with?
Luke: Yeah I've been back on the bike for a week now and riding a fair bit. Everything is coming together well and my leg feels awesome, which is a bonus! Obviously my fitness isn't 100% but it's better than I was expecting so I'm happy with that. The hardest part will be keeping my intensity up the whole time after having so much time off.
ADB: Coming back from the injury so close to the start of the outdoor season, does that put extra pressure on you?
Luke: Not really, my team has been really understanding and they don't want me pushing, so it's basically just up to me to just do the work and when I'm back to full fitness and everything it will all fall into place.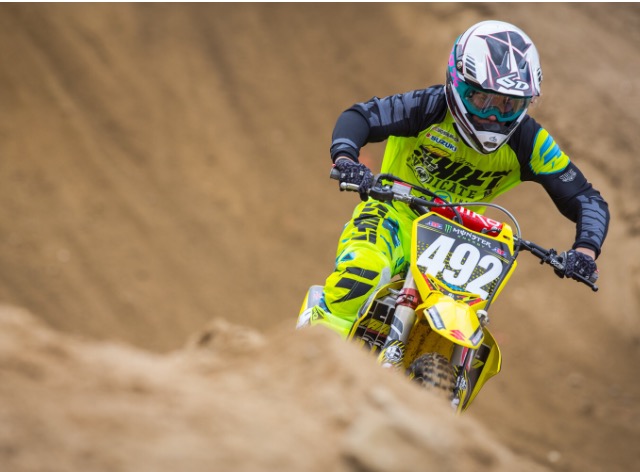 ADB: Are you spending much time on the bike?
Luke: My main training at the moment has been on the bike. I'm trying to ride as much as possible to get my bike fitness back. There's nothing like riding so I've been doing a lot of that!
ADB: How different is the motocross/supercross scene in the States compared to Australia? The events are obviously huge, tens of thousands of spectators and huge indoor SX tracks. Was it intimidating riding into A2 for the first time?
Luke: Honestly it's so much different, Australia doesn't even compare. It's such a big difference and how serious the sport is taken over here is crazy, everyone puts in so much effort and it makes the sport so much bigger. It's really cool … I just went out there and had fun and didn't put any pressure on myself.
ADB: How did the deal with MAD RACING/DIRT CANDY/SUZUKI come about?
Luke: Well the original rider actually had a crash in practice at a supercross and was out, so pretty much I got the call to fill in and I couldn't pass the opportunity up. So I come straight over and I turned it into a two-year deal which I'm pumped about!
ADB: What are you expectations for the Outdoors?
Luke: Just to stay healthy and race all 12 rounds, but I really want to show what I'm capable of. It'll be a fun season and I'm looking forward to it!
ADB: Thanks for your time Luke, good luck in the Outdoors, mate.
Luke: Thank you, guys.
Olly Malone
Photo: Simon Cudby