Extreme enduro elite struggle at Trefle Lozerien | News
Round 3 of the World Enduro Super Series was the French three-day enduro, Trèfle Lozérien, saw extreme enduro elite struggled to match the pace of the locals after a weeks rest following Erzberg.
The 32nd edition of the Trèfle Lozérien AMV, held in the picturesque town of Mende in central France, marked the third round of the inaugural World Enduro Super Series. Contested over three days, riders covered a total of 600km and raced 15 timed special tests – five per day. The event's timecard classic enduro format provided a new challenge for many of the WESS regulars with the first two rounds of the championship having been hard enduro events.
Red Bull KTM Factory Racing's Josep Garcia won the final day of the enduro to claim an impressive third overall at the event. Nathan Watson finished in a strong seventh place, with Jonny Walker 10th and Taddy Blazusiak 20th.
Coming from the EnduroGP World Championship, Josep Garcia and Nathan Watson were expected to do well on the Trèfle Lozérien AMV's twisty grass tests. It was Watson who finished as top WESS regular on day one in eighth place. However, feeling more comfortable on the slippery timed specials on day two, Garcia posted the fifth fastest time at the end of the five tests to place as the best non-French competitor. With a reverse starting order on the final day, the 2017 Enduro2 World Champion was really able to push hard, winning all but one of the specials to take the day three victory. The time made up elevated the Spaniard to third overall, netting him valuable WESS points and moving him up to sixth in the provisional WESS championship standings.
Josep Garcia: "Today was really good fun and I am happy to take the win. The conditions were the same for all the riders and I was able to show my speed. On the first two days the tests were very slippery and, on the Friday, I made a small mistake and hurt myself a little. Luckily, it wasn't too bad and I was able to carry on. The fans here have been amazing and it has been great to race with 600 other riders. I will go home now and take a week off to rest, after that I'll start to concentrate on Romaniacs – it will be my first time there so I am looking forward to it."
Nathan Watson posted some extremely strong times throughout the three days of the Trèfle Lozérien AMV. Battling with the local grass test experts Watson ultimately finished in seventh place – the second non-French rider behind team-mate Garcia. This result elevates the young Brit to 10th overall in the World Enduro Super Series standings.
Nathan Watson: "That was such a cool race – I really enjoyed it. It's difficult to make up much time and the results are so close with only 15 minutes or so of timed tests per day – you can't afford to make many mistakes. The French riders are fast on the grass and it took a bit of getting used to after the two hard enduro opening rounds. I am happy to move up in the championship but I know the next round at Romaniacs is going to be another tough one, so I'll go away now and start to prepare for that."
Jonny Walker showed great pace on each of the three days of competition to place 10th overall and in turn further increase his lead and the top of the WESS championship standings. With nearest rivals Graham Jarvis and Billy Bolt struggling on the French tests, Jonny's advantage now increases to 265 points over the now second-placed Manuel Lettenbichler.
Jonny Walker: "I am really happy with my result here this weekend. I came into the event aiming for a top-15 position, so to get 10th feels great. I was confident in my pace but I haven't ridden an event like this for a really long time and it's difficult to get tuned in to the special stage format. I knew the local riders would be really strong here and obviously Josep and Nathan would be pushing hard but to finish top of the hard enduro specialists is really encouraging for the rest of the championship. I have got a bit of a lead at the top but you can't take anything for granted and with the WESS, one bad result can take you back down again. I have learnt a lot here and hopefully I can take that and use it in the next event at Romaniacs."
The Husqvarna trio of Colton Haaker, Billy Bolt and Graham Jarvis struggled in unfamiliar the conditions. Claiming the team's best result of 17th overall out of 600 competitors, Haaker performed strongly on his Classic Enduro debut. Ending the opening day of racing just outside the top 20, he began to improve his pace as the event progressed. Moving up to 17th on day two, he backed that up with 15th on day three to secure an overall result of 17th.
For Bolt, his event started out strongly with 18th on day one. Despite struggling to find his rhythm on day two the British rider finished in 21st. Looking to recover time on day three, the 20-year-old impressed with the 11th fastest time on the second special test. Frustratingly, a technical issue cost him valuable time and ultimately dropped him to an unfortunate 38th overall. However, Bolt holds onto third in the WESS standings.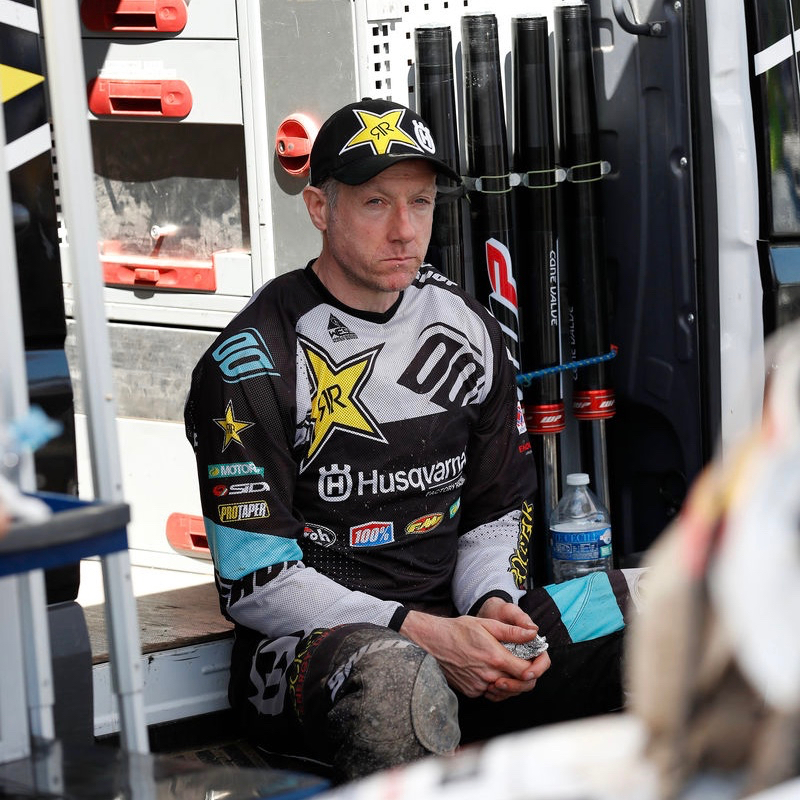 Winner of WESS round two – Erzbergrodeo – Graham Jarvis knew that the Classic Enduro format at round three would be worlds away from what he was accustomed to. Despite not having raced a traditional timecard enduro format event for many years, and with little time to recover from the demands of racing at Erzberg, Jarvis began the Trèfle Lozérien AMV with an open mind and hoping for the best. Chipping away at each special test and adjusting to the high speeds ensured he held a good pace throughout to record a top 50 result of 44th. In doing so he maintained his top five position in the WESS championship standings.
Colton Haaker: "With this being my first ever Classic Enduro it was for sure a whole new experience for me. I think I'm a well-rounded rider who can race Hard Enduro, SuperEnduro and Motocross, but racing slippery, grassy special tests is so unique and something I've never experienced before. It took me a long time to adapt to that new way of riding a bike. Day three was probably my best performance as they changed the starting order and that meant the top guys had a line to follow in the tests. I was more comfortable with the dirt sections than fresh grass. But overall I really enjoyed the experience and being taken out of my comfort zone like that. The Classic Enduro format is cool and I'd love to ride them more. All told, 17th overall against some very specialised riders in this type of competition is rewarding."
Billy Bolt: "It's been a fun weekend and definitely worlds apart from last weekend's Erzbergrodeo. I have done a couple of Classic Enduro races in preparation for Trèfle Lozérien but this race is very unique in terms of the slippery, grassy special tests. I was happy with my riding on day one but struggled on day two to find a decent rhythm and so dropped a bit of time. I was recovering well on day three but had a small technical issue and lost a lot of places. Now I'm looking forward to getting back into Hard Enduro mode and preparing for Romaniacs in July."
Graham Jarvis: "With this race coming a couple of days after the Erzbergrodeo I always knew it would be difficult. Winning Erzberg took a lot out of me both in terms of preparation and the race itself. I hadn't raced Classic Enduro for many years either and had to ease my way into things. Despite a few small crashes there were no major dramas and although I'd love a better result I'm pleased enough – I always knew it would be difficult to do well here. Romaniacs is next on the list and of course the focus is to go there and win."
Results: WESS Round 3 – Trèfle Lozérien AMV Overall Classification
1. Loic Larrieu (Yamaha) 51:05.319
2. Theo Espinasse (Sherco) 51:16.117
3. Josep Garcia (KTM) 51:16.819
4. Emmanuel Albepart (Yamaha) 51:18.943
5. Julien Gauthier (Yamaha) 51:21.246
6. Johnny Aubert (Gas Gas) 51:39.191
7. Nathan Watson (GBR), KTM, 51:56.348 +51.028
10. Jonny Walker (GBR), KTM, 52:35.836 +1:30.517
16. Antoine Meo (FRA), KTM, 53:23.109 +2:17.790
17. Colton Haaker (Husqvarna) 53:28.102
20. Taddy Blazusiak (POL), KTM, 53.50.672 +2:45.353
38. Billy Bolt (Husqvarna) 56:05.342
44. Graham Jarvis (Husqvarna) 56:33.811
Provisional Standings – World Enduro Super Series (After Round 3)
1. Jonny Walker (KTM) 2130pts
2. Manni Lettenbichler (KTM) 1865pts
3. Billy Bolt (Husqvarna) 1830pts
4. Graham Jarvis (Husqvarna) 1818pts
5. Taddy Blazusiak (KTM) 1445pts
6. Josep Garcia (KTM) 1425pts
Full results can be found HERE.