FACTORY BIKE: Bailey Malkiewicz 2018 YZ125 | Back End
All the inside info on the GYTR kitted Yamaha YZ125 that Bailey Malkiewicz raced to a world championship victory.
Getting Set Up
Three months prior to Horsham hosting the 2018 World Junior Championship, Bailey Malkiewicz had never even thrown a leg over a YZ125. Riding for the WBR Yamaha team at the time and in the thick of a championship chase in the MXD class, he was focused on riding his YZ250F, it wasn't until the mid-season break in the calendar the Malkiewicz was able to get his hands on a YZ125 to practice on and then it was just a standard bike so he could familiarise himself with it.
With little time to develop a motor and suspension package, the WBR Yamaha team opted to run the, available to the public, GYTR High Performance Kit, that the Yamaha Junior Racing team riders were using as well as the high profile Europeans in the EMX 125 series. The kit is a complete motor package that was first released in 2016 and has been updated with small improvements each year. This allowed WBR Yamaha team time to stay focused on winning the MX Nationals as well as give Bailey belief had had a bike good enough to win at the highest level.
The kit comes with a GYTR cylinder, GYTR Head, 2 GYTR pistons, a GYTR exhaust pipe and silencer, a V Force Reed block, a GYTR fly wheel, a GYTR CDI unit, some jetting as well as a cool looking GYTR ignition cover.
Bolt Up
"Jack, our race team mechanic, simply bolted the kit together and followed the instructions as supplied," explains WBR Yamaha manager, Travis Whitten. "Once it was assembled, we jetted it as stated and then ran it in on the dyno. After getting the motor loosened up a little, we jetted it to suit our conditions and it seemed the richer I went on the main jet, the better it got so I think it was about a 520 jet we settled on as the it was cold that time of year and the motor needed that much fuel.
"After that, we added a few of our team sponsor products, like Zeta handlebars, a DID chain, JT sprockets, a sticker kit and did a suspension setting for Bailey and that was about it. He rode it maybe twice before Horsham and it was in the truck and on the way. I would be surprised if the bike has five hours on it now, and half of that would have been on the dyno just breaking it in.
A week later and Malkiewicz charged to a popular and well-earned world championship victory on board his GYTR motor kitted YZ125. Every practice session saw him inside the top five, he then qualified second before charging to a 2-1 finish in the motos to be crowned the 2018 World Junior 125cc champion.
"And I guess the results speak for themselves. Bailey was in the top three entering the first turn in each moto and his bike speed was as good as any other bike at the event. We changed a piston on Saturday night after qualifying, just as a pre-caution, tried a 510 main jet but went back to a 520 for the motos, and a clutch between warm-up and a race one and that was about it. The bike that was built in less than a day, with no motor testing and very little ride time, had just won a world championship," Whitten recalls.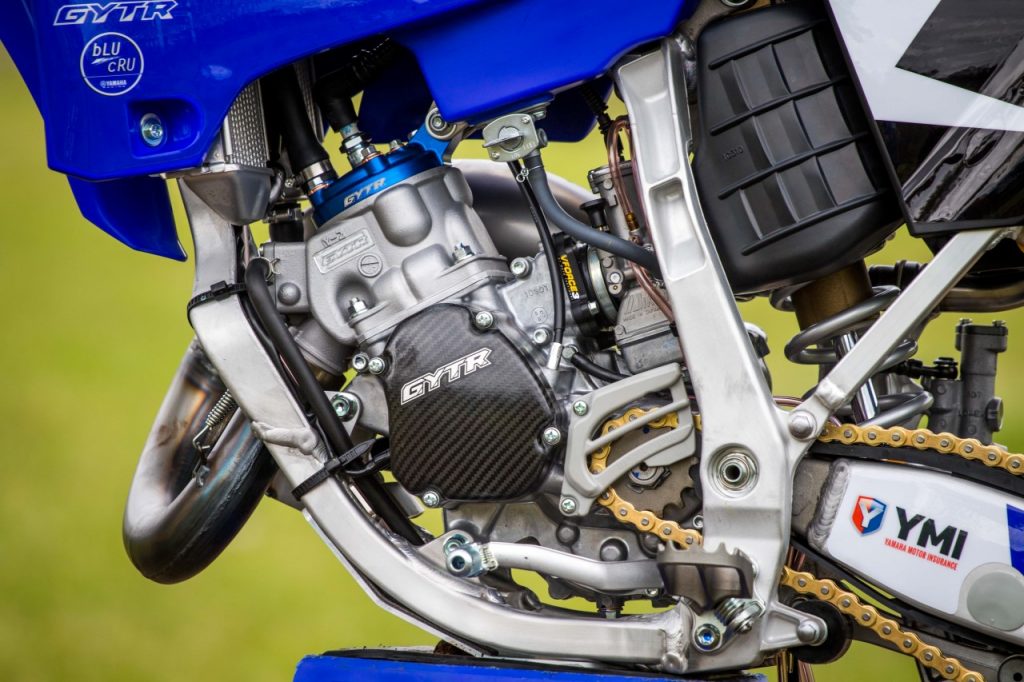 Add to that the success this motor kit had in Europe with Thibault Benistant taking the EMX125 championship as well as the local success of Alex Larwood and Levi Rogers in the same time period and you have a motor kit that is good enough to take you to the top and can be purchased via a Yamaha dealer.
"The beauty of a kit like this is that it takes all the testing out of the equation and knowing if the combination of parts you use match up," Whitten continues. "Sometimes, you throw aftermarket parts at a bike and you gain here and lose there. The GYTR kit kept the strong YZ125 bottom end but there was a major boost in the mid-range and top end. The heavy fly wheel kept the torque in the motor and produced power that was deceptively fast."
GYTR have now also added a YZ65 and YZ85 kit to the performance line up and are also available upon enquiring at your Yamaha dealer. The 65 kit features a GYTR exhaust pipe and silencer, a V Force Reed block, a GYTR head, a GYTR CDI unit, a 2.0kg radiator cap and a heavy duty radiator hose.
The YZ85 kit includes a GYTR cylinder with modified power valves, a GYTR head, a GYTR CDI unit, a GYTR exhaust and silencer as well as a spark plug, radiator cap and hose.
The GYTR High Performance Kits for the YZ65, YZ85 and YZ125 are available for back order from your local Yamaha dealer.
Spec Check – Bailey Malkiewicz 2018 YZ125 Mechanic: Jack Arnold
Motor
Cylinder : GYTR kit
Head: GYTR kit
Piston: GYTR Kit
CDI: GYTR Kit
Reed Black: V Force 3 (GYTR Kit)
Exhaust: GYTR
Silencer: GYTR:
Fly wheel: GYTR
Fuel: VP
Jetting: 40 pilot / Y2 needle- clip 3 / 520 main / airscrew 1.5 turns out
Gearing: 13 / 49
Chassis and Suspension
Fork: OEM KYB revalved and with .44kg springs
Shock: OEM KYB revalved with 49N spring
Handlebars: Zeta
Grips: Pro Taper
Seat Cover: Strike Seats
Graphics: MX Ink
Tyres: Pirelli MX32
Chain: DID ERT3 520