After clinching his fourth Australian Motocross Championship, we thought we'd take a look at Dean Ferris's 2023 Yamaha YZ450F.
Despite being in and out of retirement, Dean Ferris has claimed the 2023 ProMX Thor MX1 title. It's an impressive feat so we thought we'd take a close up look at Dean Ferris's 2023 Yamaha YZ450F:
"I'm always drawn to Yamaha and it's the brand of bike I have always felt most comfortable on, regardless of results" Dean told ADB. Maybe that stems back to when I was growing up, I spent most of my development years riding a Yamaha, from the YZ85 and YZ125 to my first supported ride on a YZ250F, so it's been a brand or style of bike that really works for me and one that I feel most at home on. To put it bluntly, it's the bike I'm most compatible with and enjoy riding the most.


"I hadn't raced a Yamaha since 2018 and the bike has been through a few changes. During my time at CDR Yamaha, the 2016 and 2017 model bikes were basically the same and then the all-new model came out in 2018. In 2019, 2020 and 2021 I have been on different brands but when I jumped on this 2023 model, there were a lot of things that had changed but the Yamaha characteristics that make the bike so appealing to me were still there and only after a few laps, I felt at home on it. There were elements of the other brands that I liked, but a Yamaha is where I can do what I think are my Dean Ferris laps, so it feels good to get on one and be comfortable right away.
Showroom to Racetrack – Dean Ferris's 2023 Yamaha YZ450
"I can tell you right now, with the exception of an Akrapovic exhaust and Panta fuel, the motor I will be racing on will be the same as you buy. This bike has more than enough power for me and the way it's delivered is smooth and powerful yet so easy to use. I haven't even tried a map yet, it's on whatever it comes with from the showroom. In reality, these current 450's are so powerful, the need for any major engine mods isn't the same.
"During my time at CDR, we changed some parts and produced more power, but even at that level with a team as professional as that, they were nothing crazy and since then, the production bike has become more powerful and easier to use. A standard 450 is now around 58-60HP, that's as much as a factory bike a few years ago and more than enough for me.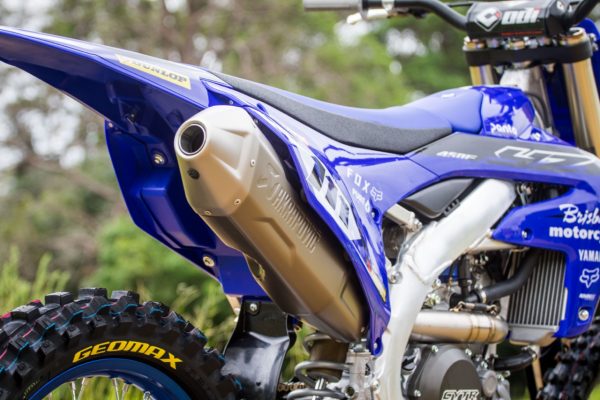 "Akrapovic produce a broad torquey style of power I like and their exhausts are well built, light and are extremely durable. Panta fuel provides some gains and just ensures the motor runs cleanly and is consistent fuel quality. The rest of the things done to my bike are just protective or personal to me.
"I run an ODI handlebar, which is in fact called the YZOEM bend – so it's a replica of the standard bar. I run the lock on grips as I'm the guy changing grips and the ODI lock-ons are awesome that even a mechanic like me can't stuff them up. I will run a GYTR clutch and ignition cover for some extra protection and they give the bike a good look and Kustom MX did a clean and corporate looking set of graphics for me.  "I have Grant Covus (Moose) taking care of my suspension. Moose has spent years in Europe working with the best riders and teams but returned to Australia a couple of years ago and lives up the road from me. He did my stuff at Honda last year and he was keen to work with me on this bike.
"He has awesome knowledge, and we work together well. He has done one set of suspension for me and I really liked it. I was just after a firmer fork as I like the front of my bikes to be on the harder side for motocross compared to others and he did a shock to match. He nailed it and it has been the setting I have used from the first week of riding it.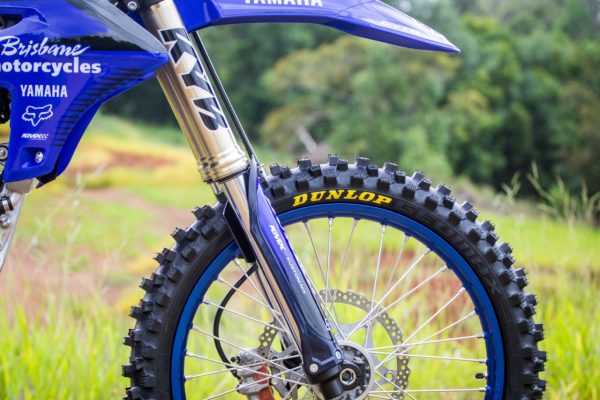 "He did another set for me, just to see if we could get it any better, but it didn't feel as good so we are still on setting one. We will take that to a couple of local races here in Queensland to see how it goes on a racetrack in a race environment.
"Dunlop has jumped on board with tyres, which is awesome as Dunlop tyres work well for me. I just run the standard wheels and hubs. I have run other brands in the past, but I like the feel of the standard wheel on a Yamaha. I have standard gearing on at the moment, that may change at certain tracks depending on the track and conditions and that is pretty much it as I love the bike and at this point see no reason to change it.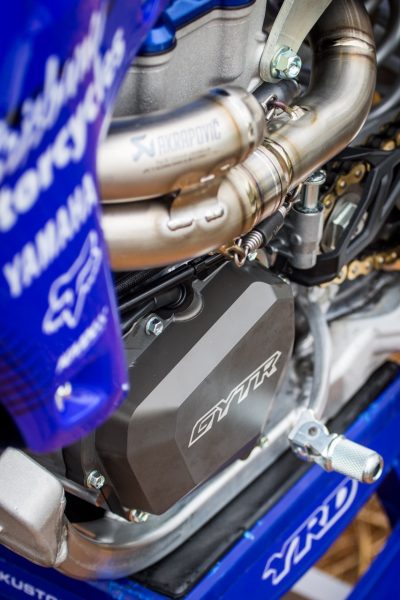 Brisbane Motorcycles – James Mutton
"We signed Dean because he is a high-profile rider, capable of winning any race in Australia and can only add to our business profile. Plus, we are good friends so when he came to me and said that he wanted to race again in 2023, I just told him I was in. I didn't even know what the deal was or what it would be at that time.
"I wanted to help, so I said let's go and we can work out the detail later and it has come together really well. It's going to be different to what Dean has experienced in the past with professional motocross teams, but we have tried to provide the environment that Dean wanted and if we continue to give him what he needs, he is still the best motocross rider in Australia. I have reached out to a couple of our partners in business to assist Dean and everyone has been really supportive of it and we are keen to go racing this year."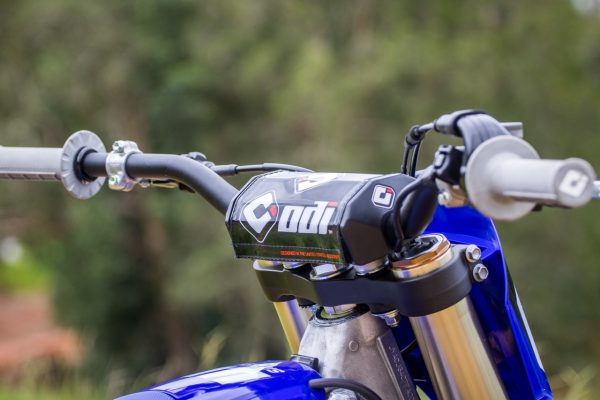 Team Dean
Brisbane Motorcycles / Yamaha / Akrapovic / Dunlop / Motul / ODI / Fox / Scott
Five things you don't know about Dean Ferris
1. He has moved away from his riding paradise in Kyogle for a sea change on the Sunshine Coast.
2. He thinks there is some offroad racer in him so don't be surprised if he turns up at Hattah, Finke or the Don River Dash in the future.
3. He owns a roof and driveway pressure washer business and has been known to jump on a hose every now and again in the Brisbane North area.
4. His trainer is ex-ironman champion, Guy Andrews.
5. Has two daughters under the age of 7.