FACTORY RIDE: Meghan Rutledge's Kawasaki KX250 | Back End | Factory Ride | News
We talk to Meghan Rutledge about her Kawasaki KX250 race weapon.
THE RIDER MEGHAN RUTLEDGE
I wouldn't say that I have any unique settings on my bike. I run a Neken triple-clamp; that extra bit of suspension in it helps with old injuries in the thumb and wrist. It gives me that extra bit of cushioning and less vibration through the hand.
It definitely helps with the longer motos. Besides that, I need to have my levers at the same height. Suspension setup is really important to me, even more so since I broke my thumb five years ago. The recovery from that injury was never perfect, so making sure the suspension is 100 per cent perfect was the biggest thing to help my racing. The guys at Shock Treatment have always done an amazing job with my bike, making sure it is going to handle like a dream, no matter what track I'm on. The engine was done by Ross McWatters. We wanted a bit of engine work done on the race bike this year and Ross is a legend in the sport.
He's worked with a lot of teams and factory riders, so he knows exactly what to do when it comes to making sure the power is in the right spot. And it's all useable. There was no unusable, unnecessary work done to the bike; it was just enough to give it that little bit more. I run an HGS exhaust on it; it's just who I got the best deal from. That pretty much sums up my bike really.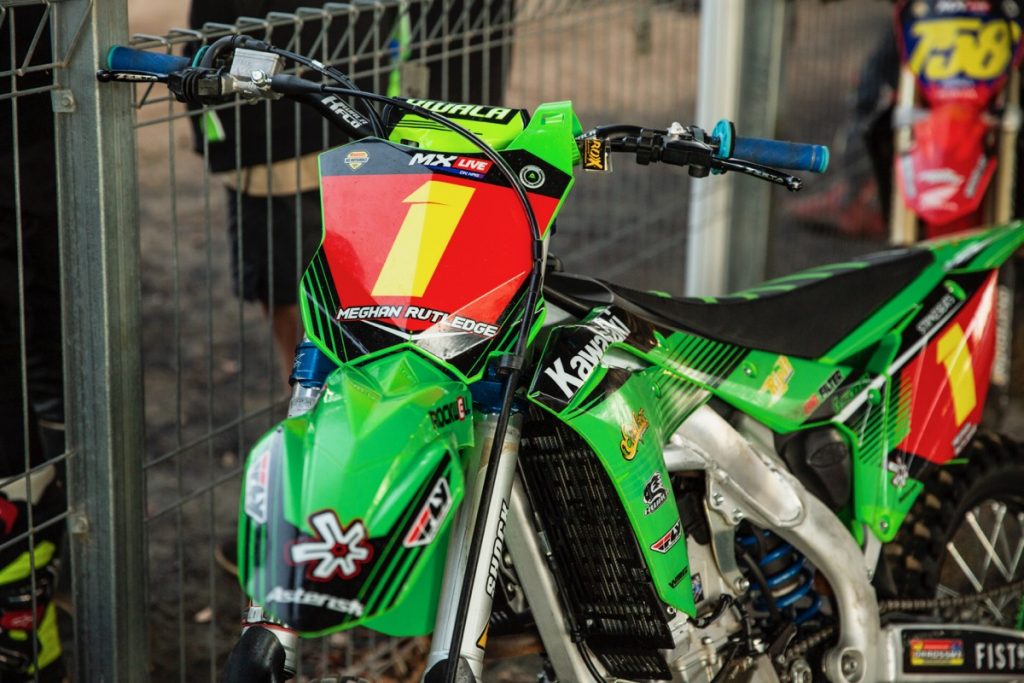 Luckily, I get to do the ADB shootouts and I've ridden all the bikes and the one thing for me is that the Kawasaki is so narrow and such a nice-handling stock bike. I just jell with it straight away. With some of the other bikes I've struggled with them being fat through the tank and through the footpegs. I've been on Kawasaki for over 10 years and I've never had a bad word to say about any of the bikes I've had.
They've always suited my riding style and I just love them. In the last two years I've moved away from home so Dad's not doing quite as much on the bike side of things anymore. I'm living with my partner, Aaron, in Mudgee and he does all the bike work from washing it, to making sure it's ready to go for race day, to anything that needs to be done on race day. It's kind of a team thing with him and me.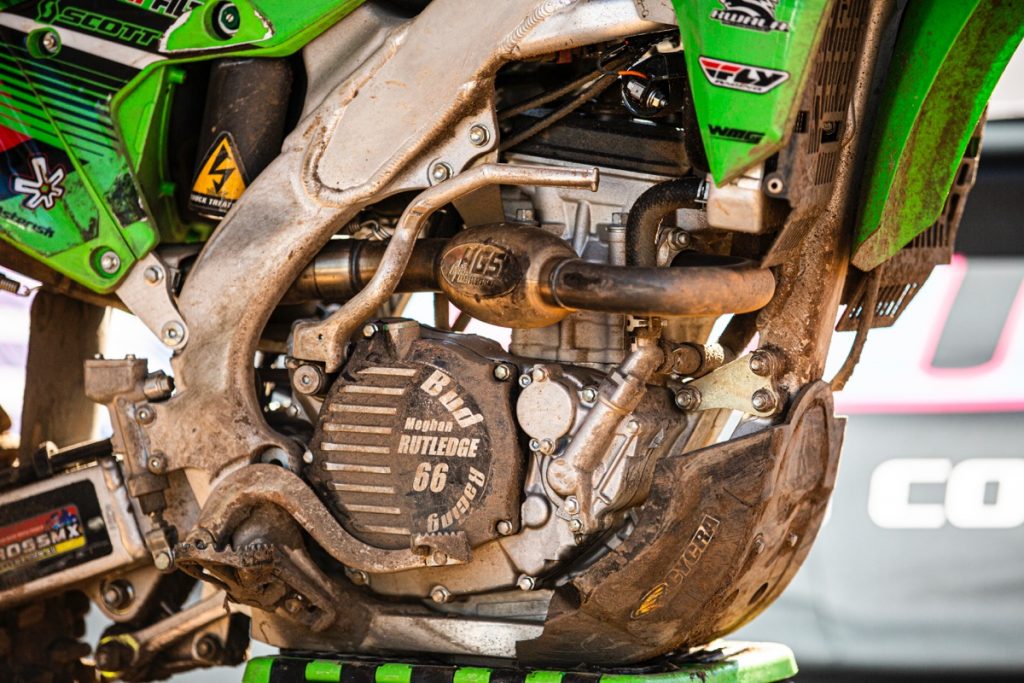 We do everything together at home and then everything together on race day. Racing wouldn't be possible without his support at the track and at home. The highlight for this year was finishing the season the way I did, carrying an injury and [still] winning the Queen of MX. It was unexpected; I didn't even expect to line up for that event. So to win the MX Nats and the Queen of MX with an injury, I guess it sums up a really good season.
I couldn't have asked for a better time to end up injured, I guess. The season is finished now, so if you are going to carry an injury, now's the best time to do it. The recovery is slow, but I'm out of the brace. They are still saying 4-5 weeks before they'd like me to ride a bike again. It's still quite painful and weak, so I'm going to give it the time that the professionals are saying and hopefully after those few more weeks, it will be right to go.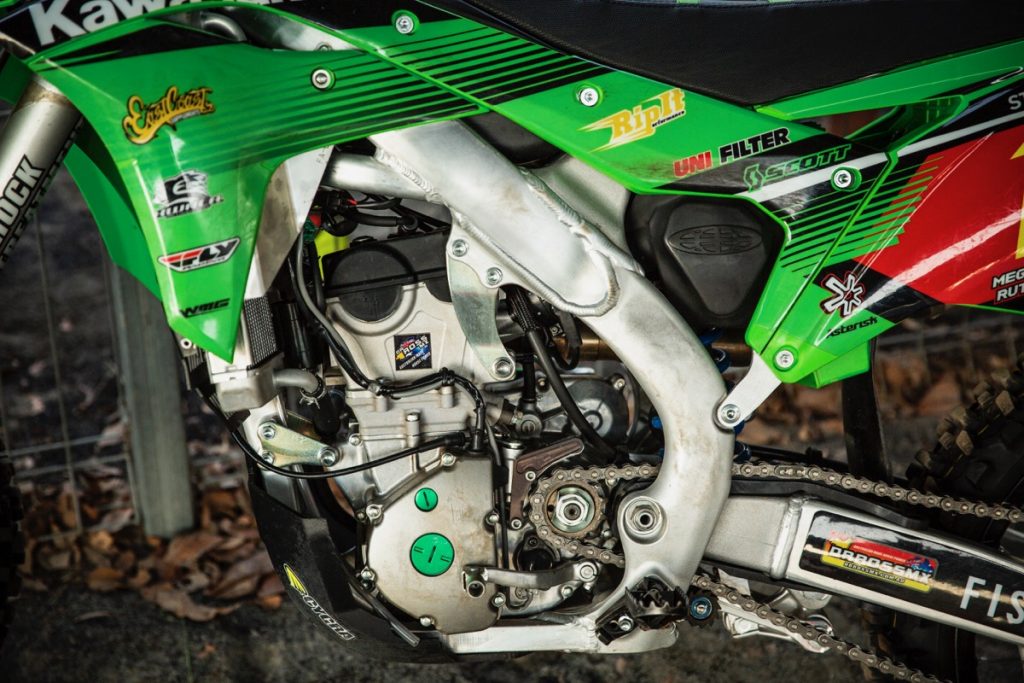 The crash at Manjimup was a nothing crash and to come out of it with such a serious injury [scaphoid/thumb] again, I was so bummed. I didn't think I was going to be able to finish the week in Manjimup, let alone tough it out and race the next weekend at King of MX. So, a quick shout out to my family doctor, because without his support, I wouldn't have been at those races. with Dylan Rudd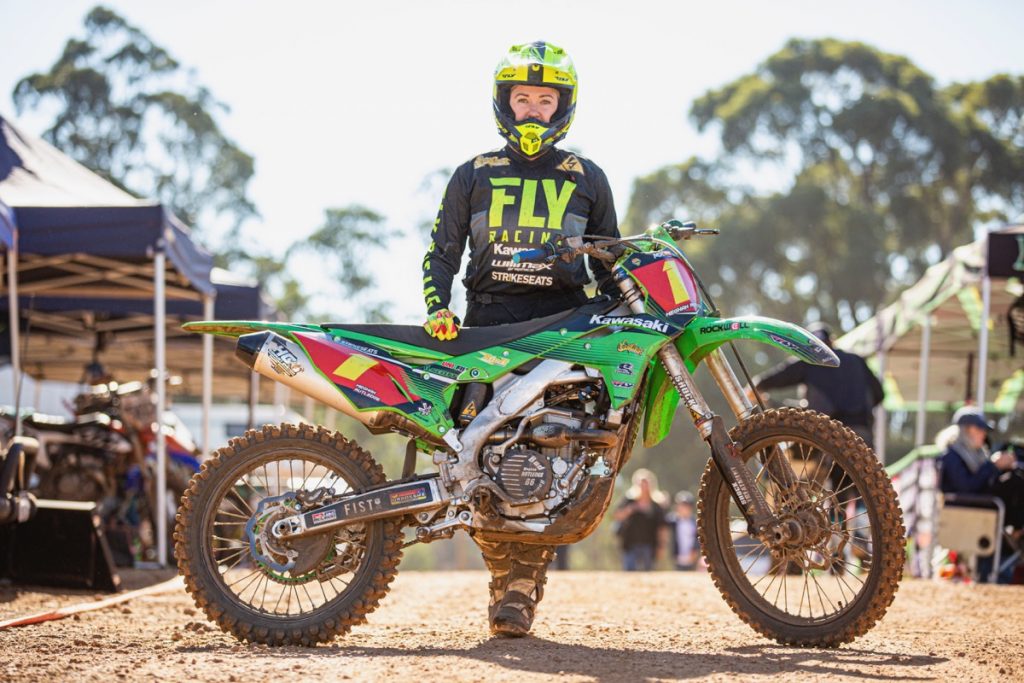 5 THINGS YOU DIDN'T KNOW ABOUT MEGHAN RUTLEDGE
1 Meghan also has a KX450, but prefers to race the 250.
2 She has finished runner up in the World Women's Motocross Championship on two occasions (2013 and 2015).
3 She also enjoys desert racing and has competed in the Finke Desert Race and Hattah where she has won the women's class on two occasions.
4 One of her worst moments was at the 2013 X-Games. She had the Gold Medal wrapped up, but a mistake on the final corner handed the victory to a rival.
5 Her nickname is Mad Meg.
THIS FEATURE WAS FIRST PUBLISHED IN ADB ISSUE #481 – OCTOBER 2019