FACTORY RIDE: Mitch Evans 114 Motorsports Honda CRF250R | Factory Ride
114 Motorsports Honda rider Mitch Evans tells us about his CRF250R and riding in Europe in the FIM Motocross World Championship MX2 Class.
THE RIDER MITCH EVANS
The call to join 114 Motorsports [Hunter Lawrence's old team] was unexpected, but I had always dreamed of racing the world championship, so I was super excited. I wanted to jump on a plane to Europe that day but a lot of things had to be sorted first. When the day finally came to fly out, I was like a kid waking up on Christmas morning. Racing in Europe is a lot different to racing in Australia; the tracks, the schedule, the weather and the way the riders race each other. The biggest learning curvea has been adapting to the higher speeds of the tracks and the style of racing. In Australia, if you get tired, you can get away with losing one or two spots but in Europe it's like a freight train. You're constantly in a battle and if you get tired, five to 10 guys can go past you. Working with Livia [Lancelot], the 114 team and everyone at Honda has been great. From day one they have been super helpful and welcoming.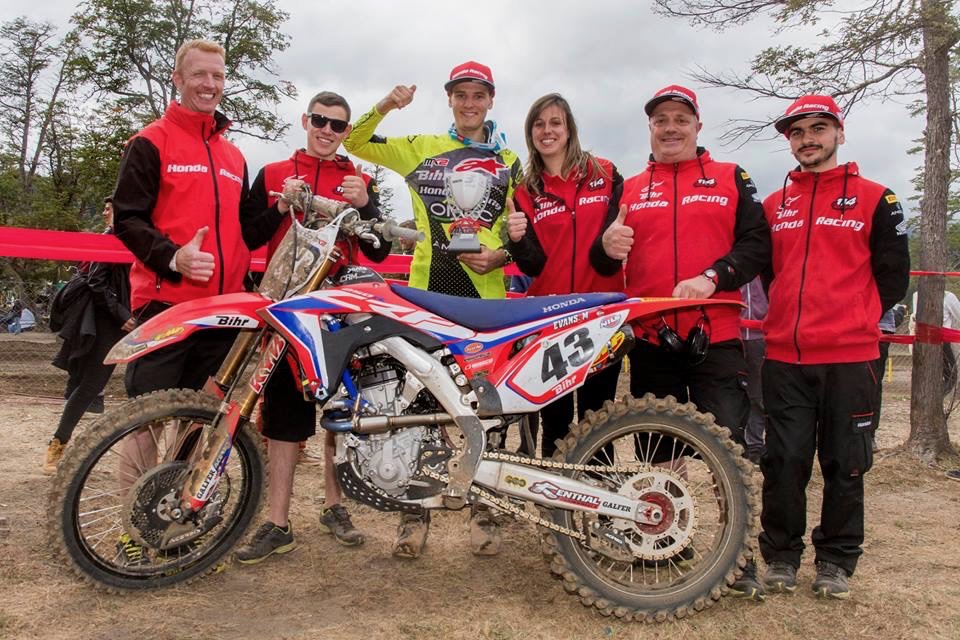 Livia understands what riders need when it comes to training, travelling and nutrition. I can just focus on my racing, which is so convenient. My year has been a little up and down so far. My pre-season races went really well and I carried that momentum into Argentina and landed on the podium. I picked up a knee injury before Argentina, so racing and training for the next three rounds was tough. Thankfully, we're on top of the injuries and I'm back to my normal routine. I like everything about my Honda CRF250R. From day one, I jelled with it straightaway and felt really comfortable. If I were to pick what I like most, it would be how well it handles and turns. I like to set up my suspension relatively stiff. I am not too picky with my set-up, but I have noticed my handlebar set up is a little different to others. I use the Renthal 996 bend and have my 'bar mounts in the furthest hole forward on the triple-clamps, with 5mm raisers. This gives me a lot of space on the bike. The goal for the remainder of the year is no different from the goal I set at the beginning; to finish every race, learn each time I'm on the track and enjoy this awesome experience.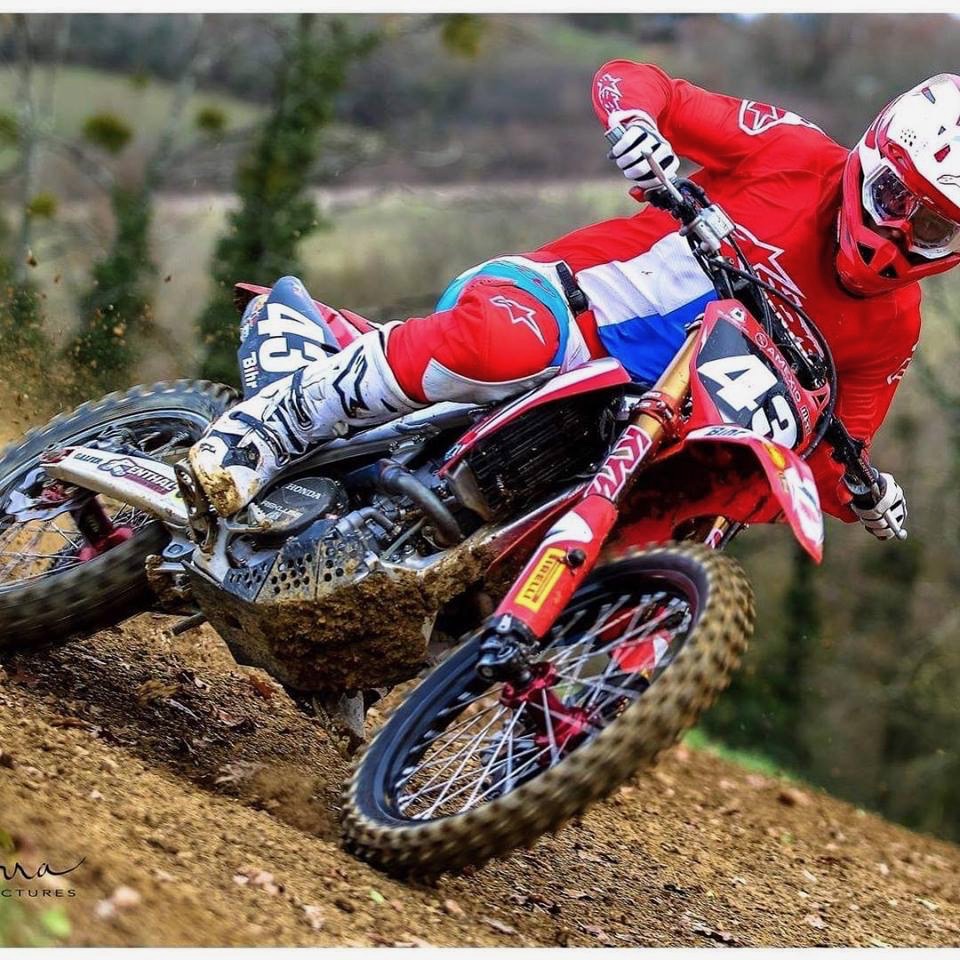 THE MANAGER LIVIA LANCELOT
Last season was crazy. We started everything from zero, so we had a lot of work, but I'm enjoying this new life as team manager, which is why we are here for another season.
Mitch was a great fit for the team. I really like the Aussie spirit. We had to replace Hunter, so we looked everywhere, but with Mitch's results in Australia and his age, he was the best possible choice. Mitch is really professional. He knows what he wants and works for it. He doesn't lose time with stupid things. He is here to ride and show the world his potential. He is really smooth and technical on the bike. That could be a result of riding a 450 last year, I guess. His corner speed is impressive. His suspension is quite stiff, but Mitch is quite strong on the bike so this is normal. He is riding with the Renthal 996, which is pretty classic, but the rest of the 'bar position is good only if you are over 180cm; pretty high and forward. Not everybody can adapt to his settings. The season started again with a podium in Argentina, so we need to keep working to make it happen again. The CRF250R has improved from last year. The chassis is just amazing and the engine has more bottom-end power now. Everyone can really have fun on the bike in its standard form. At least, I do! with Dylan Ruddy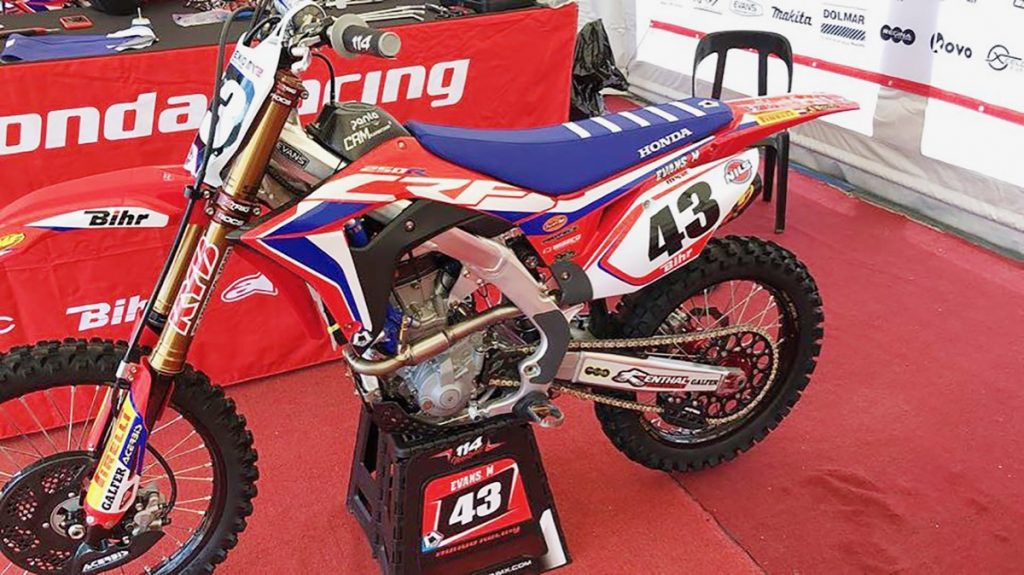 5 THINGS YOU DIDN'T KNOW ABOUT MITCH EVANS
1 Mitch is from Cairns and was born in 1998.
2 His brother Richie and cousin Jackson Richardson also race professionally.
3 He finished second to Dean Ferris in last year's MX Nats MX1 Championship.
4 Livia Lancelot is a two-time Women's World Motocross Champion.
5 The team's name comes from her old race number.