Final Days of MA Member Exclusive Pre-Sale to the MXoN Golden Ticket! | News
Picture this. You're in the Netherlands, in the city of Assen, wandering around the canals.
It's Summer. You're not at work. Instead, you're about to make your way to the 2019 Monster Energy FIM Motocross of Nations (MXoN). The small city of Assen comes alive around you as you head to the circuit, with the noise of big thumping singles and the smell of race fuel filling the air…
For your chance to make fantasy a reality, Motorcycling Australia (MA) is giving one lucky winner and their plus one a money-can't-buy experience to head over to the Netherlands and watch Team Australia execute their campaign to make it onto the MXoN podium! As an MA member, you are receiving this exclusive pre-sale access to purchase your ticket and throw your hat into the ring for a once in a lifetime opportunity!
Running from 28-29 September 2019 at the TT Circuit Assen, the MXoN is an unmissable Motocross event that crowns the world's greatest riders and teams as they go head to head in Holland's trademark deep sand.
To support the beloved Green and Gold Team MA have introduced a fundraiser with a strictly limited 100 ticket release. Proceeds from all ticket purchases will go toward covering team expenses and ensuring all selected riders receive the opportunity to represent Australia against the world's best.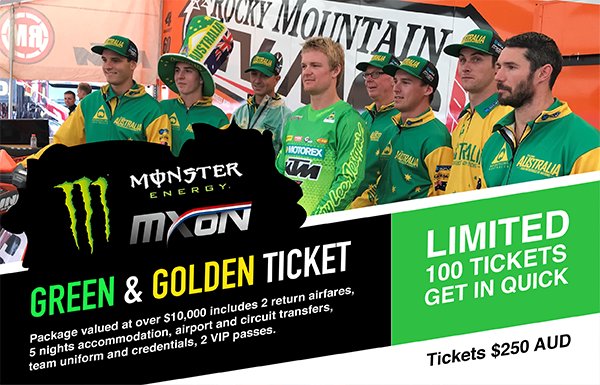 For the single price of $250.00 AUD, you can purchase a ticket that puts you into the running to claim the invaluable prize. With a potential prize up for grabs that's better than Charlie's trip to Willy Wonka's Chocolate Factory, the cherry on top is the that you can rest easy knowing that you have made a precious contribution in supporting Team Australia on their journey to Assen!
Recognising our members and their invaluable contribution to supporting the industry, you're receiving this exclusive offer to nab one of the 100 tickets available. With a strictly limited number of tickets for sale, this is your opportunity to become a front-runner in the 'green and golden ticket'!
Valued at over $10,000.00 AUD, the winner will receive two return airfares to Assen, Netherlands, five nights accommodation, airport and circuit transfers, two VIP Gold passes with Youthstream, and complimentary Team Australia uniforms and credentials. With only 100 raffle tickets available for purchase, don't hesitate in nabbing a chance at winning a once in a lifetime opportunity to watch the green and gold in action!
The winner will be drawn on at the final rounds of the Pirelli MX Nationals in Coolum, Queensland on Sunday 4th August, so today's the day to buy your golden ticket to an unforgettable experience!