The 2021 Husqvarna enduro range is here, revealing a largely unchanged two-stroke and four-stroke lineup following the full range overhaul last year.
While KTM announced minor changes to the EXC range, there has been nothing of the sort for Husqvarna enduro models, with the exception of new graphics across all bikes.
The full range will return for MY21 which includes the TE 150i, to the TE 250i, TE 300i, FE 250, FE 350, FE 450 and FE 501.
Husqvarna Australia has said MY21 Husqvarna Motorcycles enduro models will start to be available in Australia and New Zealand dealers from October onwards.
Key Highlights 2021 Husqvarna Enduro
Frame
– Advanced longitudinal and torsional flex characteristics unparalleled rider feedback, energy absorption and exceptional straight-line stability.
– Forged aluminium cylinder head mountings on all models.
– Durable powder-coated finish with standard frame protectors.
Composite carbon fibre subframe
– 70% polyamide and 30% carbon fibre, the 2-piece subframe has a total weight of just over 1 kg
– Carbon fibre composite construction – lightweight and robust
– Specific rigidity characteristics – exceptional handling and comfort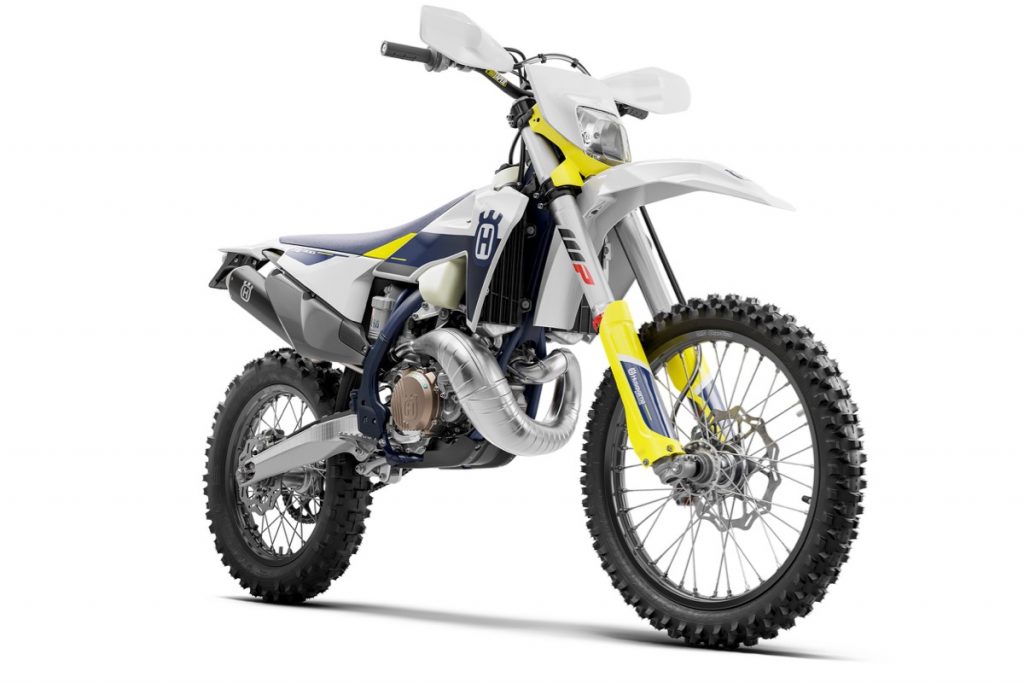 WP XPLOR fork
– WP XPLOR front fork – 48 mm spring type with split damping function.
– Easy access preload adjusters.
– Advanced mid-valve delivering a consistent damping function while the setting allows the fork to operate higher in the stroke delivering exceptional rider feedback and bottoming resistance.
CNC machined triple clamps
– 22 mm offset black-anodised CNC machined triple clamps
– 2-way handlebar adjustment is standard and allows for customisable ergonomics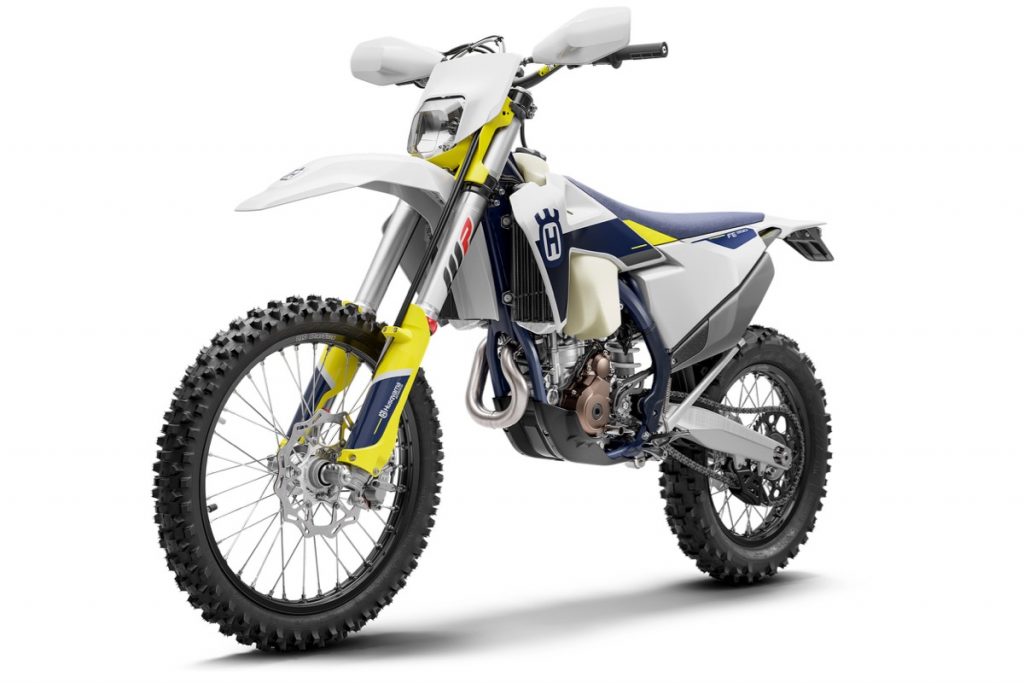 WP XACT rear shock
– Same linkage progression found in the Husqvarna Motocross range, the rear end sits low for optimal control and comfort in extreme enduro conditions.
– Pressure balance – consistent damping
– 300 mm wheel travel
MAGURA brakes
– The MAGURA braking system paired with 260 mm front and 220 mm rear waved brake discs by GSK
Grips and throttle assembly
– Throttle assembly and ODI grips – easily alter throttle progression; easy grip mounting without glue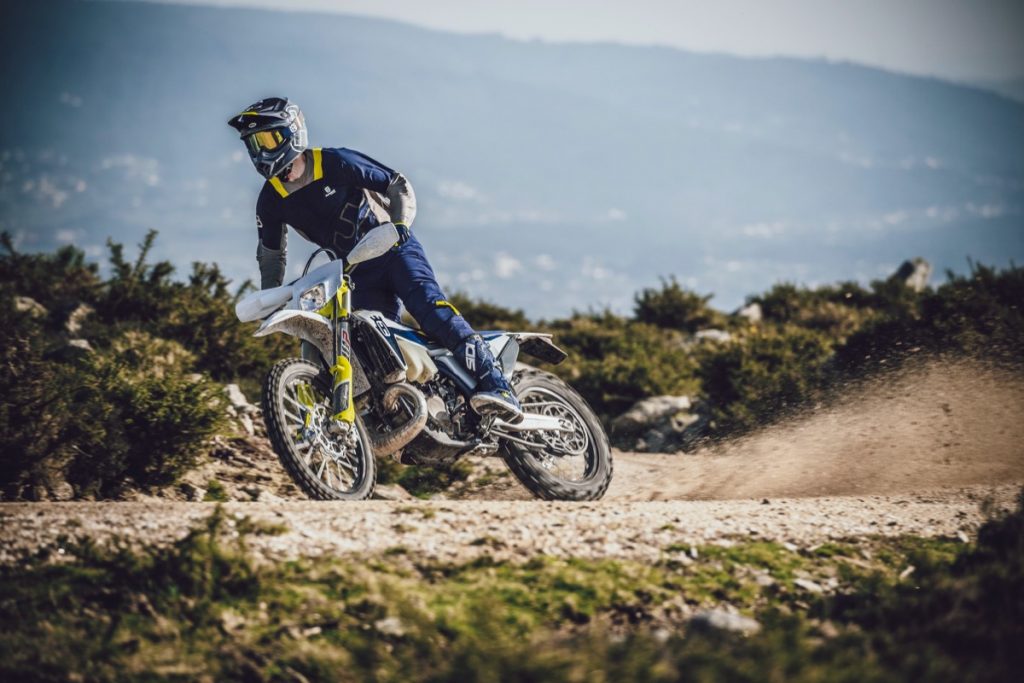 Engine Management System (EMS)
– Keihin EMS – smaller, lighter and faster at processing engine data for more efficient engine management
– Gear sensor: specific engine maps for each gear
– Two-stroke EMS – modern engine management eliminating the need for jetting changes
Cooling
All four-stroke models are fitted with radiator fans as standard. For the two-stroke models, radiator fans are optional and available in the Technical Accessories catalogue.
Map switch, traction control
The standard map switch on all 4-stroke models selects between 2 EFI maps and activates the traction control. Traction control features an updated setting offering improved traction and control on slick terrain. Traction control is selected to an on or off position from the switch and functions by analysing throttle input from the rider and the rate at which RPM increases in the engine. If the RPM increases too quickly, the EMS registers a loss of grip and reduces the amount of power to the rear wheel ensuring maximum traction.
All 2-strokes are also fitted with a standard map switch allowing selection between 2 ignition curves based on conditions or rider preference.
Exhaust system
– Corrugated surface on TE 250i/300i – more durable against damage
– Header joining position on 4-stroke – removable without detaching rear shock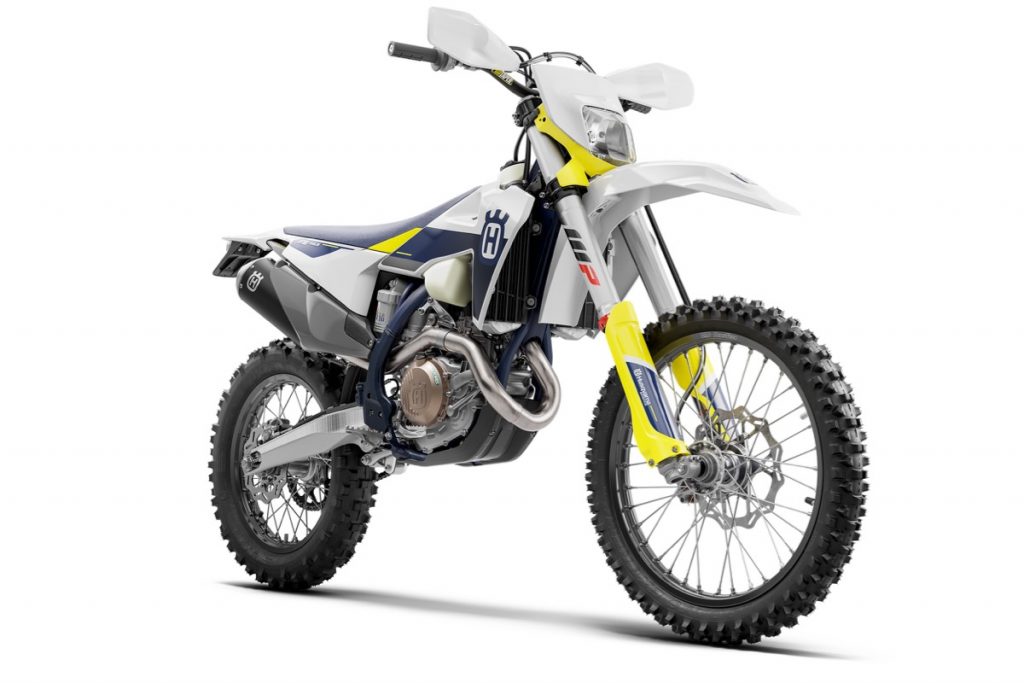 TECHNICAL HIGHLIGHTS MY21 HUSQVARNA ENDURO
Chromium-molybdenum steel frame featuring precisely engineered flex characteristics
Innovative 2-piece carbon composite subframe design
WP XPLOR fork with advanced mid-valve piston delivering consistent damping function
WP XACT shock with integrated pressure balance offers superior rider comfort and handling
Progressive bodywork for optimal ergonomics
CNC machined triple clamps
MAGURA hydraulic clutch system offering perfect action in every condition
MAGURA brake calipers and high-performance GSK discs combining superior stopping power with unsurpassed sensitivity and modulation
Adjustable engine mappings on all models and state-of-the-art traction control (4-strokes)
Electric starter for easy starting when time is critical
Lightweight Li-ion battery
ProTaper handlebar
Progressive throttle mechanism and ODI grips → adjustable throttle progression and easy grip mounting
Laser engraved D.I.D. wheels
Gearboxes produced by Pankl Racing Systems