FIRST LOOK: 2021 Kawasaki KX450XC & KX250XC Cross-Country models | News
Kawasaki has launched two completely new models as part of its 2021 lineup, the KX250XC and KX450XC cross-country bikes.
Based on the championship-winning motocrosser platforms, the new KX250XC and KX450XC cross-country machines boast an arsenal of factory-style features along with the engine and chassis performance that them suitable for off-road. XC-specific tuning for the engine, suspension and brakes, and 21"/18" wheels fitted with enduro-type tyres, and convenient standard features like a side stand and skid plate.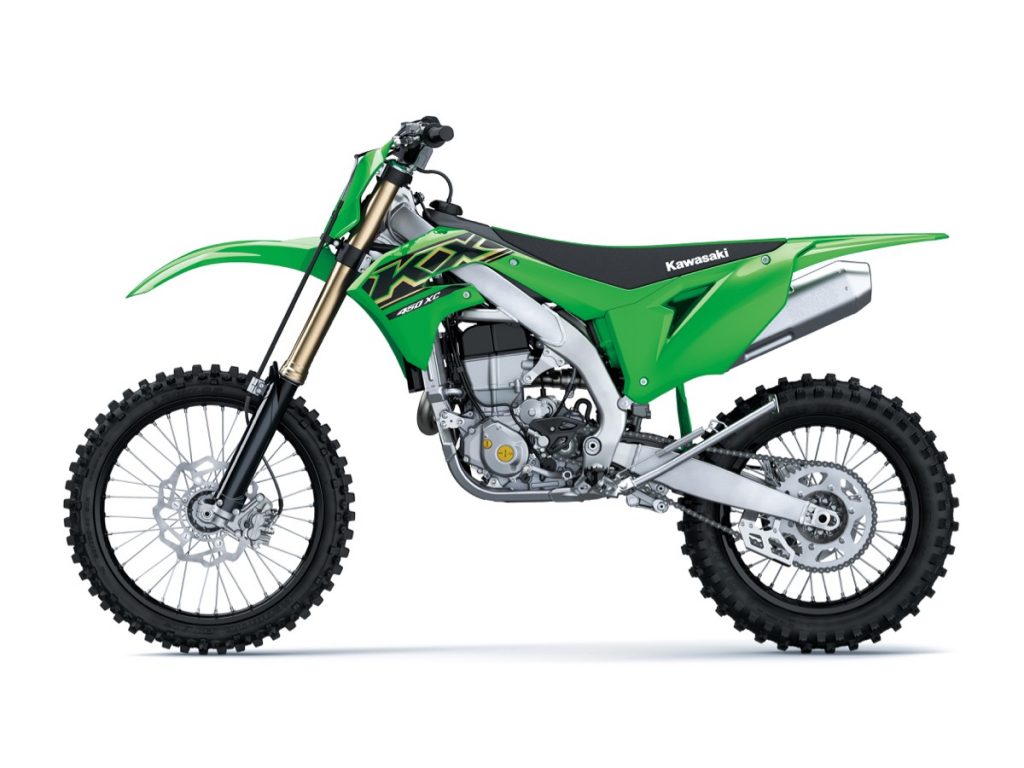 The 2021 Kawasaki KX250XC and KX450XC received all the new features of the 2021 KX250 and KX450 motocrossers,, plus a host of off-road specific changes, these include;
KX250XC
– Electric start.
– Like the KX250, a hydraulic clutch offers more direct feel and lighter lever action. Less play as the clutch heats up during heavy use results in more consistent feeling.
– F21"/R18" wheels and enduro-type tyres are well-suited to the situations encountered in XC riding.
– KX factory-style skid plate and a convenient side stand are both standard equipment.
– KX250 brake package optimised for XC riding delivers strong stopping power and a high level of control. The brake package optimised for XC riding includes a large- diameter 270 mm front disc complemented by a 240 mm disc at the rear, KX450-type front master cylinder and XC-specific pads.
– A choice of four handlebar positions and two footpeg positions allows riders to tailor their riding position to suit body size and preference.
– Well-balanced frame from the KX250 contributes to the KX250XC's light weight, light handling, and slim ergonomics.
– High-performance suspension comes directly from the KX250. Spring rates and damping settings optimised for the XC scene. KYB 48 mm inverted coil-spring fork handles suspension duties up front. Its large-diameter inner tubes enable the use of large 25 mm damping pistons, delivering smooth action and firm damping. The KYB rear shock features dual compression adjustability, allowing high-speed and low-speed damping to be tuned separately.
– Lightweight and designed for the rigours of off-road riding, the ECU contains multiple programmable engine maps to offer riders an advantage on the race course.
– The powerful engine of the KX250, complete with finger-follower valve actuation and dual injectors, delivers hard-hitting, high-revving performance. Optimised engine maps deliver the ideal amount of useable power for XC riding situations.
KX450XC
The same championship-proven engine performance found in KX motocross bikes is what propels the all-new cross-country KX450XC motorcycle. This fuel-injected 449cc 4-stroke engine delivers the type of hard-hitting power and a flat torque curve that encourages quick acceleration. Engine maps are optimized for cross-country racing, delivering the ideal amount of useable power. Electric start makes starting the engine as easy as a push of a button. A coned disc-spring hydraulic clutch offers a direct feel, light lever action, and consistent performance.
– A dry film lubricant coating on the piston skirt reduces friction between the piston and cylinder wall, contributing to increased performance.
– Revised construction for the hydraulic clutch includes replacing the clutch's coil spring with coned-disc springs. The result is lighter clutch actuation when the lever has been pulled in, and a wider clutch engagement range, which facilitates control (especially when half-clutching)
– Increased clutch capacity care of larger diameter clutch plates (ø139 mm >> ø146 mm), and revised friction material contribute to increased fade resistance. Friction plates with offset (slightly rotated) segments promote clean separation of the discs and help to reduce drag when the clutch is pulled in.
– F21"/R18" wheels and enduro-type tyres are well-suited to the situations encountered in XC riding.
– Side stand
– Skid plate
– Spring rates and damping settings that have been optimized for technical off-road and cross-country racing environments.
– High-performance Showa 49 mm coil spring front fork with A-KIT technology.
– Showa Compact Design rear shock boasts A-KIT technology with large diameter compression adjusters, improving on the high frequency movements found when racing cross-country.
2021 KX models are due to into Australia in the 3rd quarter of the year.