The GYTR pipe for the YZ450F is sold by Yamaha as a racing part designed to increase the horsepower and torque right through the rev range.
It is manufactured by FMF and they call it the PowerCore4. The muffler features a high-flow endcap with a removable spark arrestor that drops the noise level down to 97.5 dBA.
The silencer and header pipe together are claimed to increase the output of the YZ450F by 3hp and help in reducing noise by up to 1.5dBA. The pipe is used by race teams all over the world and is claimed to offer long-header-pipe torque with short-header-pipe over rev. We ran the GYTR exhaust system on our long-term YZ450F for 12 months.
We Rate

FITTING The pipe comes apart so you can get it around the cylinder. With a little squirt of silicone the sections slip together nicely and it all bolts up easily.
NOISE While the pipe did increase noise a little, it also produces a much sweeter note … just ask my neighbours. It's more snappy and the note is meatier and more aggressive.
POWER The exhaust lifted a powerhouse engine and gave it even more torque and power. As the engine is already powerful it takes a good rider to actually use it all but any rider should notice how much snappier and more responsive the already-abrupt power delivery becomes with the GYTR exhaust.
LOOKS I think the main reason we fit pipes to 450s these days is because of the looks, because who really needs more power unless they're north of 100kilos? The GYTR system looks much better than the standard one and adds some serious style points.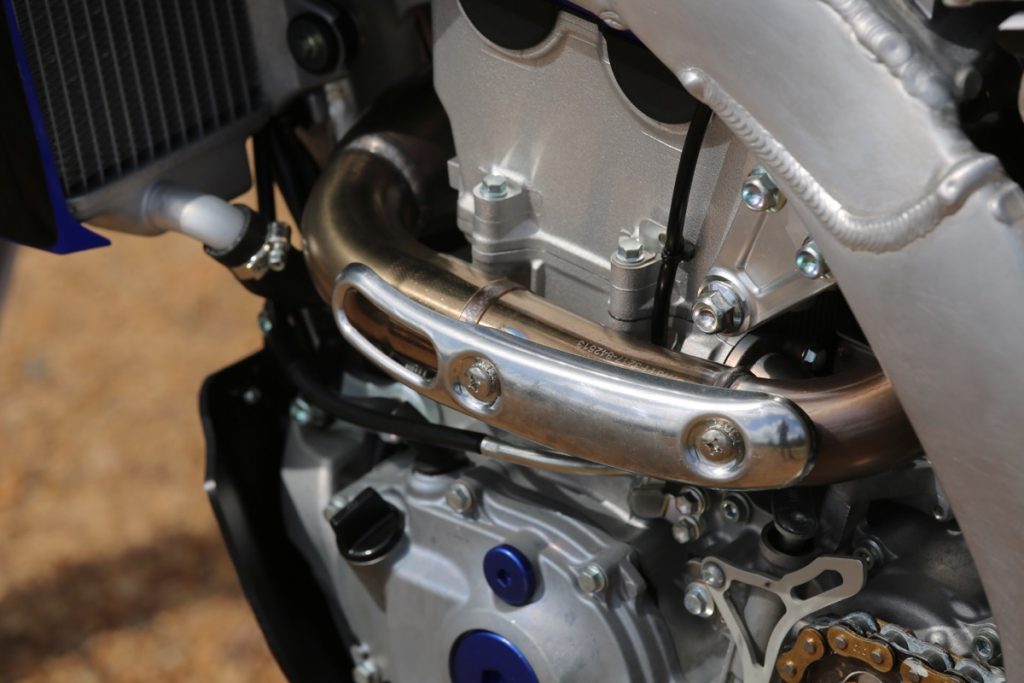 Don't Rate
GUARDS When you fit the pipe you need to reuse the heatshield from the original header. This can be a bit of a pain if you've been running the stocker for a while as the fasteners become rusty or seize. Considering the price of the pipe, I would like to see it come with its own heatshield, like the one on the Akrapovic system for this bike.
Verdict
If you're crazy enough to actually be looking for more power out of your YZ450F then the GYTR pipe will give it to you. After fitting the pipe to our long-termer we remapped the bike to smooth out the power and made it easier to maintain traction. If you're just after a pipe that's durable and looks top notch then you're also in luck because the GYTR scores on both. The stainless header pipe is as strong and durable as they get. The bike's new owner is giving it hell without any issues whatsoever. Tech Ed Mat Boyd
Get It Here
PRICE
GYTR alloy slip-On muffler $659,
stainless steel header $659
BROWSER
y-shop.yamaha-motor.com.au
BLOWER
1300 593 600