A couple of enterprising Queenslanders have built a machine to replicate the appearance of a $50,000-plus factory rally bike like the ones now raced by Toby Price in 450cc form.
KTM has built an enviable reputation across the dirt bike world with its single-cylinder rally bikes but, for nearly 10 years, has proved strangely reluctant to translate that success into an adventure bike. Almost a decade has passed since the 640 Adventure LC4 disappeared from Kato's line-up.
Okay, so the Adventure wasn't perfect but with a reasonable degree of wind protection, big suspension and a 450km-plus range, the Adventure found a home in our land of long distances. Unless you threw a camp oven in the saddlebags, it weighed in at less than 200kg ready to roll.
When the KTM 690 Enduro replaced the 640 Hard Enduro (and believe me it was) in 2008, devotees expected an adventure version to follow. All they got was the R model with longer-travel suspension. KTM's reasoning was that Australia was one of the few nations to want an adventure format.
It simply wasn't viable for the factory to produce such a model, with Mattighofen not even able to provide enough 690 Enduros to meet Aussie demand; about 500 since the model's introduction. Considering that a large number of these have been modified extensively with kits from Rally Raid in the UK, Dottori in Italy, Quest in Switzerland and smaller operations in South Africa, the USA and Canada, it makes you wonder.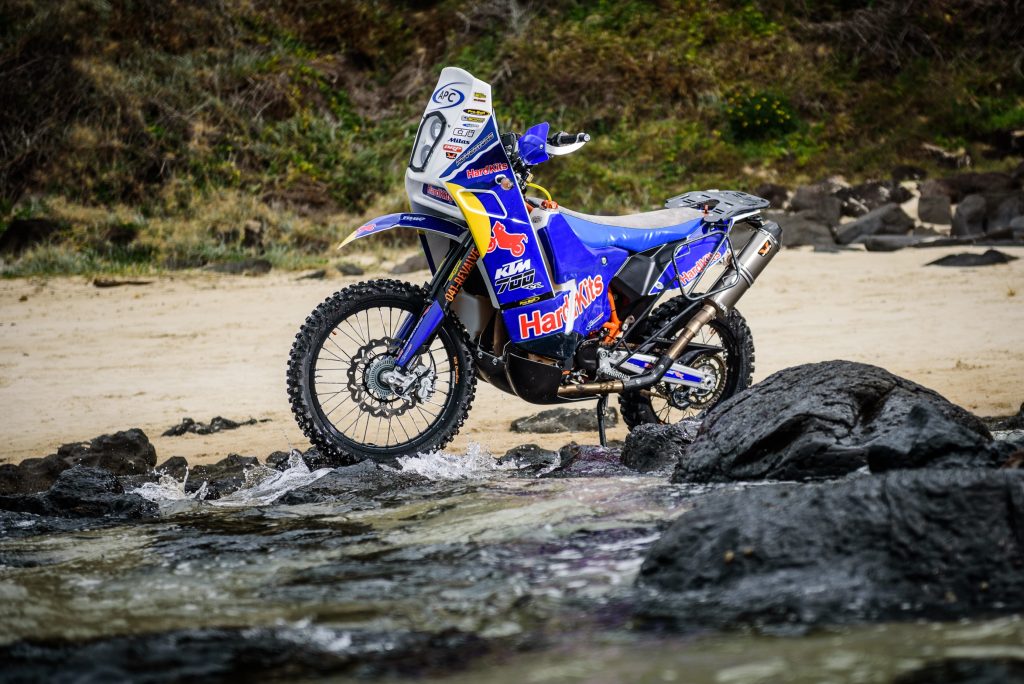 THE BIRTH
In 2011, engineer and KTM Rally fanatic Darren Wilson and Dalby KTM dealer Craig Hartley, decided they could do a better job of an adventure kit for local conditions and the Hard Kits model was born after 24 months of intense development.
The overall concept, typified by the low-slung exhaust, rally-inspired fairing, carbon-fibre bashplate and aggressive stance, was designed to replicate the appearance of a $50,000-plus factory rally bike like the ones now raced by Toby Price in 450cc form. But it was not a matter of form over function as, while the fairing appears identical to a KTM rally bike, the rally fuel tanks had to blend in with the 690 Enduro's stocker, seat and airbox while still allowing sufficient airflow through the radiators.
The result provides a fuel capacity of more than 30 litres with a much lower centre of gravity than most dualsport bikes. Fuel range is the critical requirement of any adventure bike. While the 700RR might fall a few litres short of crossing the fuel-sucking French Line, it will easily go round the bottom of the Simpson Desert, from Birdsville to Mount Dare, without refuelling. And it's on such an adventure you'll find this machine the perfect blend of comfort, balance, speed, refuge from the elements and, should you need it, crash protection.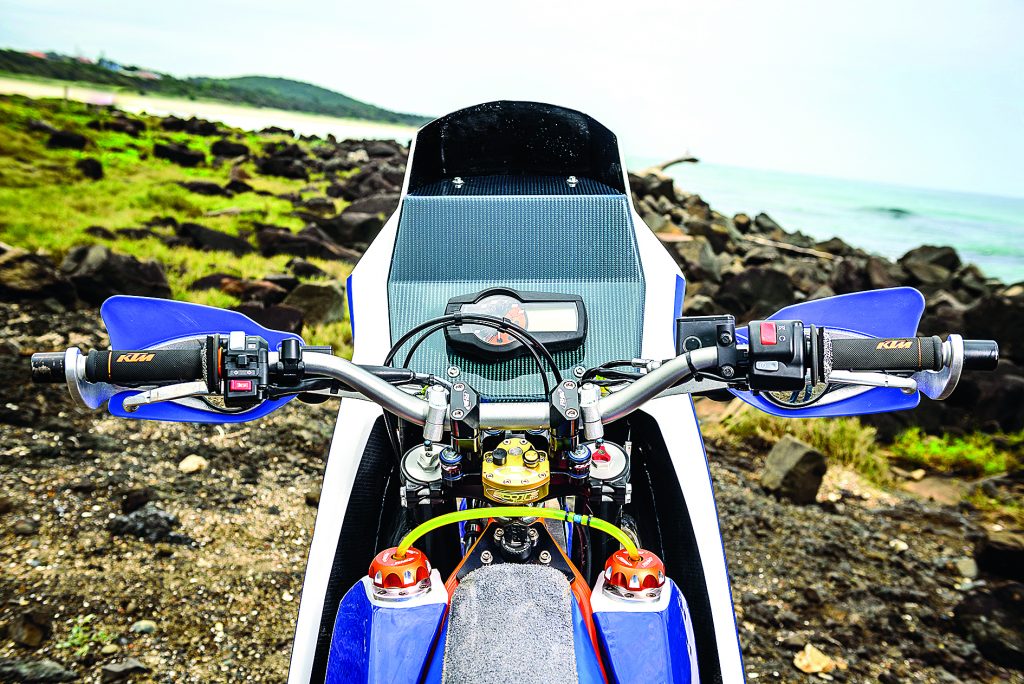 SHAKEDOWN
On a cross-country shakedown from Byron Bay to Steep Point, with a final blast down the bitumen to Perth, Hartley confirmed that the stock 690 headlight was 'total crap' at night; much the same as on any stock dirtbike. The solution was to reconfigure the navigation tower to accommodate twin halogen magnifier lights used on the KTM 690 Rally.
This problem solved, production began in January, 2014 and before the end of the year a total of 15 kits had been fitted by their new owners, with a further 10 kitted bikes being built by Darren and Craig. The single negative comment was that some riders felt the fairing was a touch high.
Darren was already on the case for a different reason; figuring a one-piece fairing would speed up production, reduce dashboard vibration and strengthen the unit. Reducing the height by 40mm to provide the same seat-to-fairing ratio as the factory bike proved an easy fix. This modification, a couple of minor changes, a revamp of the graphics and the Hard Kits 700RR Series 2 was born.
In its second year of production Hard Kits turned out a further 30 kits and half as many again fully built-up units. More than one in 10 KTM 690Rs imported into Australia has been fitted with a Hard Kits package.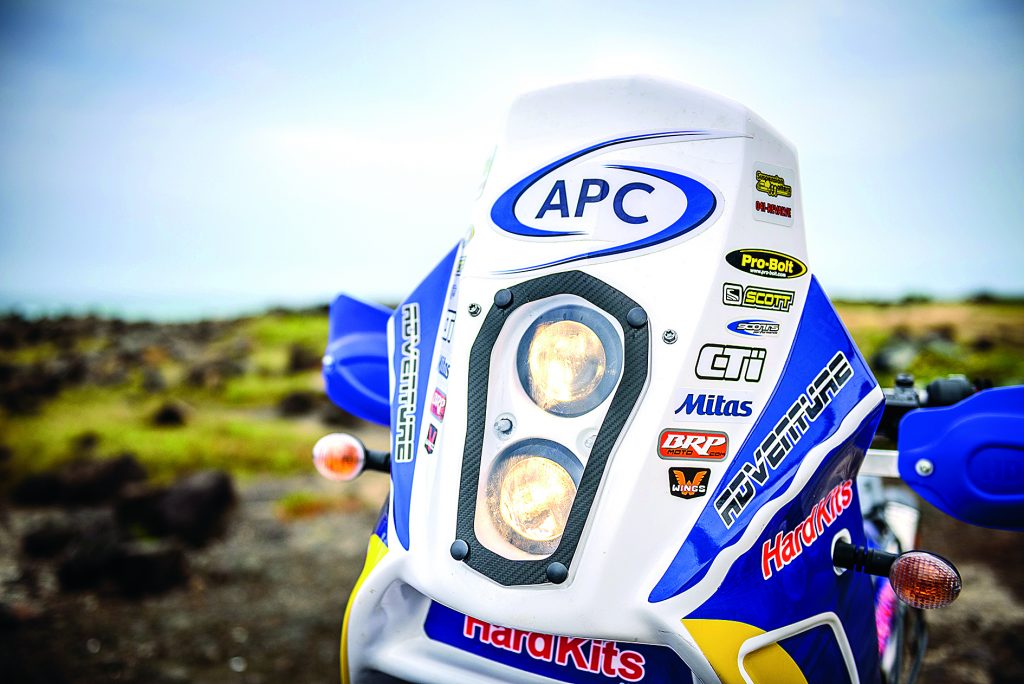 REACTION
Comment has been universally positive. More than 30 riders on HardKits 700RR conversions did the 2015 ADVX trans-continental crossing; a two-week 7000km epic adventure. One of the riders, Tony Thorpe, had the confidence to fly in from New Zealand, pick up his completed bike in Perth, ride it to the east coast and fly home. Fitting testament to the reputation and build quality of the venture.
KTM Australia spokesman Greg Chambers is impressed. "The 690R is an amazing adventure bike platform but, as we know, it needs additional fuel capacity and some wind protection," he says. "The guys who created the 700RR have certainly answered a question we get asked a lot. When are we getting a large-capacity, single-cylinder adventure bike? The 700RR is well built and, whilst there are other options out there, it's great to see an Aussie company providing this service."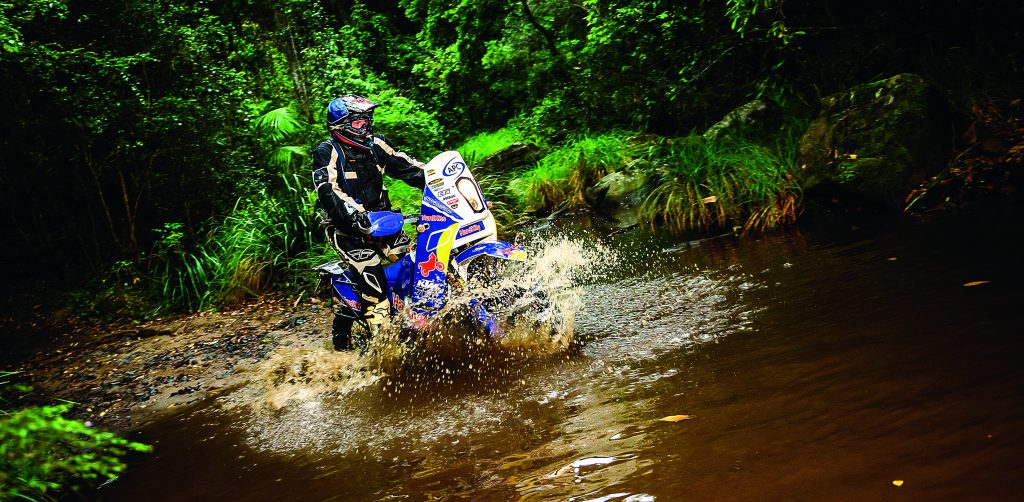 THE BASICS
The starting point with the HardKits 700RR is the basic package, which is guaranteed 100 per cent bolt-on, with absolutely no cutting, grinding or bending; just two big boxes of goodies to start you off.
The basic kit consists of the one-piece fairing with headlight assembly, wiring looms, nav. tower, headlight protector and all the bracketry required for installation. The fuel tanks come complete with caps, O-rings, taps, fuel lines, T-junctions and all associated plumbing and breather hoses.
The carbon-fibre bashplate and low slung header pipe have all the necessary fasteners and mounts. Apart from a 5mm Allen key all you need for assembly is the standard KTM Toolkit which, when you've completed the job, will fit snugly into the locker in the bashplate.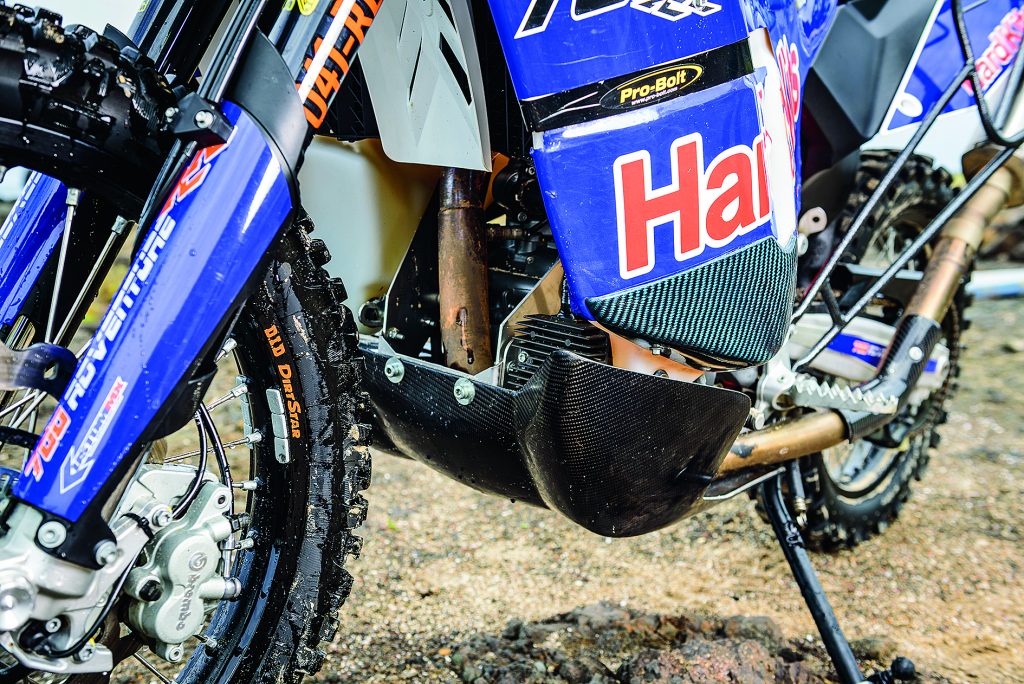 With your 80-page colour assembly manual you'll receive an invoice for $6890, which sounds a lot but there are over 300 parts. Considering there's no trial and error involved thanks to the diligence of Craig and Darren during testing, the value is obvious.
For someone who's half handy, it's a full weekend's work and Darren advises customers to do it so they can become more intimate with their machine and more resourceful adventure riders. For those mechanical illiterates such as myself, Craig at Dalby Moto is the man to provide you with a 700RR 'with the lot', such as the 700RR recently shipped to a customer in the Kimberley for which the cost for parts and labour was almost $9000!
Maybe you don't need to go for the Akrapovic muffler when an Aussie-made Barrett is less than half the cost, and maybe you don't need heated grips or a softer seat but if you're going to build a serious ADV bike out of the Hard Kits 700RR you'll need to spend around a grand on pannier racks and some suspension work will add another grand.
Any which way you'll end up with a bike that many people will envy, so a minimum of fire and theft insurance is a must.