Jeffrey Herlings took his 10th season victory on the weekend at the MX2 of France after winning both races and claiming the overall.
Herlings has now won every MX2 GP this season and has 19 moto wins from 20, having dropped only three points. Herlings also picked up his 57th career GP win to equal that of his now boss, Joel Smets, KTM's Motocross Sport Director.

MX2
Jeffrey Herlings, also the first rider to win three times at the French venue, divided his race day into two different episodes. Entering a heavily watered track in his first moto, he rode cautiously in the opening stages, tucked into third place behind Jeremy Seewer and home favourite Benoit Paturel who exchanged the lead in the early laps. Twelve minutes into the race Herlings had moved into second and then began to chase down the leader. He put in his fastest lap on the KTM 250 SX-F with three laps to go and went on to win by almost six seconds.
Then after getting forced off line by another rider at the start of his second moto, Herlings fought back hard from 12th place, and at the end of lap nine closed in on race leader Max Anstie. One minute later he took control and crossed the line with a comfortable 2.5-second margin.
Herlings: "We made it ten in a row this season, I've only lost one moto where I finished second and we should be really happy. This track is not one of my favorites but my first moto was good, the second not so good but overall with the qualifying and the two motos we won all three races. I think we can look back on a very good weekend."
MXGP
It was a day of mixed fortunes for Red Bull KTM's Tony Cairoli in two motos that were dominated by eventual winner Romain Febvre and second placed Tim Gajser. But Cairoli once again displayed the strength of character to fight back to save overall fourth. He finished third behind the two leaders in his opening moto on the KTM 450 SX-F but was tagged by another rider at the start of race two in what was a multi rider melee. Cairoli scrambled back in the action at the back of the field, and with sheer determination fought his way back to finish in seventh place.
Cairoli admitted he was disappointed and was expecting more from himself, even if he made a good recovery in the second moto. "This time I had the speed and good condition and I was able to make passes even if I had to come back from last. I got back into the top ten and then I crashed again, but still finished seventh. I was disappointed in the first moto when I should have attacked. It's not ideal for the championship but we keep looking forward. I will work harder and try to win from now on, and see if we can get closer to the leaders."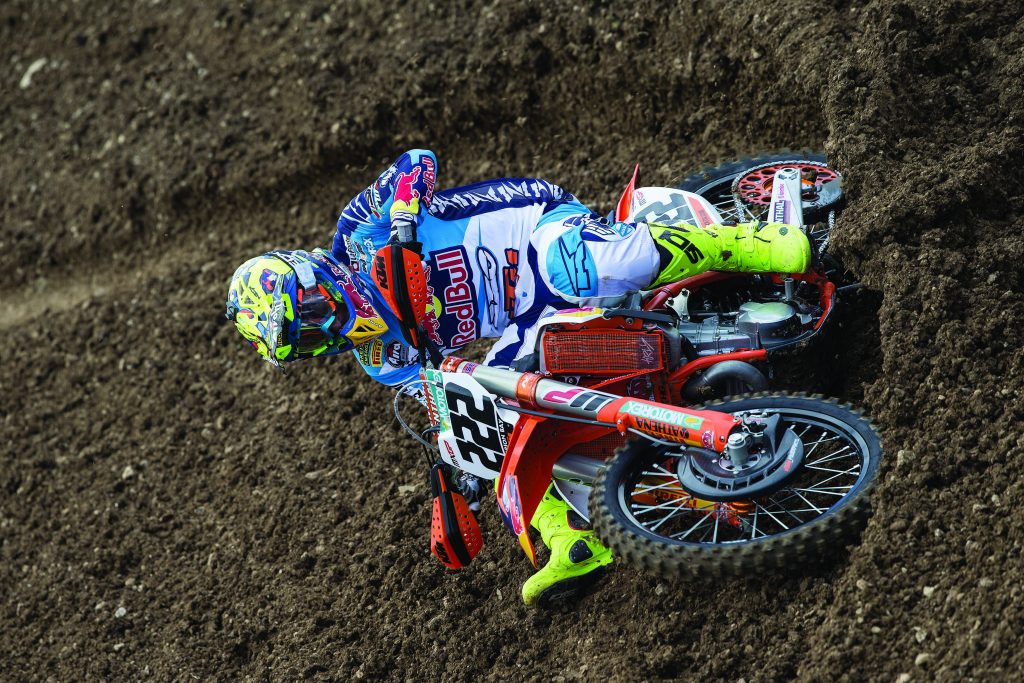 Results MXGP Saint Jean d'Angely 2016
1. Romain Febvre (FRA), Yamaha (2-1)
2. Tim Gajser (SLO), Honda (1-2)
3. Evgeny Bobryshev (RUS), Honda (4-3)
4. Tony Cairoli (ITA), KTM (3-7)
5. Clement Desalle (BEL), Kawasaki (8-4)
Standings MXGP 2016 after 10 of 18 rounds
1. Gajser, 432 points
2. Febvre, 408
3. Cairoli, 372
4. Max Nagl (GER), Husqvarna, 342
5. Bobryshev, 333
Results MX2 Saint Jean d'Angely 2016
1. Jeffrey Herlings (NED), KTM (1-1)
2. Benoit Paturel (FRA), Yamaha (2-3)
3. Jeremy Seewer (SUI), Suzuki (3-4)
4. Pauls Jonass (LAT), KTM (5-5)
5. Dylan Ferrandis (FRA), Kawasaki (6-7)
Standings MX2 2016 after 10 of 18 rounds
1. Herlings, 497 points
2. Seewer, 363
3. Jonass, 332
4. Paturel, 293
5. Aleksandr Tonkov (RUS), Yamaha, 269