The Honda CRF150F is designed for riders not into serious racing but going out and having fun. Its decent build means riders of all sizes can enjoy it
Honda CRF150F (2009-2011): Buying Used
LITTLE THUMPER
The steel-tube frame of the Honda CRF150F makes the bike solid, but the suspension will struggle if riders push it beyond its limits. The front suspension is standard conventional fork with 207mm of travel. The rear has a monoshock with 230mm of travel. The suspension is designed for paddock bashing or gentle monocross tracks.
It's not designed for big jumps or for experienced riders. For the average rider the suspension will fork fine, but when the boundaries start to get pushed the suspension could let the rider down.
The Brazilian-built CRF150F – not to be confused with the CRF150R, a race bike with a totally different suspension and engine package – has a dated 149.0cc air-cooled, four-stroke engine that makes about 15hp fro a bore and stroke of 57mm x 57mm.
The engine is smooth and easy to manage for beginners but will get up to decent speeds for any throttle jockey in the family.
Starting the bike is made easy with an electric starter. The motor isn't extremely high revving, so it is reliable and will last a while if served regularly.
Servicing requires regular oil changes, cleaning the air filter after each ride and getting the valve clearances checked.
The five-speed transmission has a cable-operated clutch. The brakes are a hydraulic front disc with two-piston caliper and a drum at the back.
The CRF150F has a wheelbase of 1328mm, a 19-inch front wheel, a 16-inch rear and a dry weight of 106kg.
FEATURES:
Chassis:
The CRF150F has a wheelbase of 1328mm, a seat height of 839mm and weighs 106kg dry.
Brakes:
The front brake is hydraulic with a single 240mm disc and two-piston caliper.
Suspension:
The front suspension is a conventional fork with 207mm of travel. The rear is a basic monoshock with 230mm of travel.
Fuel Tank:
The CRF has a fuel tank that holds seven litres and is easy on gas.
MARKET EQUIVALENTS: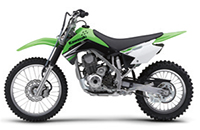 2009-2011 Kawasaki KLX140L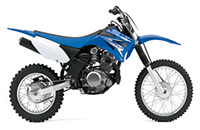 2009-2011 Yamaha TTR125E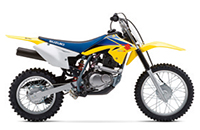 2009-2011 Suzuki DR-Z125
To receive the latest news, reviews and video highlights from the world of dirt bikes, sign up to our weekly newsletter here.