Here's a classic throwback from the ADB archives! A 2015 interview with Hunter and Jett Lawrence before the brothers took their talents overseas to race full-time.
Hunter Lawrence and his younger brother Jett are two of Australia's highest-ranked junior MX racers. Both are super talented, extremely driven and seem destined for major senior success. But these junior guns are almost polar opposites, with very different personalities and strengths.
Currently the number-one ranked Junior in Australia, Hunter Lawrence, 15, rode for the Motorex KTM junior team for three years with great results. For 2015, he signed with the GYTR Yamaha Junior Team under the watchful eye of former racer Scott Bishop.
So far this year he's won almost every race he has entered and doesn't look to be slowing down any time soon. From an outsider's point of view he looks very smooth and calculated on the bike and rarely makes any mistakes.
Hunter Lawrence excels on the more technical parts of a motocross track rather than the flat-out, drag-race sections.
In the words of his dad and long-time mentor/coach, Darren Lawrence, he is basically just like the kid next door.
"Hunter, being my eldest boy, was the one I originally spent a lot of time with out on the practice track. He just loves working on his skills and the technical aspect of riding," Darren says.
"He's a bit goofy in his own way and won't spend ages trying to pick out what clothes he wants to wear down the street. He'll just grab the first thing he gets out and put it on.
"He's the first to admit that he isn't the most co-ordinated kicking a footy, or throwing a ball but he's the kid that will put his mind to it and dedicate himself to the task of improving.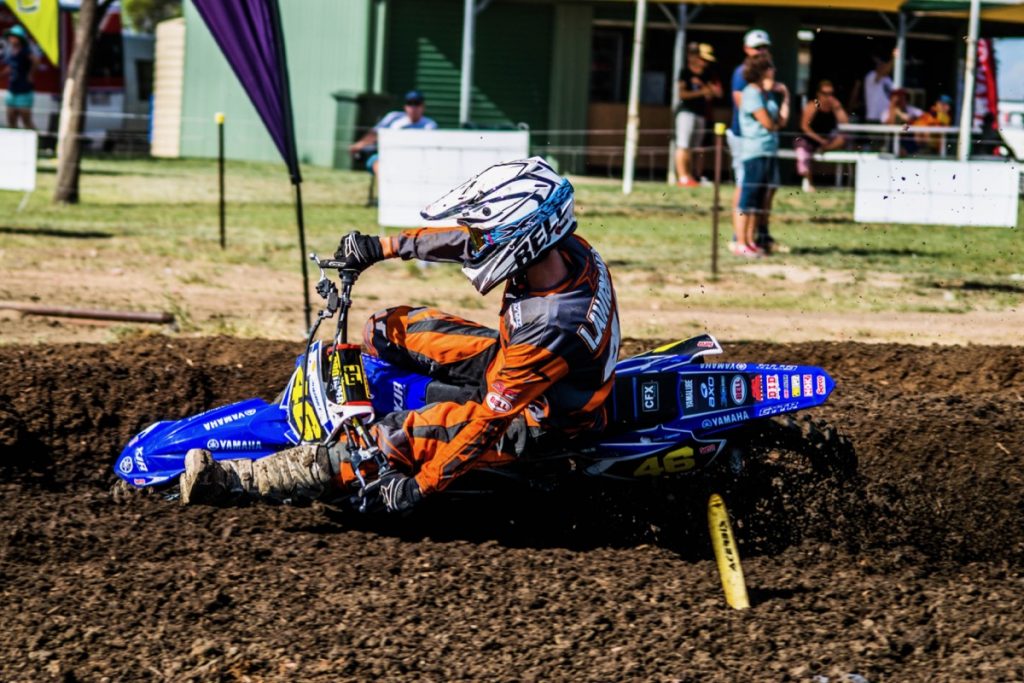 "He's just a good lad that doesn't really get into any mischief.
"I think he has had only a couple of girlfriends in his whole life and it isn't something that is on his mind all the time.
"Hunter's whole world seems to revolve around motocross and how he can better himself, whether it be mountain biking, or doing some weights etc. It will all be driven by the end result on the motorbike. This is completely different with Jett, as he doesn't have that one, singular focus."
Hunter and Jett's mum, Emma, plays an integral role.
OPPOSITES
"Quite often I'm looking after the boys while Darren is working away [on the bikes], which can be a bit of a handful from time to time. But we have a good system in place that seems to work well," she says.
"Hunter and Jett are complete opposites in so many ways and because they are so competitive it makes for some interesting times, but overall the boys get along very well.
"A lot of people don't realise that there is a third brother who slots in between Hunter and Jett age-wise. Tate is 13 and is autistic. He's not really interested in motorbikes too much but has his own interests such as swimming and he loves putting his backpack on and walking around collecting different things.
"At the race track he'll walk around picking up things like brake pads and tear-offs etc that he finds laying around on the ground. Hunter really plays the big-brother role with Tate and is very protective of him.
"Jett is still a bit young in that regard and the boys will occasionally have their disagreements. To truly encapsulate the boys I have to say that Hunter really has to apply himself to something to become good at it and has no problem dedicating himself to the task. Where Jett is pretty much a natural at just about everything he does, but he is quite mischievous."
When I asked Hunter to compare himself to Jett he didn't have to pause and think about it. "Jett can move on the dance floor like you wouldn't believe, where I need a straight jacket so I don't hurt anybody. He's naturally talented at everything and I'm super unco'!
"When it has wheels I'm not too bad but Jett is just really quick at picking stuff up. When we started surfing, Jett picked it up so fast and I'm just useless. We've got completely different styles on the bike as well.
"I love the technical aspect and trying to be smooth where Jett just loves to hold it pinned on the flat-out parts of the track. I can listen to Dad and pick something up really quick where Jett will just look with this blank stare. When he sees me go and do it he'll pick it up immediately. He's a visual person!" Jett is that kid whom everyone seems to be envious of.
The boy is naturally talented at everything he puts his mind to and doesn't really have to try too hard to succeed. He has a bit of a rebellious side to him in a fun-loving way and seems to enjoy keeping his options open, whether it be his choice of sport (motocross or dancing) or his choice in girls.
At 11, Jett has already amassed four National Junior MX Championships and doesn't look to be slowing down any time soon in the KTM Junior Factory Team. Last year he achieved something very rare, when he was crowned the World Junior Motocross Champion on a KTM 65SX machine.
This kid has the world at his feet but, unfortunately for motocross fans, his future in the sport is not a certainty as he is equally talented in the world of hip-hop dancing. Only time will tell which direction this young star will take but one thing is for certain, he will have loads of fun during the journey.
Darren has seen both sons rise through the junior MX ranks. "It is so interesting to sit back and watch both Hunter and Jett go at it during training," he says.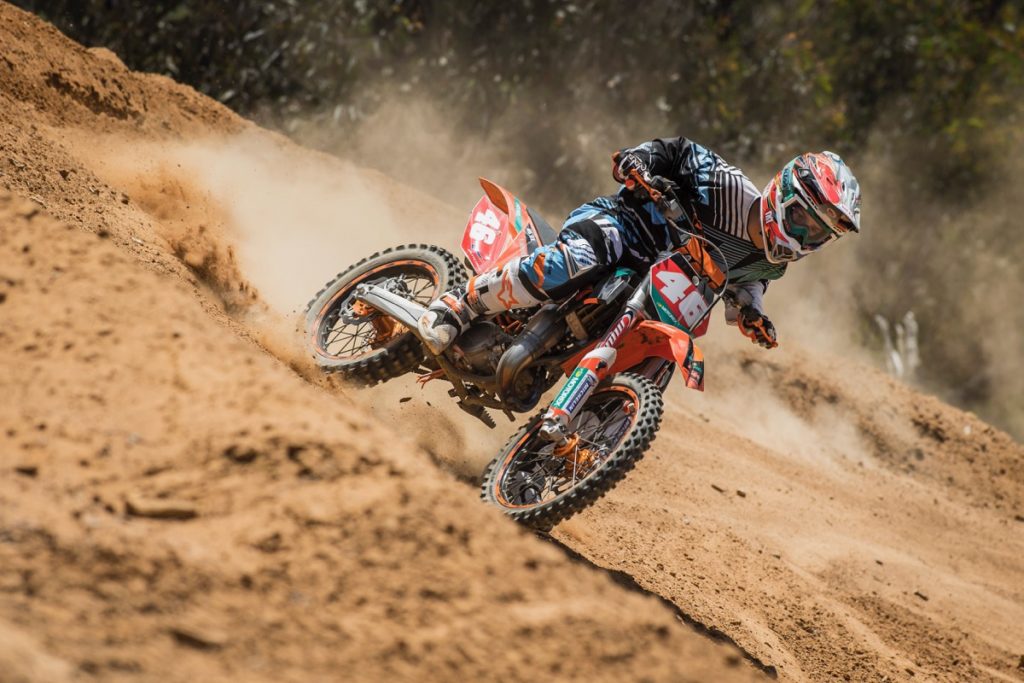 CRUISER
"Jett is just such a cruiser and will take it in when he is ready. Hunter and I can try to explain to him how to do a certain part of the track but until he sees it done it won't fully gel with him.
"Jett really is a bulldog on the bike and will just ride the wheels off it. And one of the interesting things with Jett is, because of his cruisy nature, he doesn't seem to get affected too much by pressure at big events.
"At the Aussie Junior titles he'll be hanging out with his mates and go for a ride on someone's BMX. He'll chat to other riders in the chutes before heading up to the startline where some other riders may feel those nerves a bit more.
"But when the gate drops he is on a mission. He seems to just do what he needs to do to win. He'll be quite happy to win by a bike length where Hunter will try to win by a huge margin if he can."
When asked about his big brother, Jett is fairly laid back. I almost have to pry answers out of him but he loosens up after a while.
"I do look up to Hunter being my older bro! We do a lot of riding together and a lot of fighting," he says, laughing.
"We do some wheelie contests and stuff. I'm always trying to beat him if I can. I reckon he needs to start dancing more so he can pull more chicks.
"We have different tastes in clothes. Hunter just really wears whatever is in his cupboard and I'm kind of picky with what I wear. I really would like to follow in Hunter's footsteps if he, one day, makes his way over to Europe. That would be awesome, for sure, but I would definitely like to one day make it across to America."
Emma can see the bond between the boys and keeps a close eye on everything on and off the motorbikes. "Jett just adores Hunter! He looks up to him so much.
"Every time Hunter gets hurt Jett really seems to get his game face on and get the job done," she says.
"We have seen it a couple of times now where Hunter has injured himself badly and Jett noticeably steps up and excels. He did it at one of our state rounds here in Queensland and also when Hunter broke his wrist at the World Junior titles.
"Jett is really casual and laid back and trying to get him to focus can be a bit difficult. Hunter is really focused whereas Jett really likes to have fun and, fortunately for him, he is just such a natural. Jett juggles his different worlds with dancing and MX fairly easily.
"You'd think he would have to switch from one to the other but he is just the same Jett at both. Just a casual, social person who doesn't take himself too seriously and has a ball along the way!
"Hunter has been focused from day one so I can see he really wants to head to Europe and do a few years over there. He loves the tracks over there and eventually would like to head to America once he has established himself in Europe.
"With Jett I honestly think that if he keeps going the same way he has been going then I think he will want to follow in the footsteps of Hunter.
"But who knows with Jett! I think that, with the type of person that Jett is, America could have a lot of distractions for him. But time will tell!"
THIS INTERVIEW WITH HUNTER LAWRENCE AND JETT LAWRENCE WAS PUBLISHED IN ADB ISSUE #430 – JULY 2015 | WORDS // LEE HOGAN | Photos // KTM and GYTR YAMAHA JUNIOR TEAM