INTERVIEW I BROC TICKLE | Features
More than a year since Broc Tickle was found to have tested positive to an obscure substance and suspended from racing. Simon Makker talks to him about what the future holds.
UPDATE: Since this story was published in ADB issue #474 – March 2019, the FIM confirmed Broc Tickle has received a two-year suspension, which will see him allowed to return to racing no earlier than 10/2/2020.
WORDS: SIMON MAKKER
PHOTOS: KTM IMAGES
Fresh off an impressive fourth at a muddy round of the AMA Supercross Championship in Seattle, KTM's Broc Tickle was waiting to board a flight to Minneapolis for press day. He'd endured a rocky start to the season with his new team, but things were finally clicking into place with his bike set-up, his headspace and his preparations for the outdoor season.
As he left an airport bathroom his mobile vibrated in his pocket as an email pinged in. Broc pulled out his phone and stared at a screen with "FIM Legal Department" emblazoned across it. His heart began to hammer as he read, then re-read the email announcing that he'd failed a drug test at the San Diego round. He'd returned a positive result to 5-methylhexan-2-amine, and was provisionally suspended, effective immediately.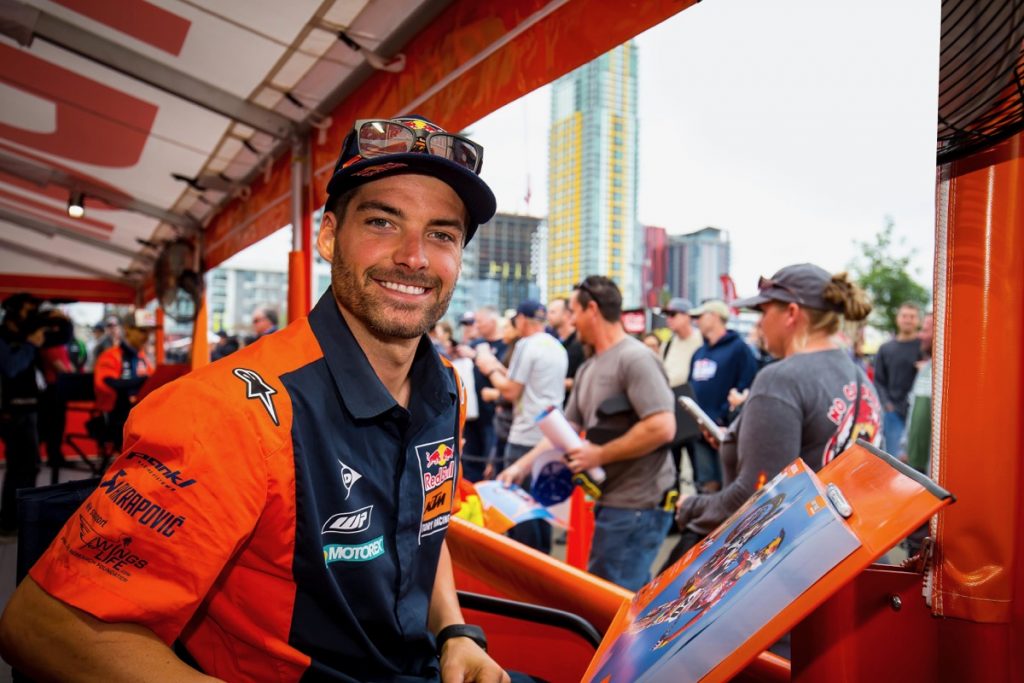 In shock, he quickly contacted his trainer Aldon Baker and team manager Roger De Coster to break the news, and questioned whether he should even travel to Minnesota. They all agreed that he should still fly in for a meeting to try and figure out the best way forward.
After a sleepless night in Minneapolis, Broc arrived at the track for press day, geared up and headed for the track. But as he entered the tunnel to the stadium, Feld's director of supercross waved him down and advised him that, given the circumstances, he shouldn't ride press day, as he couldn't race anyway.
In a state of disbelief at how his life was disintegrating, Broc packed his gear and flew home to California. There he spent the weekend with his wife, Jessica, poring over receipts, piecing together a timeline, looking at where he'd been and what he'd spent money on. But even then, they were none the wiser about how the mysterious compound had entered his system.
"There was nothing out of the ordinary, and that has actually made this whole scenario worse," the 29-year-old says. "At this point I wish there had been something that stood out, something alarming, so I had clarity about what I'd taken. At least then we could say that it was an honest mistake, an accident, and we could move forward. But it wasn't like that at all."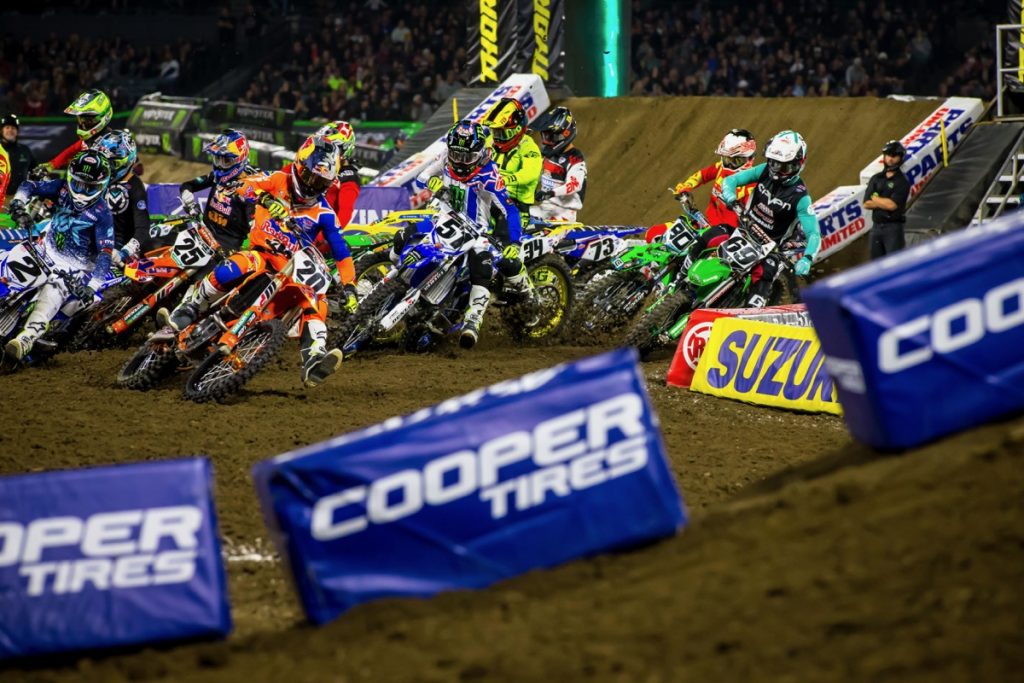 The past few years had been a rollercoaster ride. He'd gained a reputation as a consistent racer who gelled well with teams and fans; a standing that saw him become a staple rider for five seasons at RCH Suzuki.
Injuries had peppered his career. This included a broken back in 2014, a broken wrist and pelvis in 2016 (from two separate crashes), and another busted wrist in 2017.
Despite that, Broc remained a central figure of the RCH family until the team folded at the end of 2017.
"At the time it's easy to think the grass could be greener on the other side but, looking back on RCH, it was such a great team," he says. "We had an awesome group of guys, we all got along well, we'd goof off together, it was just a good vibe."
Funding though, remained an issue and, after a couple of tough years, Broc felt it was time to move on. With rumours swirling of Ryan Dungey preparing to announce his retirement and the Red Bull KTM team considering fronting three riders for 2018, Broc got on the front foot.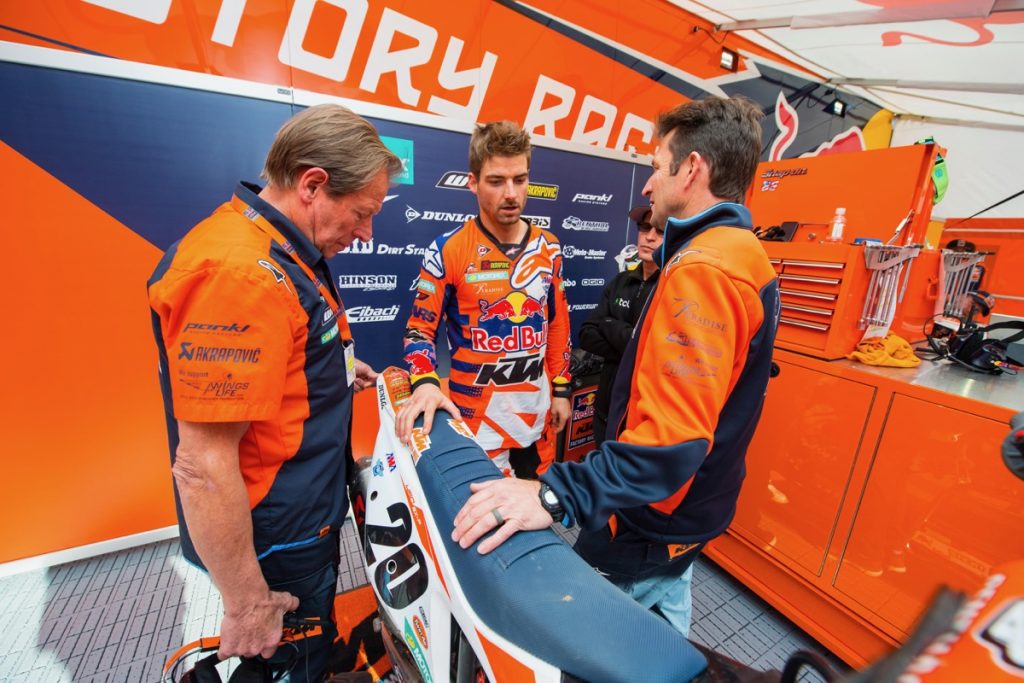 Off the back of a third at the Toronto round of the 2017 AMA Supercross Championship, he contacted the team's technical director, Ian Harrison. "I told him I was interested if they were looking, and slowly it turned into a deal."
By September the contract was done and Broc had secured a ride with one of the most prestigious teams in the pits.
CULTURE SHOCK
After five years with a privately-funded outfit, the expectations and high-performance culture of a corporate factory team came as a shock to Tickle, especially the accountability aspect.
"The training load under Aldon Baker wasn't out of the ordinary, but the accountability factor was huge," he describes. "It was always there at home, on the track, from the team, from Aldon, it was just constant. For a while it ate me up; I kind of just blocked everything out and that hurt me.
"I've always worked hard – and maybe I didn't have that accountability when I needed it in the past – but for me and how I work best, I felt it was too much at KTM in the beginning until I learnt how to balance it.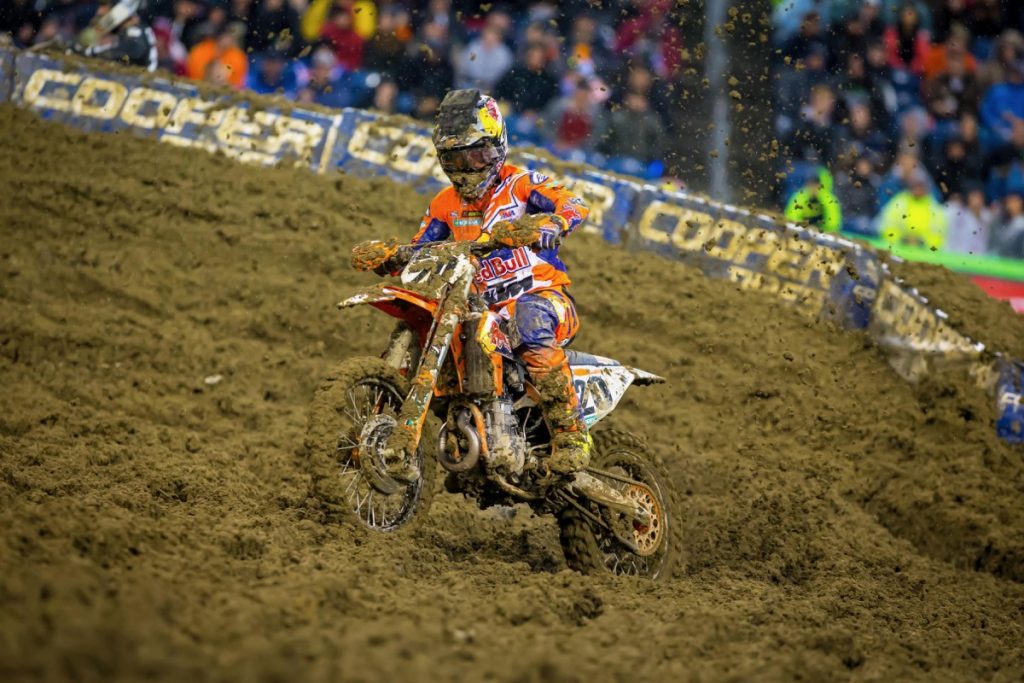 My results at the start of the supercross championship weren't great, and it took a big mindset change to turn things around."
Things came to a head at the San Diego round – incidentally, the round where he was drug-tested – where he had a brutally honest conversation with Harrison before the night show, opening up about how much he was struggling.
"I straight up told Ian, 'dude I don't think I can do this anymore; I'm not having fun and I should be. I'm in the best place in my career and nothing is clicking'. That's how much my head was wrapped around my arse," he laughs. "Ian said 'all you can do is go out there and do the best you can', so I put my headphones on, shut everything out and prepared myself."
After an average qualifying race, Broc managed a mediocre start but pushed through the pack to a hard-fought fifth.
"Afterward I was like 'Okay, maybe there is something here. Maybe this suffering with myself is happening for a reason', and then I got waved over to take a drug test."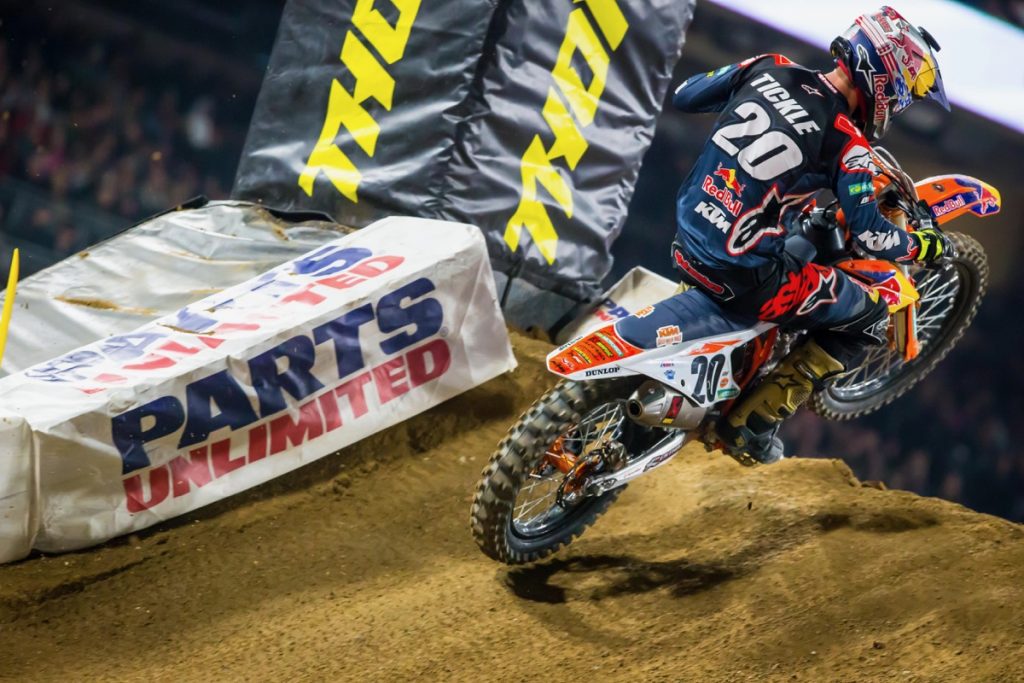 Although it was only the second time in his career he'd been required to do a test (the first time was the Boston supercross in 2016), Broc thought nothing of it; drug testing has become par-for-the-course and it's not uncommon to see WADA representatives at the track. He walked to a room and peed 90ml into a cup while the officials watched him, divided the urine into what would become A and B samples, sealed the bags, then walked back to the pits, completely oblivious to the upheaval that would follow.
RISE AND FALL
After San Diego, Broc's results steadily improved: a fourth at Tampa was followed by a seventh at St Louis, fifth at Indianapolis and fourth at Seattle. KTM was happy with his progress and impressed with how well he worked with the team. In fact, Broc says conversations were starting to happen about extending his contract for another year.
"There were talks about getting something to me in a couple of weeks, right around when I received my suspension," he says. "It's all long gone at this point and there's no point dwelling on it, but that was really tough for me to swallow."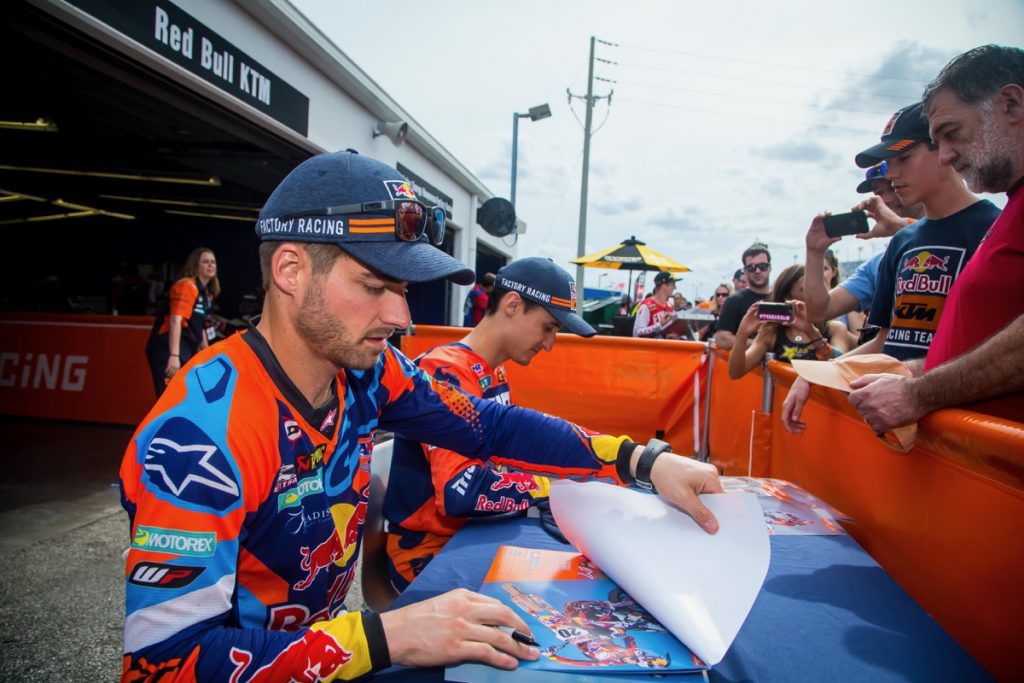 Despite the provisional suspension, Red Bull KTM continued to give Broc the benefit of the doubt until his B sample result. He still had his race bike, received training programs from Baker, and continued training with the full intention of racing the AMA Pro Motocross Championship.
Meanwhile, Broc and Jess undertook their own investigation. Early on the Monday morning after receiving the initial email from FIM, Broc drove to a nearby lab and provided a urine sample. Two weeks later it came back clean.
At the same time the couple dropped off every supplement and food he'd ingested with the intention of getting it tested. At a cost of between $500 and $750 per test, and with the supplements likely to be on different lot numbers from what he'd ingested eight weeks before, the technicians selected products they thought would be suspect. The tests cost the Tickles about $2000, but again the results came back negative.
Then, the Friday before the opening round of the outdoors at Hangtown, the FIM delivered the knock-out blow: more than three months after being drug-tested, Broc's B sample also returned positive.
"While waiting for that B sample I couldn't help my mind from racing through different scenarios," he explains. "But it took them so long to return that second sample that I'd almost convinced myself that it wasn't going to come back the way it should have. It sucks to say that, but that's the feeling I got."
On the back of the positive B sample, Red Bull KTM had no option but to terminate Broc's contract.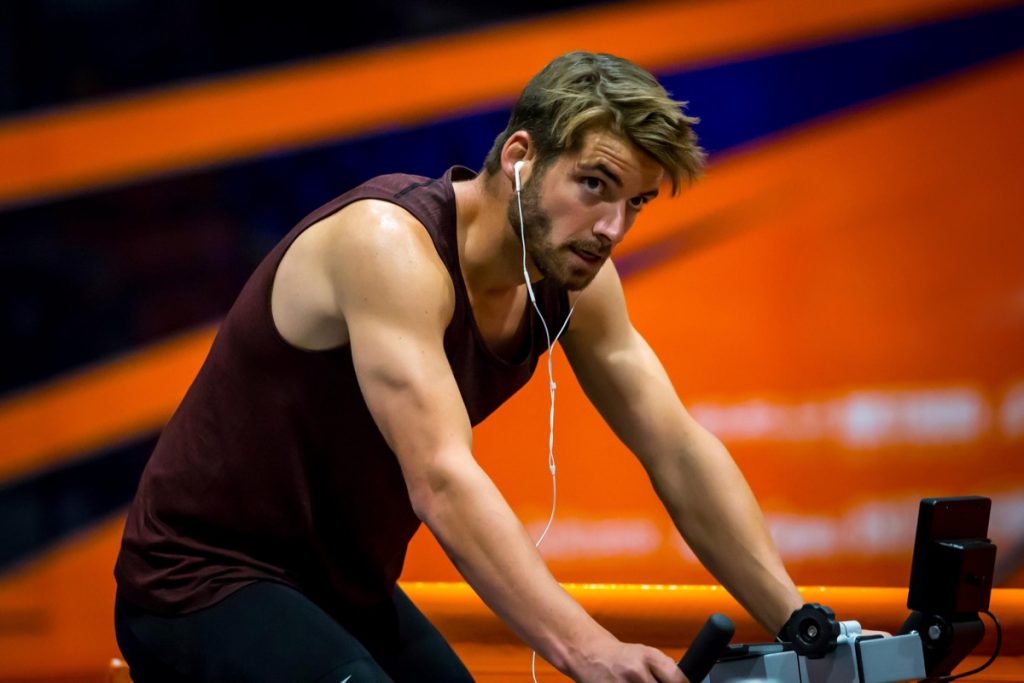 DRAWING BLANKS
UPDATE: Since this story was published in ADB issue #474, the FIM confirmed Broc Tickle has received a two-year suspension, which will see him allowed to return to racing no earlier than 10/2/2020.
At the time of writing, Broc maintains he's still completely in the dark about how 5-methylhexan-2-amine entered his system, or what the future holds. The FIM has refused to be drawn on what his suspension entails, how long it will last or why it's taken so long – eight months and counting from the initial test – to provide the Tickles with answers.
The past two months in particular have been difficult for Broc. "Jessica took it way worse to begin with. I had the big shoulders on, but the past two months have been tough for me; just the uncertainty of everything has been super frustrating," he admits. "If I knew what my sentence was I could make a plan, but I haven't been able to move. It's still been cold from the FIM and that blows me away. At the same time, I've learnt that I can't get too frustrated with it, as it's not going to help in the long run."
The purgatory is compounded by a clause in his suspension that says he's unable to race professionally or seek compensation. While standalone-events like Straight Rhythm aren't necessarily FIM affiliated, the risk of entering was simply too great: if he'd competed the FIM could have restarted his suspension, effectively wiping out the time he'd already served.
"Basically, if the FIM come out and hand me a six-month suspension I could start racing tomorrow and make money again. So while Straight Rhythm was a big question mark, it just wasn't worth the risk," he explains.
Still, Broc came up with a loose plan of sorts. He arranged a deal to coach and train fellow Michigan native Marshall Weltin, who's moved back home after two years racing the EMX championship to contest the East Coast AMA Supercross Championship.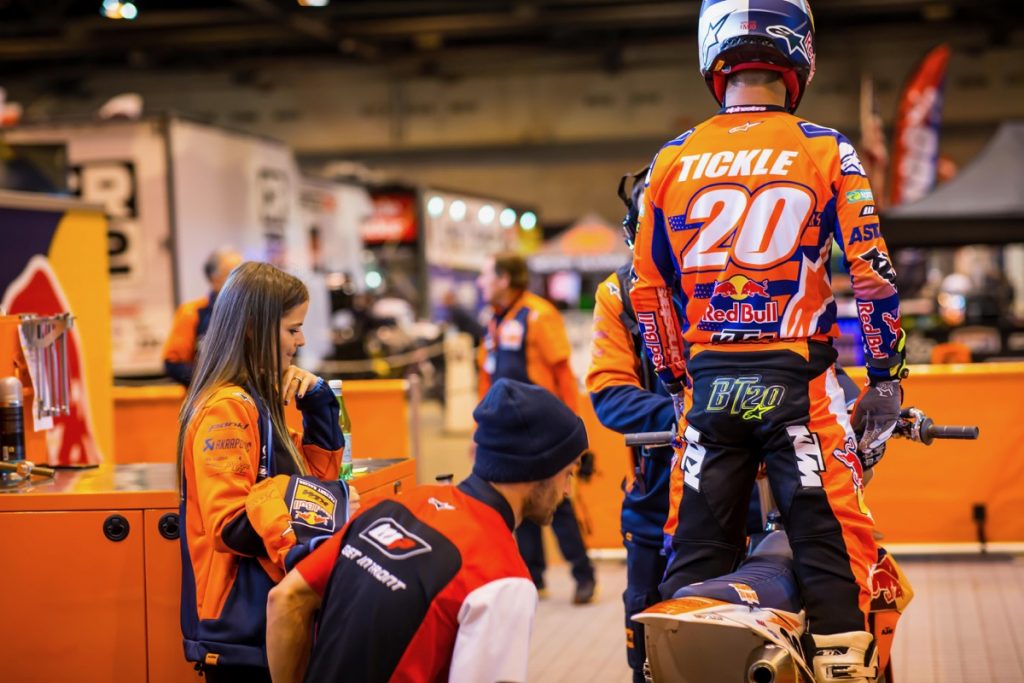 If nothing else, Broc says it'll give him some new goals and help him give back to the sport.
"Trying to force the FIM isn't going to speed it up, and this deal with Marshall will mean I can give back, which is the best thing I can do right now. I enjoy training and riding and I want to help him out and connect him with sponsors. I think this will give me a lot of motivation and put me in a good mood, so there're a lot of positives to come out of it."
As far as his own career goes, Broc gives himself a two-year cut-off. If his suspension is longer than two years, he'll finish out his career in Canada. If it's two years or less he'll figure out a way to continue racing in the US, confident that he could obtain a fill-in ride when one of his fellow racers gets injured.
"I hate seeing fellow riders injured, but I think I still have a good shot at picking up another ride, another opportunity, and proving myself again," he says matter-of-factly.
"I still train a lot, mainly with cycling, circuit training and running, and I really want to prove people wrong with this whole deal.
"Racing is all I've ever done since I was like, three years old, and there's no way I would've risked my entire career with something stupid like this. It's just not worth it."
THE DRUG
What is Methylhexanamine anyway?
5-methylhexan-2-amine is a compound that can be found in pre-workouts, nasal decongestants, geranium oil and geranium flowers. The spectrum is huge, which makes pinpointing a time and place where it entered a rider's system even more difficult.
There have been 17 cases where high-profile athletes (runners, boxers, even World Supersport racer Ant West) have tested positive to the wider group, methylhexanamine. Most suspensions have ranged from six months to two years.
What effect does it have?
Methylhexanamine is an indirect sympathomimetic drug that effectively restricts blood flow to the heart, lungs and reproductive organs. For a motocross racer frequently operating at their maximum heart rate for extended periods, the compound is more likely to have an adverse effect.
Since 2006 it's been sold under many names as a stimulant or energy-boosting dietary supplement. At least five deaths have been associated with supplements containing methylhexanamine.
RACERS WHO'VE TESTED POSITIVE WITH THE FIM/WADA
• James Stewart (2014) – amphetamine, banned for 16 months
• Cade Clason (2016) – amphetamine, suspension TBA
• Jake Moss (2016) Ostarine – banned for four years
• Matt Moss (2017) Ostarine – banned for four years
• Broc Tickle (2018) Methylhexanamine – suspension TBA
• Kade Mosig (2018) – unknown – suspension TBA