Interview: Tahlia O'Hare | Features | News
West Australian Tahlia O'Hare jetted to Europe in February last year with her sights set on Women's Motocross World Championship glory.
After filling her trophy cabinet with state and national level motocross championships at home, the 17-year-old made the leap to the big league. Riding for KTM Diga Junior Racing last year she finished eighth overall in the Women's EMX Championship and 22nd in the women's world title after her season was cut short by an arm injury sustained at the MXGP of Czech Republic.
Full recovered and ready to race, Tahlia is now faced with the same situation as professional riders all over the world thanks to COVID-19. She's locked down at her European base in Belgium while the world battles the pandemic. We caught up with TJ to get the low-down on her Aussie accomplishments and how life is treating her.
ADB: Where did you grow up and how did you get into dirtbike riding?
Tahlia O'Hare: I grew up about an hour from Perth, up in the hills. I was lucky enough that we had six acres of land so there was plenty of room for us kids. My dad got me and my sister into riding so we would just rip around our property and out in the bush.
When did you decide to start racing?
I actually started racing BMX first and, from there, I went on to motocross. I was pretty slow at motocross for the first three or so years but then we started working with coaches and I got more confident and started improving.
What are your racing achievements in Australia?
In 2014 I raced my first Australian Junior Motocross Championship. The event was at Appin that year and I finished 12th in the 85cc 2T/150cc 4T class. 2015 was the result I'm most proud of. Jess Moore coached me in the months leading up to the Australian Juniors held at Bunbury MCC in WA. We worked our way into second in both the female 85cc 2T/150cc 4T class and the 125cc 2T/250cc 4T class on KTMs.
In 2016 I won both the female 85cc 2T/150cc 4T and 125cc 2T/250cc 4T classes at the Renmark AJMX Championships with dealer support through Mandurah City KTM.
Then in 2017 I rode for 14MX Development (run by Luke and Penny Davis) and had the chance to learn how a team works and how to work with sponsors. I managed to win another AJMX title in the female Lites class with dealer support from West Coast Husqvarna. I also got a second overall in the WA state titles in the open 15yr 125cc class with the boys and fifth overall in open 250s with the boys. We also had a girls' class run over three years so I was racing three classes at some rounds! I think in 2017 we didn't have enough riders to make up the class so the championship didn't count but I won both of those state titles the previous years.
In 2018 I moved up to Seniors. I stayed with 14MX Development but we changed to Yamaha. This was to allow me to get support through the WBR dealership so I could race the MX Nationals MXD class and they supported me under the truck for the Women's Nationals at Coolum. In that year I won the WA women's title and NSW women's title, which was on the same weekend as Queen of MX, in which I got third. In the Australian Women's Motocross Nationals I finished fourth.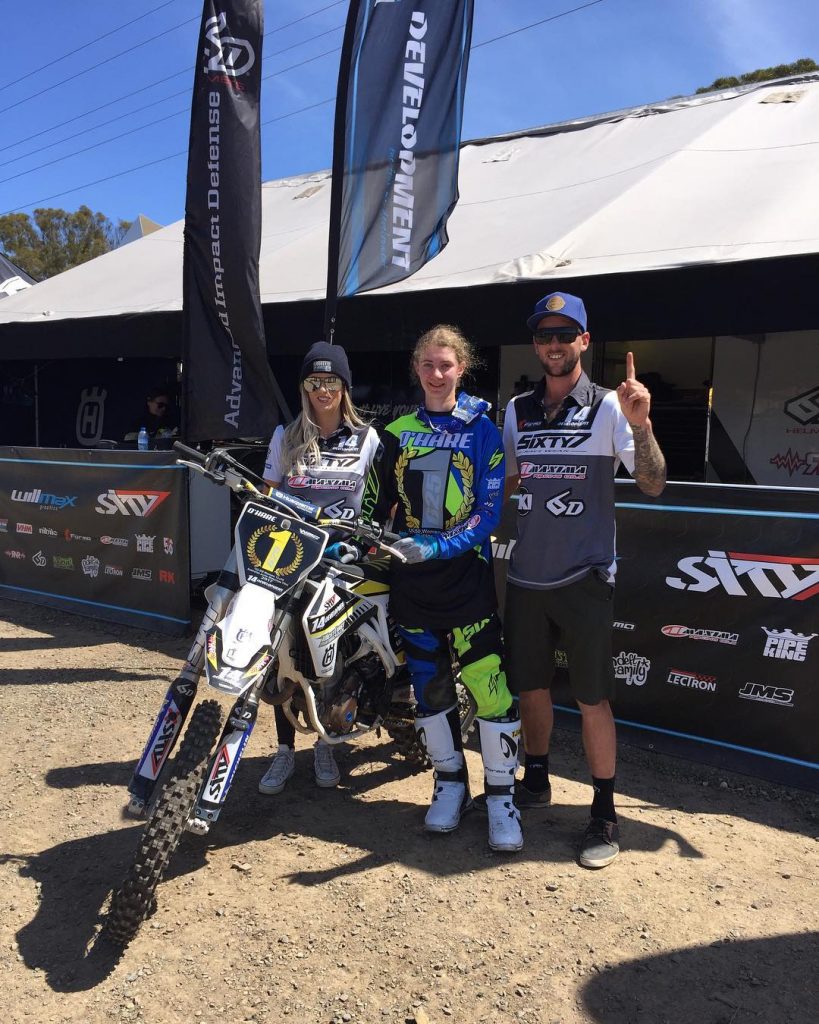 At what point did you decide to take your talents overseas?
My first race overseas was in New Zealand. At the end of 2018, Jess Moore and I went over for their Women's National Motocross Championship, which I placed third in on a borrowed bike. An amazing family lent us a car, trailer, bike and accommodation! We spent 2018 just trying to get in as much race experience as possible.
Not long after that we started making plans for me to head to Europe. Basically, my parents, did it off their own back. We'd talked about it for years as the natural progression if I wanted to reach an elite level in the sport. We approached KTM Diga Junior Racing, a team we knew from other WA riders who had done FIM events. We came to an agreement and I was on my way to Europe as a 17-year-old in February last year.
Since I've been in Europe, besides racing the Women's Motocross World Championship MXGPs, I've also contested the European Women's Motocross Championship in which I finished sixth overall after six rounds, and I did some other local races.
What was the most difficult part of moving overseas?
For me it was difficult to live alone and not know many people. I was only 17 and it's a lot different to Australia. Mum stayed with me for eight weeks while I got settled in but once I turned 18 and was old enough to drive she had to return home to work, to help pay for it! I was lucky that I had a great team and got along with my American teammate so we trained together and hung out a lot.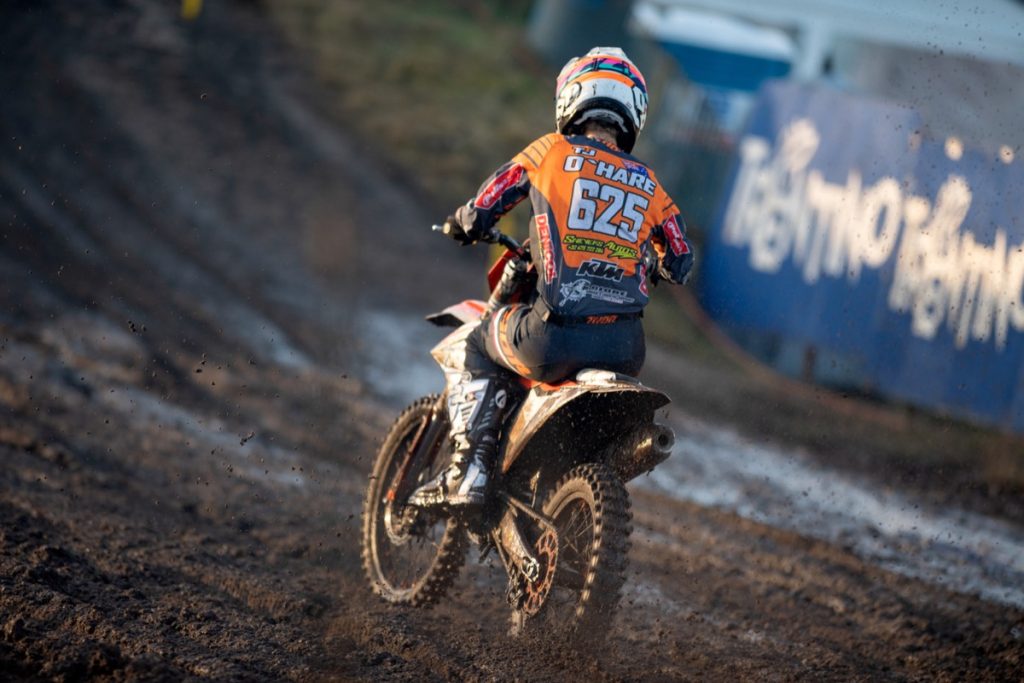 How was your first year racing the FIM championship?
My first year was crazy. Just lining up against 30 plus of the best motocross riders in the world, I've never done that and the tracks and crowds are a lot different. I learned a lot, just learning how to ride the tracks here and learning the speed that I needed to be able to just make a top-20 qualifying position. It's crazy because even in the women's class there's like one second between positions 7 and 24!
Who are you working with in Europe?
I'm still riding with the KTM Diga Junior Racing Team based in Belgium. This year we have a team trainer, Marcel Hartman, and my mechanic, Swa, sorts my bikes out for practice and racing.
How do you support your racing efforts financially?
I'm pretty lucky my parents support me to race. It's definitely tough for us financially and I think a lot of people don't realise how much it costs. For me to continue racing in Europe after this season, I will have to find sponsors and partners to support me. I'm very grateful for what my family has done to let me race and to be able to take it this far is amazing!
How different is racing the MXGP to the Aussie championship?
It's a lot different. In Australia I always had an idea where I could place at any given race. When I came to Europe last year I had absolutely no clue how I was going to do, I didn't know how fast the girls here were. After the first race, I knew I had a lot of work to do to finish top-10. The competition in Europe is a lot tougher, there are so many girls who are all incredibly fast. In Australia there aren't as many girls that race and there aren't many events. The top-five female racers in Australia are really well known and have raced overseas before and they're who I've always looked up to.
The Women's World Championship has been established for a long time and this year already the entries have been around 45 that have to qualify. It runs over six rounds, as opposed to Australia's two or sometimes three with entries of around only 15-25 on a good year.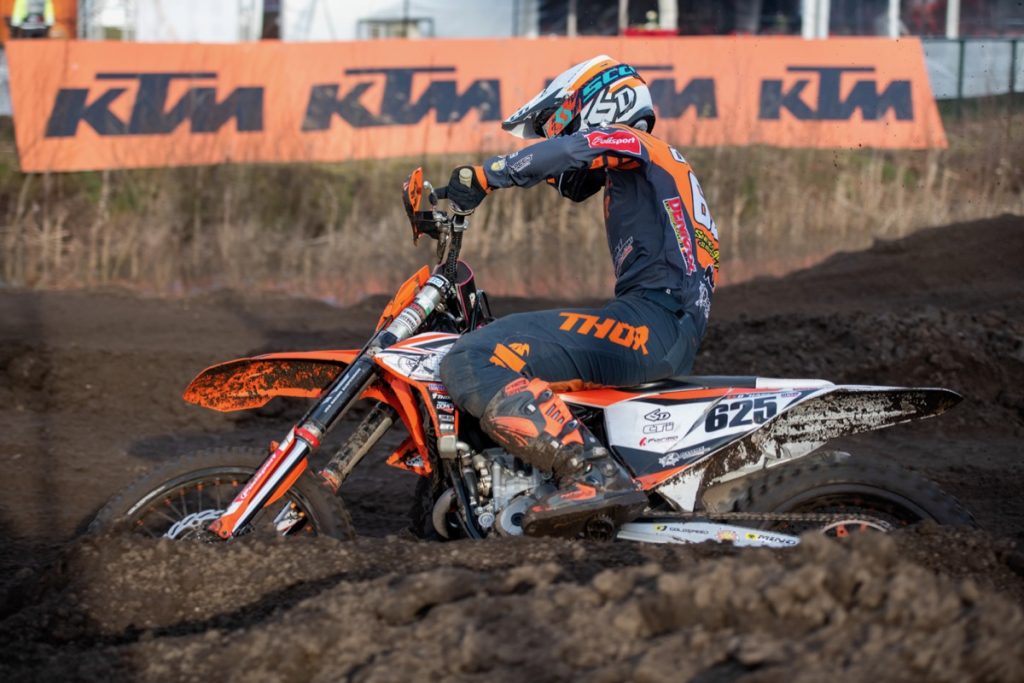 What are your long-term goals in racing?
I want to be able to continue to race in the WMX GPs, make a podium and who knows? Be at the top, keep improving and having fun!
How has the current coronavirus situation affected you?
It's pretty crazy times at the moment! I have stayed in Europe as we didn't know how the situation would play out and I wasn't sure how it would affect me if the races started back and the borders stayed closed to non-European citizens. Belgium is in lockdown so that means no riding, but I am still able to do all my gym work as I have enough equipment at my apartment.
What is your advice for young Australian riders? Is making the move to Europe the way to go?
My advice is to work hard but keep it fun. I always make sure I'm having fun, we ride because we love it! I think Europe is where the best racing is at and if you want to learn how to train then, no doubt, move to Europe, they don't mess around over here!
Bio
Name: Tahlia O'Hare (TJ)
Age: 19
Hometown: Perth, WA
Where you live now: Belgium
Age Started Riding: 3
First bike: PW50
Age Started Racing: 8
First Club: WAJMCC/Chidlow
Favourite Rider: Adam Cianciarulo
First Broken Bone: Shattered elbow when I was nine
Favourite Show: Friends
Favourite Food: Mashed potatoes and corn
Favourite Music: I have a mix of everything
Pre-race rituals: I don't have any
Favourite Track: Manjimup