INTERVIEW: TWO-STROKE TRAGIC KERRY | Back End | Features | News
The motorcycling trade is top-heavy with men but Kerry Goddard has made her place.
What is the Kerry Goddard story?
I grew up in Whittlesea, Vic, not too far from the Broadford motocross track. My family were into car racing and the auto industry so motorsport is in my blood. My first bike was a Yamaha GT80, a 1976 model, which I started riding when I was seven. My dad and brother both raced and I practiced on their bikes as well. I was excited to be able to race on my 50th birthday recently with my own club, Diamond Valley MCC, at Broadford. We all grew up watching Mr Motocross at Broadford, and watching the great riders of that time.
What followed the GT80?
A YZ80G. I was lucky enough to get a new YZ every year for Christmas, right up until I was 17, when I bought my first road-legal bike, which was a DT175. Recently I entered that same DT175 in the show and shine at OzVMX Resto Expo at Dargle and got third prize for Best Bike History.
So your enthusiasm for the sport has been continuous?
I have always loved motocross and was looking for a way to get paid to ride motorcycles. In 1999 I became a professional stunt performer specialising in vehicles. When they need a car or bike stunt done for a movie or commercial they call in a stunt performer who specialises in vehicles.
Is there a lot of work available in that field?
Yes, I've worked on several movies, commercials and have also performed in stunt shows in Australia and overseas. Also I have performed in theme parks and as a character performer in live shows.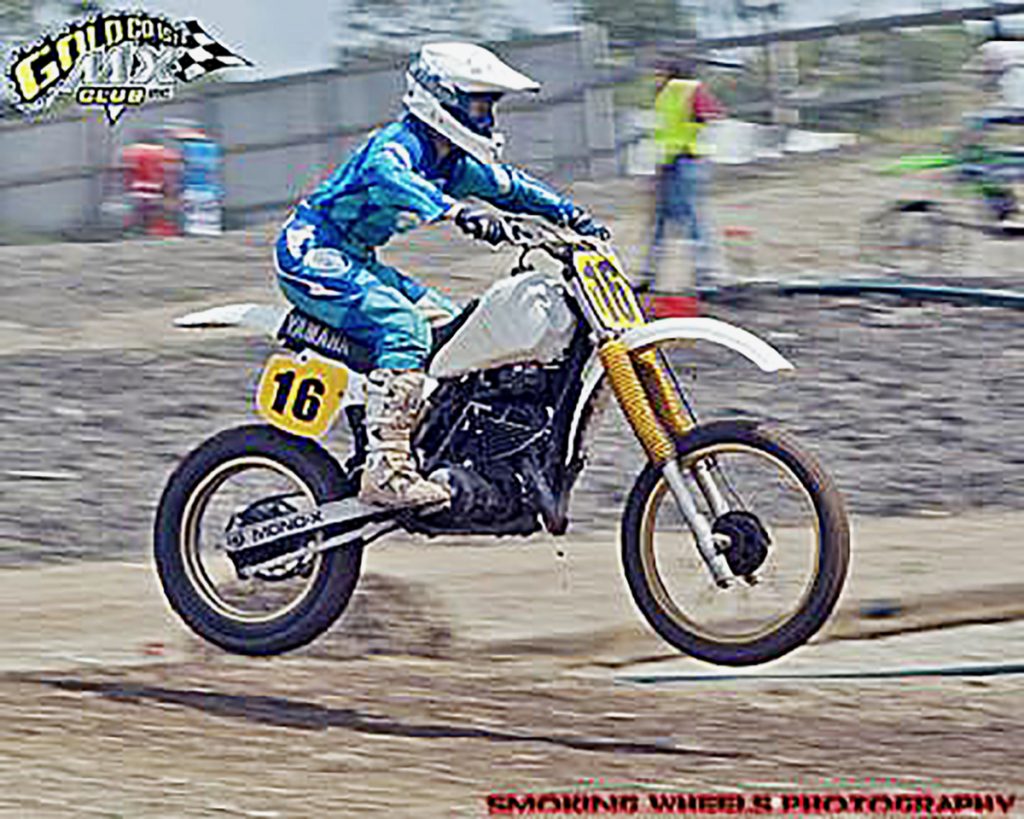 You mentioned you race in VMX events, successfully?
I am still competitive but I ride within my limits, I have a strong sense of self-preservation and I hate injuries. I ride for the enjoyment and when you've been around bikes and racing all your life you become well aware of the risks and possible consequences. VMX racing is amazing fun and there are people of all ages racing vintage bikes.
Has all of your riding been on dirtbikes?
Yes, I've never even been on a road bike as a rider. The closest thing I've ever had was the DT175. I have been for dinks on road bikes and the speed and the tarmac is
really scary.
Which events would you have liked to have ridden on a modern bike?
I've always been a two-stroke rider, so the Two-Stroke Cup would be on the list, although I'd be competing against a field of young kids a lot faster than me and I'd have to keep reminding myself of my age and the possible danger. Maybe the Hattah or Finke races as they are both events with a huge reputation. Finke might be a bit too tough though, the film clips I've seen of it certainly make it seem brutal and unforgiving of mistakes. They have a big international veterans' meeting in the US and I'd like to ride that one day too.
So what bikes do you ride currently?
I have a late model YZ250F plus some older YZs that I ride in VMX meetings. I've always liked the bigger bikes and I race a YZ490, which surprises people. They don't expect to see a female rider on one of those. I won a gold medal in the Pan Pacific Masters Games on a YZ490 and a bronze medal on an IT490. I get lots of good-natured jokes around the pits that the only reason I can hold onto a 490 is because I never get out of first gear. One day I told everybody that I had finally changed up to second, which became a good laugh. This is why I named my VMX parts business Second Gear Vintage Motocross Parts Australia.
Your favourite bike and why?
The 1983 YZ250K Yamaha. I've always liked the balance and the power delivery of that model and it's a really well-built machine
After so long around dirtbikes do you have a favourite rider?
Stephen Gall without a doubt. He was always an inspiring rider for me with his training techniques and professionalism. with Warren Jack