We take a look at Jake Smith's Husqvarna FE501 desert weapon.
THE RIDER JACOB SMITH
Team manager Dave Schwarz spoke to me about coming across in 2018 but I stayed with Honda for one more season. Then, when that year didn't go to plan, I spoke with Glenn Kearney and a ride with Husky came up. I actually signed without even riding the bike!
I would say that my riding style has been quite aggressive for a long time now, especially my time with Honda. But since making the switch to Husky I feel my style has changed quite a bit. They make it easy to be really smooth and efficient, which is nice.
  
People often ask if my riding style makes me hard on gear but I would like to say no to that. I've had plenty of mechanical failures over the years but not necessarily due to the rider. I have never done a gearbox in all my years of racing, so that would have to count for something. Especially with rally racing, you need to really look after the bike and equipment to make sure it makes it to the end of what is typically a gruelling race. In regards to bike setup, I take a simple approach. I don't do anything out of the ordinary really, other than my "stegs" (not fitted in main photo). We make them in house here at G&S Fabrications to suit me personally. They run 5mm thick stainless steel plates with a 40mm spacer, plus two Steg Pegz rubbers. We make the rubbers lower than the standard ones and further back so I'm in the perfect standing position and they rest on a better part of my boots. We also make them super strong so they don't snap or break mid-race. I also like a taller seat as I'm a bigger rider, but mainly to have that comfortable footpeg-to-seat-to-handlebar distance, especially with the under 'bar steering damper.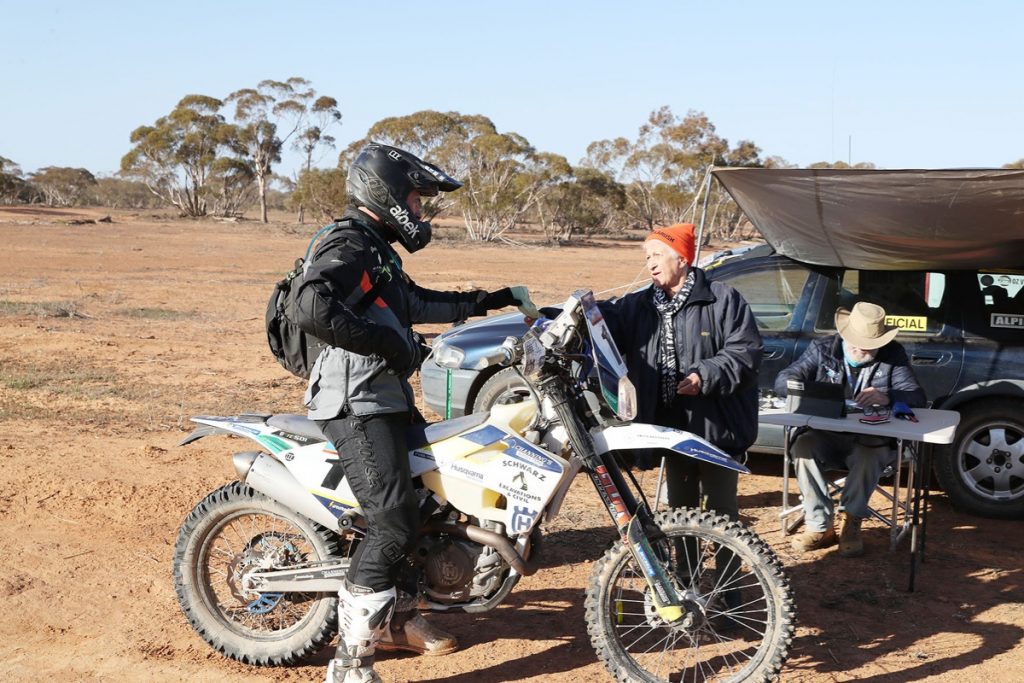 THE MECHANIC JACOB YOUNG
Jake's bike setup on the FE501 is fairly straight forward. The base bike is really good. A lot of time and effort is put into getting a good suspension package; GDR Mobile Suspension has that dialled. Kev Doyle does a gearbox mod for us to slightly change the gearbox ratios, which makes fifth more useable.
Rex at Fuel Torque looks after the fuel and ignition mapping to suit the higher speeds and wide-open throttle of desert racing, then it's just bringing it all together with the usual chassis prep with the Acerbis 12-litre tank, greasing bearings, Loctite and lock wire, mounting the steering damper and the exhaust. Generally we use a mousse in the front and ultra-heavy-duty tube at the rear on the standard Husky wheels with Michelin tyres. The Desert rear we groove up for additional stability and traction.
The thing that is most specific to Jake's set up would be his "stegs". They are made at the family business and laser cut from solid plate, which is heavier than on Steg Pegz and wider. He literally swings off them. His legs do a lot of work so the mounting of the pegz is important so he can lock himself in on the bike. Jake's riding style has changed drastically on the Husky, that's one thing that's really stood out.
Nothing differs too much in overall bike setup. The biggest difference is really in the prep of the engine. I was doing the majority of the work myself on his Honda but there is a lot more support at Schwarz Desert Racing. The Honda being a 450 with a five-speed transmission meant we were always chasing more power and speed, which can come with its own issues. It is always a little harder when you take an MX bike to race in the desert. Fundamental engine design is very different, relationships between stroke, conrod length and piston speeds to suit a given application mean a purpose-built bike like the Husky will normally win out.
Another great thing with the Husky is the quality of the parts fitted standard and the Hard Parts available. Much of what we use is genuine Hard Parts. The fork is a WP 48mm Cone Valve for more reliability, strength and the fact that it is better suited to racing. 
5 THINGS YOU DIDN'T KNOW ABOUT JACOB SMITH
1 He's scared of heights but climbed power poles for a living for nine years.
2 Had his first competitive race at three-and-a-half.
2 He beat Casey Stoner in a 100-lap slot car race in about 1994 when Casey stayed with them for a NSW state flat track title.
4 Jacob was the youngest Australasian Safari winner at 20.
5 Him and his wife are expecting their first child in January.