Watch Jett Lawrence go from leading by nearly 10 seconds to crashing and fighting his way back into the lead! Incredible!
The skillful Aussie Jett Lawrence posted a flawless 1-1 victory at the Southwick, Massachusetts, round of the AMA Pro Motocross series on his CRF250R, resuming the lead in the 250 class title chase.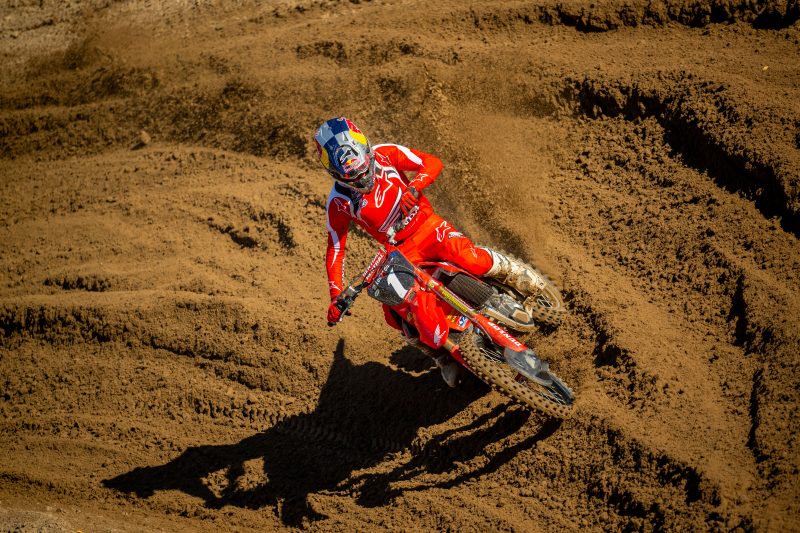 Both 250-class holeshots went to Jett Lawrence, and despite stiffer-than-usual challenges from his competition the reigning champ rode to both wins, crossing the finish line with advantages of 10.8 and 9.5 seconds. Jett's brother and teammate, Hunter Lawrence (who had earned last year's 250 overall win at The Wick 338), was hurt by poor starts and a scary moto 1 crash that left him banged up and with a chipped tooth.
Jett Lawrence  18
"It was good. Qualifying went great—P1—and I was really happy with my starts today. In the second one I had a better reaction but went into the deeper sand a little bit. I was second into the turn but was able to cut down a little bit and was able to collect the holeshot, thankfully. I had a little bit of a battle with Levi [Kitchen] and then was able to break him a little bit, with lappers. Then I just ended up maintaining. The track was brutal today, but the bike felt awesome and was running great. It's good to get that red plate back."
Both 450-class holeshots went to Team Honda HRC's Ken Roczen, who ran at the front for the first two laps of moto 1. The German then rode in second place until just before the midway point, after which he slipped to fifth. In the meantime, Sexton had completed lap 1 in fourth, but he took over third at the halfway mark, then dispatched second place with four laps left. Moto 2 saw Roczen run at the front for the first seven laps before eventually finishing fourth, while Sexton completed lap 1 in seventh place and went to work passing riders. He was up to fourth halfway in, and a late-race charge carried him to second place by the finish, his second-overall result five better than his next-best showing at the sandy circuit.
AMA Pro Motocross 2022: Round 6
  |
 

250 Moto 1
AMA Pro Motocross 2022: Round 6
  |
 

250 Moto 2
AMA Pro Motocross 2022: Round 6
  |
 

450 Moto 1
AMA Pro Motocross 2022: Round 6
  |
 

450 Moto2
250 Overall Results
Jett Lawrence (Hon)
Jo Shimoda (Kaw)
Justin Cooper (Yam)
Levi Kitchen (Yam)
RJ Hampshire (Hus)
Stilez Robertson (Hus)
Hunter Lawrence (Hon)
Michael Mosiman (Gas)
Nathaneal Thrasher (Yam)
Jalek Swoll (Hus)
250 Championship Points (after 6 of 12 rounds)
Jett Lawrence: 261
Hunter Lawrence: 246
Jo Shimoda: 224
Justin Cooper: 197
Levi Kitchen: 180
Michael Mosiman: 169
Stilez Robertson: 158
Seth Hammaker: 151
RJ Hampshire: 132
Maximus Vohland: 129
450 Overall Results
Eli Tomac (Yam)
Chase Sexton (Hon)
Aaron Plessinger (KTM)
Ken Roczen (Hon)
Christian Craig (Yam)
Max Anstie (Hon)
Ryan Dungey (KTM)
Jason Anderson (Kaw)
Benny Bloss (KTM)
Justin Barcia (Gas)
450 Championship Points (after 6 of 12 rounds)
Chase Sexton: 268
Eli Tomac: 267
Ken Roczen: 227
Jason Anderson: 207
Ryan Dungey: 185
Christian Craig: 184
Justin Barcia: 159
Aaron Plessinger: 149
Joseph Savatgy 125
Shane McElrath: 118