FMF/KTM Factory Racing's Kailub Russell claimed his sixth win of the 2016 GNCC season at Round 9 to regain the championship points lead from Husqvarna's Josh Strang.
Snowshoe Mountain hosted the ninth round of the 2016 Grand National Cross Country series. The rough and rugged conditions created a grueling track for the AMSOIL Snowshoe GNCC that lived up to the nickname of "America's Toughest Race."
FMF/KTM Factory Racing's Kailub Russell got out to an early lead and quickly pulled a large gap on the rest of the field and continued to hold the lead position as he checked through timing and scoring for the first time.
Throughout the three hour race, Russell felt pressure from Rocky Mountain ATV*MC/KR4 Arrive-N-Ride Team's Thad Duvall who took over the top spot in lap two. Rockstar Energy Husqvarna Factory Racing/Bel-Ray's Josh Strang was in the mix but couldn't match the pace of Russell and Duvall and dropped back several positions over the course of the race.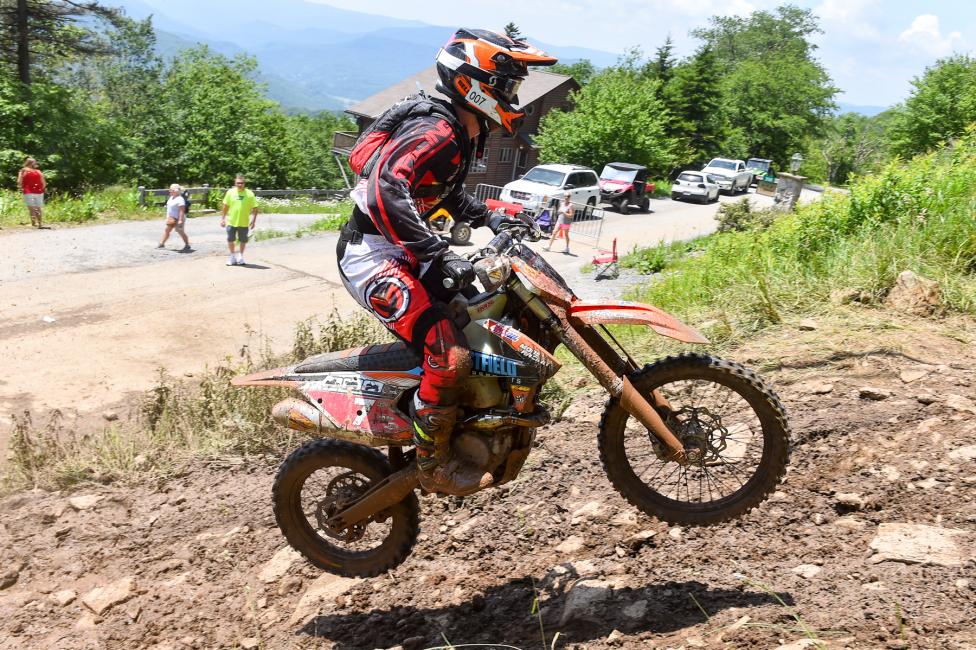 JCR Honda/Lucas Oil/Maxxis/FLY Racing's Trevor Bollinger and N-Fab/AmPro Yamaha's Grant Baylor took advantage of the opening created by Strang and moved into third and fourth spots.
Duvall suffered a mechanical problem allowing Russell into the lead and Bollinger and Baylor into the top three. Russell would go on to win the event ahead of Bollinger in second and Baylor in third.
XC1 Pro Event Results:
Kailub Russell (KTM)
Grant Baylor (YAM)
Jordan Ashburn (KTM)
Steward Baylor Jr. (KTM)
Josh Strang (HSQ)
Ryan Sipes (HSQ)
Ricky Russell (SUZ)
Cory Buttrick (KTM)
Scott Grills (KAW)
Chris Douglas (SUZ)
Overall National Championship Standings:
Kailub Russell (226)
Josh Strang (211)
Trevor Bollinger (132)
Jordan Ashburn (123)
Craig Delong (109)
Chris Bach (105)
Grant Baylor (102)
Steward Baylor Jr. (98)
Ricky Russell (89)
Thad Duvall (84)