Kailub Russell Clinches Eighth Consecutive GNCC Championship | News
Factory KTM rider Kailub Russell secured his eighth consecutive Grand National Cross Country XC1 championship at Round 11 of the series.
Kailub Russell won this year's title with two rounds remaining despite crashing out of the previous round. Russell came into Sunday's Mason-Dixon GNCC with a comfortable lead in the championship standings but after sustaining a PCL and lateral meniscus tear in a big crash two weekends ago, Russell dug deep to push through the adversity as he fought for three grueling hours through the extremely dusty conditions to land a podium finish and wrap up his eighth straight title in his final year of professional GNCC racing.
"To win one title is tough and to back it up is even harder, so to keep it going and go eight-straight is unreal," said Kailub Russell after wrapping up his eighth GNCC title. "I never would have dreamed it was an actual possibility. There are too many variables in offroad racing – there's too much going on, too much time out there on the track and too many different conditions. Today, the track today was completely brutal. If we wouldn't have done two filter swaps there's no way we would have made it – it was pure silt from the drop of the gate. I banged myself up a couple weeks ago at the last race and I was a little unsure of how it was going to go but we took it easy the last couple of weeks and I really just wanted to get this thing out of the way so I just kept my nose to the ground today and we were able to make it happen. I have to give it up to the whole team, without Antti and everybody that supports us, this would never be possible. It's been a real honor to race for the factory KTM team my entire career and finish it out with them, and to go out on top is awesome."
Team Manager, Antti Kallonen: "Congratulations to Kailub and the entire team. Eight consecutive GNCC Championships speaks volumes of Kailub and the team that has stood behind him from day one. It has been true pleasure working with Kailub for all of his eight championships and this last one tops his amazing GNCC career."
Babbitt's Online Kawasaki rider Josh Strang finished sixth while teammate Lyndon Snodgrass finished 10th in XC2 class after retiring from the race due to mechanical issues. "Unfortunately I didn't finish today's race. The dust got the better of my bike and it lost a lot of power so I pulled off the track at the 2-hour mark," said Snodgrass after the race. "Disappointing but there are lots of positives from today! I was competitive and battling for a podium position, also I logged the fastest lap in XC2 so that's kinda cool."
There are two rounds remaining in the championship. Josh Strang is third in XC1, Lyndon Snodgrass is 14th in XC2 having missed five rounds during the year while he returned to Australia due to the COVID-19 pandemic.
XC1 Race Report
As the famed "10 seconds" was called and the green flag waved, it was AmPro Yamaha's Layne Michael reaching the line first to grab the $250 All Balls Racing XC1 Pro Holeshot Award. Michael was accompanied by Babbitt's Online Kawasaki teammates Jordan Ashburn and Josh Strang as he led the way into the woods.
Michael would continue to hold the lead position for the first four laps of racing as he tried to place a gap on the rest of the field in dusty conditions, however, Michael would be unable to hold off AmPro Yamaha's Steward Baylor Jr. and FMF/KTM Factory Racing's Benjamin Kelley. Michael would check in third overall as he came through timing and scoring on the fifth lap, with Baylor Jr and Kelley coming through in the top two positions.
After working his way up from a mid-pack start Baylor Jr. would come through with the lead as the white flag was waving, indicating one more lap to go. Kelley sat 13 seconds behind him but was charging and looking to battle throughout the last lap of racing. Michael, who sat third overall, would make a costly mistake and go down at the end of pro row and lose two positions. As the checkered flag came out Baylor Jr. would come through with just a 1.8 second gap ahead of Kelley to earn his third-straight overall win of the season. Kelley would finish out the day second overall.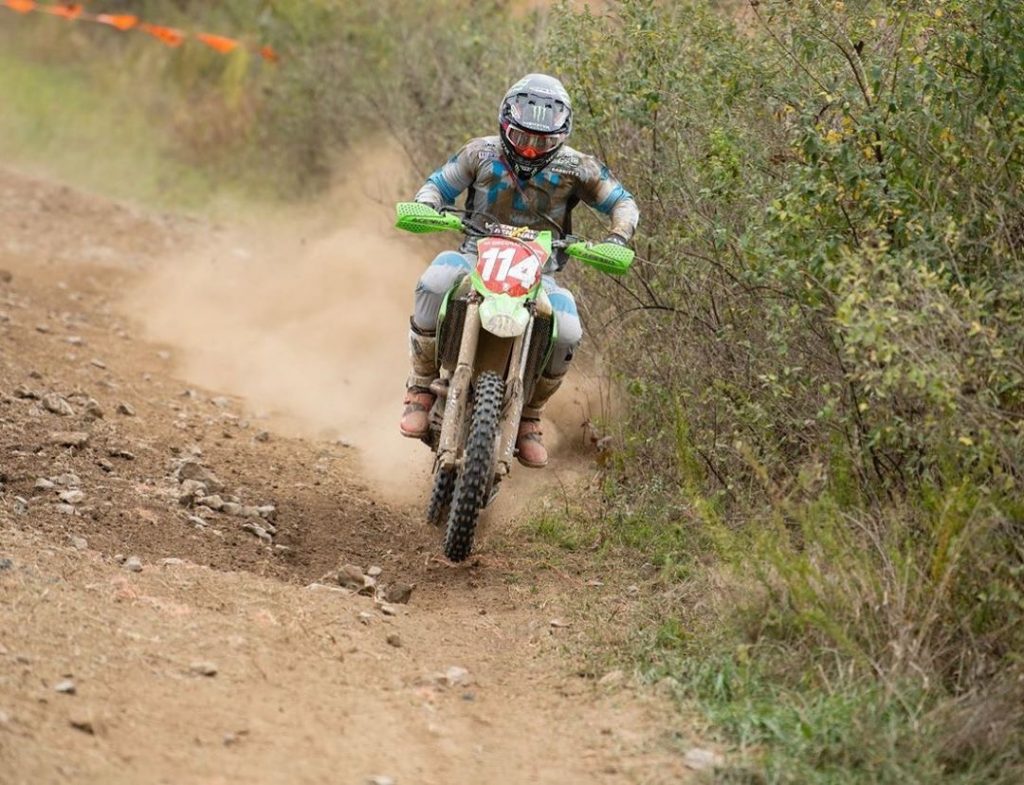 FMF/KTM Factory Racing's Kailub Russell, who came into the race after sustaining a PCL and lateral meniscus tear two weeks ago in Ohio, found himself digging deep to push through the three-hour race. The KTM rider was able to battle towards the front of the pack for the first half of the race, but he would lose some time as he would make two precautionary pit stops to have his air filter swapped out due to the extremely dusty conditions. Kailub Russell would find himself running third overall as he made his way to checkered flag. Russell's third overall would be enough to wrap up his eighth-straight title in his final year of Pro GNCC Racing.
Making his return to GNCC Racing this weekend was Husqvarna Factory Racing's Thad Duvall. After suffering a knee injury before the start of the season and proving too much to take when the season began in February, Duvall had undergone knee surgery and has been on the road to recovery. Duvall began his day in fourth overall as the lead group came through timing and scoring after completing one lap. Duvall would push himself, running third overall on lap three but would fall back to fourth after that. However, Duvall would find himself running just 1 second behind Kailub Russell as the duo made their way through the course on the last lap. Duvall came through the finish 1.3 seconds off of Russell, and with two rounds remaining Duvall is looking to finish out the season and prepare for 2021.
After his crash on pro row, Michael would pick himself up and get back on the motorcycle. Michael found himself back in the fifth place position, but he would once again try to push throughout the last lap to hold onto that fifth place finish. Michael would hold off the rest of the XC1 riders and cross the line fifth.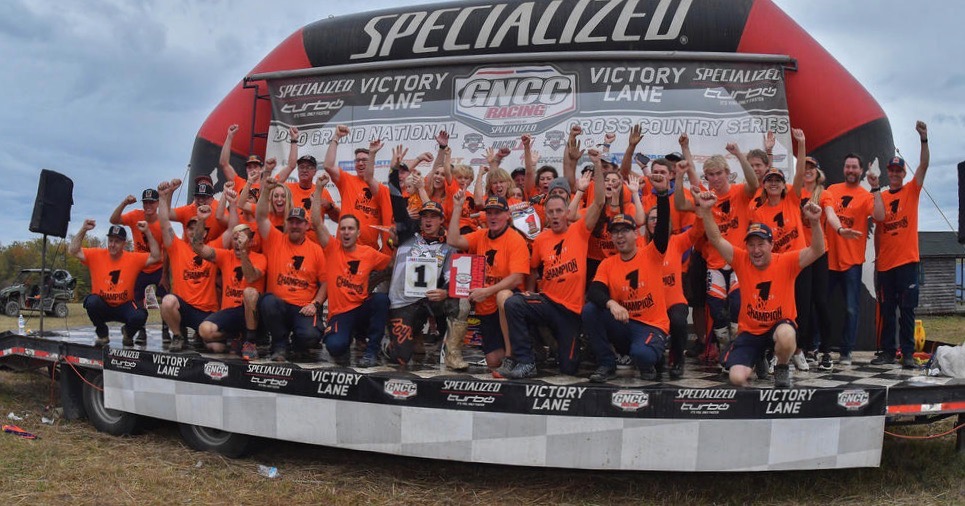 Strang was running at the front of the pack in second overall for the first three laps of racing but after a long pit stop to change his air filter after 3 laps of racing, Strang would find himself coming through in the ninth place position. Strang knew he would need to make some necessary passes to earn valuable points in his hunt for the National Championship. As Strang came through to see the white flag he had made his way up to sixth overall, however, Strang would be unable to make any more passes throughout the last lap of racing and would hold onto sixth overall and continue to hold second in the points standings.
Teammates to Strang, Ashburn would continue to push after finding himself outside of the top five XC1 racers. Ashburn made his way to seventh overall after falling back to ninth earlier in the day and continues to sit third in the National Championship points standings. FactoryONE Sherco's Grant Baylor battled back-and-forth from seventh and eighth throughout the duration of the race. Baylor crossed the line three seconds behind Ashburn to take eighth overall.
XC2 Race Report
In the XC2 250 Pro class it was AmPro Yamaha/St. Lawrence Radiology's Mike Witkowski getting a great jump off the line and earning the $100 Hot Cams XC2 Holeshot Award. Witkowski continued to hold the lead as they XC2 riders made their way into the woods, and after six laps of racing Witkowski would cross the finish line with a 12 second gap back to second in his class.
Factory Beta USA's Cody Barnes also had a great start as he battled Witkowski to the first turn. Barnes would head onto the course second in XC2, putting his head down and pushing to put a gap between himself and third place. Barnes would continue to run second for all but one lap of racing, and as the white flag came out Barnes once again would make the pass to takeover second for the final time. Barnes crossed the finish line to bring home his second runner-up finishing position of the season.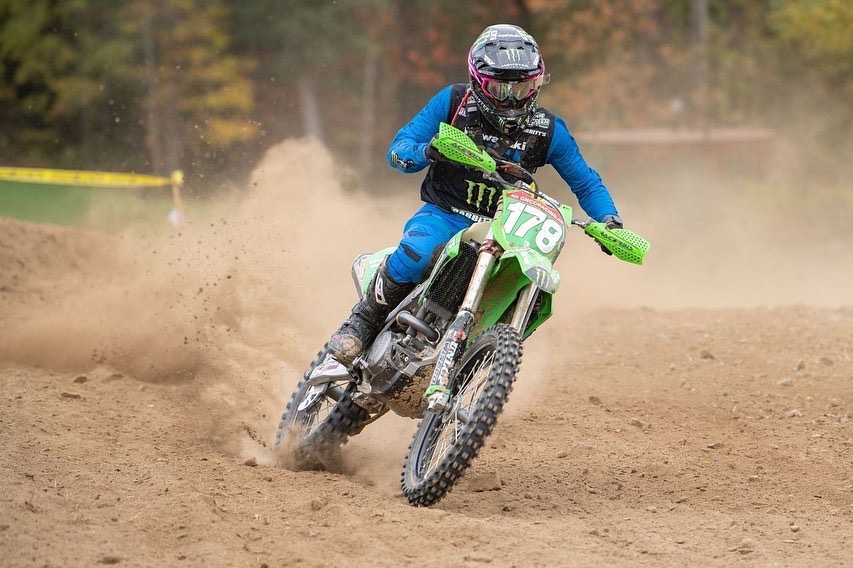 Husqvarna Factory Racing's Craig Delong did not have the start he was hoping for as he came through timing and scoring ninth of the opening lap. Delong continued to push himself, and by the halfway point of racing he had made his way into fourth and then third with his sights set on Barnes. Delong would be able to make the pass as the white flag came out, but Barnes would not let him off the hook that easy. Delong and Barnes would battle for second during the last lap, with Barnes taking it and Delong rounding out the XC2 top three finishers.
Tely Energy Racing/KTM's Liam Draper crossed the line fourth after working his way up from a seventh place start. Points leader Trail Jesters KTM's Jonathan Girroir would also have a bad start to the day, working his way up to fifth in the XC2 class after starting at the back of the pack.
Coming through to take the FMF XC3 125 Pro-Am class win and the National Championship was Moose Racing/Carolina KTM/XC Gear's Zack Hayes. Earning his sixth win of the season, with eleven rounds counting towards their National Championship, was enough to clinch the number one plate two rounds early.
FXR/KTM's Jason Lipscomb came through to take second in the FMF XC3 class, his third-straight podium finish of the season. Raines Riding University/Fly Racing/Yamaha's Jason Raines made his way up to third in the class after starting off the day fourth.
XC1 Pro Event Results:
Steward Baylor Jr. (YAM)
Benjamin Kelley (KTM)
Kailub Russell (KTM)
Thad Duvall (HQV)
Layne Michael (YAM)
Josh Strang (KAW)
Jordan Ashburn (KAW)
Grant Baylor (SHR)
Andrew Delong (HON)
Evan Earl (KAW)
*Overall National Championship Standings:
Kailub Russell (277)
Josh Strang (216)
Jordan Ashburn (173)
Craig Delong (157)
Michael Witkowski (150)
Jonathan Girroir (146)
Grant Baylor (137)
Steward Baylor Jr. (133)
Benjamin Kelley (132)
Cody Barnes (113)
*Indicates that the Overall National Championship Standings will determine the 2020 National Champion.
XC2 250 Pro Event Results:
Michael Witkowski (YAM)
Cody Barnes (BET)
Craig Delong (HQV)
Liam Draper (KTM)
Jonathan Girroir (KTM)
Jesse Ansley (KTM)
Jonathan Johnson (YAM)
Ben Parsons (HQV)
Samuel Evans (KTM)
Lyndon Snodgrass (KAW)
XC2 250 Pro Series Standings:
Jonathan Girroir (270)
Craig Delong (266)
Michael Witkowski (264)
Cody Barnes (195)
Liam Draper (176)
Thorn Devlin (145)
Jonathan Johnson (127)
Ryder Lafferty (119)
Benjamin Nelko (102)
Jesse Ansley (90)