It's full-steam ahead for riders in Katherine with a new committee pushing ahead
Katherine Motocross Club, NT
The Katherine Motocross Club has elected a new committee for this year and is looking to continue providing the Top End with a high-grade motocross complex and enduro track.
The 1850 metre, natural terrain motocross track is wide and flowing, with plenty of challenges to help new and intermediate riders improve their skills, with a mixture of technical and standard sections spread throughout the track. The fast and open nature of the track will also test the skill level of more-experienced riders – as speeds increase, so does the technical difficulty of the circuit.
The combination of high-speed sections, wide, sweeping corners and tight, twisty areas, mean the track is not suited to just one type of bike.
The club has introduced a new, non-competitive seniors' class called Farmers' Class. The run-what-ya-brung class incorporates a dead-engine start and short races. The class is already a hit with mums and dads who want to get more involved in the race-day action, and have a laugh, without the intimidation of a competitive race class.
The 12km enduro loop can be as challenging as a rider wants it to be. An average skilled rider can complete the loop in 45 minutes, and its open nature makes it suitable for 65cc machines and up.
The MX track and enduro loop are open to all current financial members. Visitors are welcome, as long as they hold a current MA license and advise a committee member in advance.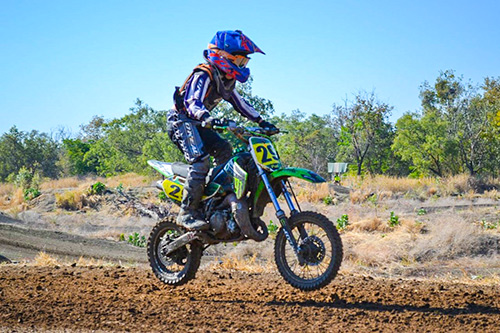 More info
HIGHLIGHTS
• Fast flowing and open 1850 metre motocross track
• Challengine 12km enduro loop
• New, non-competitive Farmers Class
• Hosts rounds of the Territory and club championships
LOCATION
• Bicentennial Road, Katherine, NT
Just off the Stuart Highway behind the showground
COST
Memberships:
• Family $80 per year
• Single $60 per year
CONTACT
Phone: 0427 647 685
Website: www.katherinemxclub.com
Facebook: www.facebook.com/katherine.mx.1
– Search more dirtbike clubs and tracks in NT
To receive the latest news, reviews and video highlights from the world of dirt bikes, sign up to our weekly newsletter here.