The Unadilla National marks the return to racing after a two-week break to start the final stretch of races for the outdoors series.
The first moto kicked off and all of the fastest riders up front battling it out.  JGR Yamaha's Justin Barcia andMonster Energy Kawasaki rider Eli Tomac sprinted out of the gates toward the holeshot, and with Tomac getting the official holeshot it was Barcia that took the lead.RCH Racing Suzuki's Red Bull KTM's Ken Roczen, Marvin Musquin andGR Yamaha rider Phil Nicoletti were the next three riders right on their tails.
After only a few turns and jumps Roczen came flying out from behind both Toma and Barcia to quickly take the lead. Roczen showed his speed and began to stretch a small lead, leaving Tomac close to Barcia to battle and settle back into position while Nicoletti went down a few laps later.
Musquin lost ground and had to work to regain the ground on Barcia to make a fight for a podium position. Musquin closed on Barcia then raced around the outside of Barcia to steal the lead going out of a corner, but Barcia would answer back with an aggressively close pass back. Musquin would return out of another exchange to take off out front into third place.
With 4 minutes left before the 2-lap flag came out, Roczen was leading with a 13-second lead over Tomac who was riding with a 13-second lead over Musquin.
By the end of moto 1, Roczen had dominated with a 14-second lead over Tomac in second who held a 14-second lead over Musquin in third.
Rolling right into moto 2 like he left moto 1, Roczen rode straight out of the gates and into the front of the pack for the holeshot and a lead.
Musquin rode out of the first series of turns in second with Dean Wilson right behind him in third. Nicoletti, though, was just behind him putting the pressure on. Nicoletti and Wilson would square up and battle for an entire lap battle. Then Peick and Chris Bloss would near them and ultimately allow Bloss to pass for third.
Musquin made a major mistake by losing all of his momentum while on one of Unadilla's super steep hills. Though he didn't stop for long, the steep face of the hill had him very slow to recover into ninth place for the time being.
Not even ten minutes into the race, Roczen had extended his holeshot and lead over the pack to more than 22 seconds.
As the race came to a close, Roczen's dominant lead was in excess of 37 seconds, which gave him a 1-1 finish for the day. Musquin finished second on the moto and the day, while Tomac did the same in third on the moto and the day.
Roczen extended his lead going into the final two rounds at Budds Creek at Aug. 20, and then Ironman for the season finale on Aug. 27.
450 Class Overall
Ken Roczen (1-1)
Marvin Musquin (3-2)
Eli Tomac (2-3)
Benny Bloss (7-4)
Justin Barcia (4-7)
Fredrik Noren (6-6)
Weston Peick (5-9)
Dean Wilson (11-5)
Phil Nicoletti (8-8)
Matt Bisceglia (9-10)
450 Class Championship Standings
Ken Roczen, 484
Eli Tomac, 421
Marvin Musquin, 325
Justin Barcia, 276
Christophe Pourcel, 217
Benny Bloss, 183
Justin Brayton, 173
Broc Tickle, 171
Phil Nicoletti, 168
Andrew Short, 163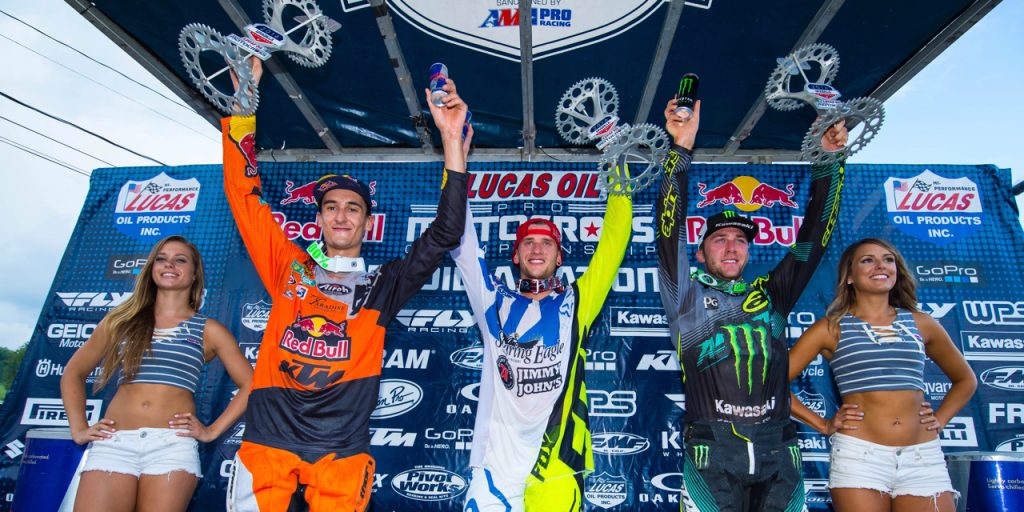 Photo: Simon Cudby