KTM will lead all three major classes into next month's AORC championship finale in Victoria, after a massive swag of results at the weekend's round 9 and 10 of the championship at Monkerai.
KTM Enduro Racing Team mates Daniel 'Chucky' Sanders and Tye Simmonds blasted to their third successive outright 1-2 finish on Saturday, and then their fourth Sunday – Sanders' win among the first in the world for KTM's new 2017 model 300 EXC.
While Sanders has spectacularly now won 8 of 10 2016 AORC rounds, KTM450 EXC rider and Round Six winner Simmonds has now not finished lower than second outright for four months.
In the E1 class, class rookie and former motocross pro Jack Simpson continued his recent brilliance on Saturday, powering his KTM250EXC-F to its sixth class win of the championship and fourth outright.
On Sunday however, the Peter Stevens Motorcycles rider collected a tree with his foot and limped home in fourth, and will carry a 17-point lead in the E1 championship entering the final rounds of the series on the second weekend in September.
This leaves KTM sitting on a clean sweep of the major classes coming into the finale, with Tye Simmonds (231) leading Enduro 2 from Chris Hollis (210), and Broc Grabham (179), and Sanders leading Enduro 3 from Lachlan Stanford (212) and Beau Ralston (186).
Ben Grabham – KTM Enduro Racing Team Manager: "It was another fantastic result for the whole team. The conditions were nearly perfect and it turned out to be a great two days racing.
Coming into this one we got a hold of a new 300 EXC for Chucky. He was telling us how good it was, but it wasn't until I had a feel of it for myself during the week, and mate, the thing is that good I couldn't say no to him using it.
Everyone's been going on about this counter balancer and engine smoothing and I thought it might have been a little bit of marketing, but before we even rode it, with the two bikes side by side, I couldn't believe a smooth the new bike was. Then when I jumped on it, it's definitely taken things to another level, and to me two-strokes are definitely alive and well. But you you've got to ride it to see how amazing it is.
So at the last minute we got some graphics made and Mick put it together for him and he didn't put a foot wrong all weekend. He holeshot the cross country and led from start to finish, and then today in the sprints he led every lap and he looked amazing on the bike. So he's got a nice healthy lead in the championship and Tye is the only one who can beat him so it's a bit of a relief for us that the winner is going to be Orange either way after these next two rounds.
Tye had a great weekend results wise, but it wasn't as easy as it looks on paper. He had like six crashes in the cross country and dropped back as far as I think sixth. Typical Tye though, he just kept fighting and charging and by the end he was in second outright. Today he just rode solid and he was the only person to get anywhere near Chucky, I think he was less than a second behind him on one lap, when I don't think anyone else got within 10 seconds of him all day. It's nice to see all the hard work pay off."
Daniel "Chucky" Sanders – KTM 300 EXC "It was a bit of a crazy week leading in, we weren't expecting to ride this '17 model. But it was so crazy good straight out of the box we ended up using it. My suspension turned up, the big tank rolled up, and some graphics rolled up and it was just good to get out there and get the win on both days to back it up.
It's like a 125 to move around on and the counterbalanced engine is so smooth stock-standard. We just ran at how it was and it was the best out there. The race went well – I got the holeshot and just led from there, didn't look back the whole way. Sunday the Dungog club and the property owner provided an amazing track – and with the amount of rain we had, it was perfect. Mud, dust, hills, flats, off-cambers, bogholes, it had everything we needed. We've got 34 point lead over Tye and I'm a round clear in class as well, so if I win the on Saturday next round, it's
done."
Tye Simmonds – KTM 450 EXC "Happy days in the KTM camp. We tried hard to throw it away on Saturday, but I still got second so I was pumped with that. I couldn't read the track very well in the first couple of laps on Saturday when it was still pretty damp.
Once I settled back into a rhythm though, we started chipping away, and got it done again. Today it was just try and be smooth and as quick as I can. Chucky gave me a hand walking the tracks and we just sort of worked together so it definitely paid off, it was good. We'll go to the next round and give it our best, but Chucky's riding unbelievable at the moment. I'm just glad that we are both at the pointy end and with the chance to go 1-2 outright. We've just got to keep the wheels on the ground and finish this next one. "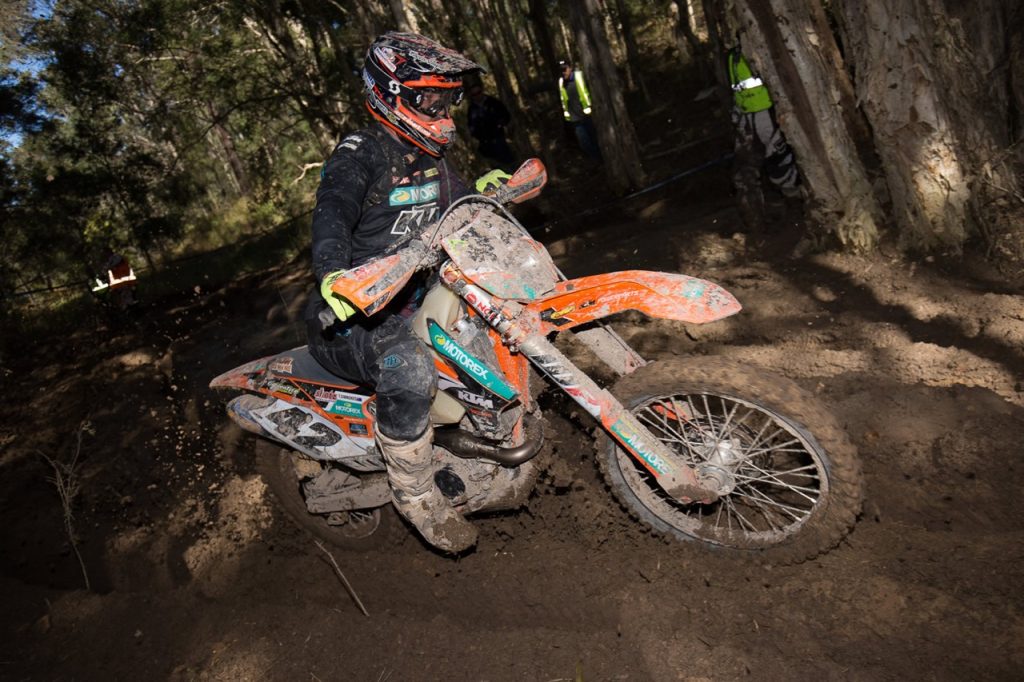 Round 9 Results
Championship E1:
1.Jack Simpson – 3:02:31.474
2.Glenn Kearney – 3:05:11.679
3.Riley Graham – 3:07:51.900
4.Tom Kite – 3:12:43.294
5.Scott Keegan – 2:55:31.495
6.Baylee Davies – 2:58:11.585
7.Brad Hardaker – 2:58:42.076
8.Murray Mulholland – 3:06:00.913
Championship E2:
1.Tye Simmonds – 2:58:50.981
2.Broc Gragham – 3:03:24.820
3.Chris Hollis – 3:03:43.054
4.Tom McCormack – 3:04:18.643
5.Lyndon Snodgrass – 3:08:20.451
6.Geoff Braico – 3:11:56.746
7.Mitch Bowen – 2:54:55.832
8.Luke Tisdale – 3:07:53.651
9.Stuart Holt – 3:12:09.902
10.Peter Clark – 3:13:29.682
Championship E3:
1.Daniel Sanders – 2:57:23.903
2.Beau Ralston – 3:00:21.315
3.Lachlan Stanford – 2:56:28.502
4.Brayden Zillman – 3:14:52.927
Round 10 Results
Championship E1:
1.Glenn Kearney 1:02:30.250
2.Scott Keegan 1:02:35.957
3.Riley Graham 1:02:38.463
4.Jack Simpson 1:04:26.748
5.Tom Kite 1:05:37.143
6.Brad Hardaker 1:06:32.498
7.Baylee Davies 57:08.475
Championship E2:
1.Tye Simmonds 1:01:40.454
2.Broc Grabham 1:01:55.907
3.Chris Hollis 1:01:57.564
4.Tom McCormack 1:03:11.511
5.Geoff Braico 1:04:34.898
6.Luke Tisdale 1:09:28.047
7.Peter Clark 1:11:46.485
8.Jarrod Wilson 1:13:02.994
9.Nicholas Stockwell 1:13:27.426
10.Scott Dunn 1:14:05.523
Championship E3:
1.Daniel Sanders 1:00:38.547
2.Beau Ralston 1:02:06.401
3.Lachlan Stanford 1:02:43.615
4.Lyndon Snodgrass 1:03:14.043
5.Mitch Bowen 1:05:18.530
6.Brayden Zillman 1:17:34.862